Portland Playwright Tells Story Of Obsessed Sidewalk Artist In PAVEMENT ARTIST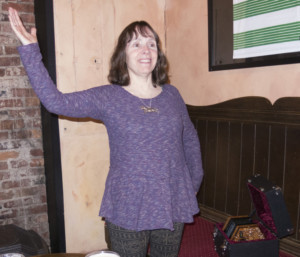 A painting degree, experience in storytelling and a 100-year-old book about the artist Gaughin all influenced playwright Lynne Cullen of Portland when she wrote "The Pavement Artist," a drama with humor opening Aug. 31 at the Players' Ring in Portsmouth.
This tale of love, war, and the power of art opens the 27th Season at the Players' Ring with the story of a Vietnam vet obsessively painting a mural in a parking lot outside a corporation. Set in an un-named American city 20 years after the last US combat soldier left Vietnam, "The Pavement Artist" introduces audiences to Saylor, a muralist who has always worked alone but suddenly finds himself very much with company.
The script grew out of a monologue Cullen wrote several years ago for a playwriting workshop in Portland.
"As I was writing this play, the obsessions of an artist began to insert itself," Cullen said, recalling that she kept re-reading a W. Somerset Maugham 1919 novel, "The Moon and Sixpence," inspired by the life of Paul Gaughin. "I personally am not that kind of obsessed person, but here was this unlikeable man consumed with the need to create art."
Cullen wrote this trait into Saylor, her Pavement Artist, performed by Gavin Barbour of Kittery.
"I like the idea that he has to do what he is doing. He doesn't have a choice," Cullen said.
Cullen requested that this play be directed by Marina Altschiller of Portsmouth, who also directed Cullen's play, "Waiting for Jack," at the Ring two years ago.
"She's very innovative. Two years ago I went to one or two rehearsals and I could see immediately she had such an interesting way of working with actors," Cullen said.
Altschiller was drawn to the characters in Cullen's play and the fact that all the action takes place at the site of the mural. She likes the simplicity of the single setting as a vehicle for bringing more depth to the characters, characters that Cullen so skillfully develops through dialogue.
"Lynne is good at capturing a character," said Altschiller. "She has very natural-feeling and realistic dialogue. Even in dramatic situations where things are coming to a head, the dialogue feels very real, which makes going through the back story a fun task for actors and directors."
Dean Diggins of Kittery, a member of the artistic committee that chose plays for this season, said he also was drawn to the dialogue in "The Pavement Artist."
"It was a touching story about a muralist, brothers and the war," he said, "with family secrets, surprises. and unexpected actions."
The Players' Ring, founded in 1992, provides affordable theater space to local production companies with an emphasis on original works.
"The Pavement Artist" will be performed Fridays through Sundays Aug. 31 to Sept. 16 at the Players' Ring Theater at 105 Marcy St. in Portsmouth. Shows are Fridays and Saturdays at 8 pm and Sundays at 3 pm. Tickets are $18 with discounts for students, seniors, and Players' Ring members. Reservations can be made at playersring.org or by calling 603-436-812.