Standing Room Only and Graceful Productions Present Staged Reading of New Musical CALVIN BERGER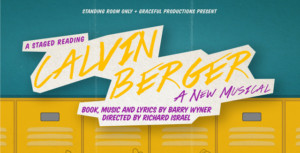 Standing Room Only and Graceful Productions have announced a staged reading of the new musical Calvin Berger at the Hudson Backstage Theatre in Hollywood. With book, music, and lyrics by Barry Wyner and directed by Ovation Award-winner Richard Israel, the Calvin Berger staged reading will be presented on Friday, August 10, and Saturday, August 11, at 8pm and Sunday, August 12, at 7pm. The cast will feature (in alphabetical order) Grace Kaufman, Julia Lester, Jason Eric Testa, and one more actor to be announced. The musical director is Anthony Lucca.
Loosely based on Edmond Rostand's play Cyrano de Bergerac, Calvin Berger is the hip and hilarious story of unrequited feelings, love notes, and self-doubt among high school seniors. Smitten with the beautiful Rosanna, Calvin is paralyzed by insecurity due to the size of his nose. Rosanna finds her head turned by the good-looking newcomer, Matt, who is painfully shy and unable to voice his mutual attraction to her. Hoping to forge a closer relationship with his love, Calvin offers to pen Matt's eloquent love notes to Rosanna. As deceptions unravel and attractions are uncovered, Calvin is about to find out that love can truly be blind.
THE CAST - Grace Kaufman was most recently seen by LA audiences in Appropriate at the Mark Taper Forum. Other theatre credits include Coney Island Christmas, The Crucible, Annie, and Meet Me in St. Louis. Film credits include Brave New Jersey, Sister, and Buttons in the Ground. She is best known to TV audiences for her performances on Man With A Plan (CBS) and The Last Ship (TNT). Animated series include Clarence, Bubble Guppies, Shimmer & Shine, Palace Pet, and The Mr. Peabody and Sherman Show. Julia Lester's television credits include Mom (CBS), Mr. Student Body President (go90com), The Thundermans and Bella and the Bulldogs (Nickelodeon), and the new show The Prince of Peoria, premiering on Netflix in 2019. Her theatre credits include Carrie: The Musical, The Drowsy Chaperone, Les Misérables, Into the Woods, and Next to Normal. Jason Eric Testa's stage credits include Elf The Musical, The Addams Family, The Laramie Project, Curtains, Heathers, and Grease. Television credits include Brutus Loves You, Eugene!, Important Things With Demetri Martin, Team Umizoomi, and Law & Order. Film work includes A Good Marriage and The Old Man & The Seymour.
Barry Wyner (Book, Music, and Lyrics) has written several musicals including Austin The Unstoppable, The Counselor, Sugar Plum, Stop! and Something to Say. He has composed music for several world premiere plays, a BBC Radio play, The Actor's Studio, AMDA, 78th Street Theater Lab, and more. He has won the Kleban Prize, Jerry Bock Award, Richard Rodgers Award, and Noel Coward Prize. He is a member of the BMI Advanced Musical Theatre Workshop.
Richard Israel (Director) was the on-set theatrical coordinator for HBO's Big Little Lies, directing all of the Avenue Q sequences in the series. Other directing credits include Violet, the New York workshop of the original Jeff Marx musical Home Street Home, The 25th Annual Putnam County Spelling Bee, West Side Story, Floyd Collins, 110 in the Shade, Anita Bryant Died for Your Sins, and Having It All, among many others. He is on the musical theatre faculty of AMDA and is the recipient of the LA Drama Critics Circle Career Achievement Award for Directing.
Anthony Lucca (Musical Director). Music direction credits include Mutt House, Cult of Love, Honeymoon in Vegas, Jacques Brel is Alive and Well and Living in Paris, Assassins, Into the Woods, Floyd Collins, Songs for a New World, and Merrily We Roll Along. Film scoring credits include It's You Not Me, Slice, and Life on Mars. He is the resident music director for the National Theatre Institute at the Eugene O' Neill Theater Center.
Tickets for the staged readings of Calvin Berger are $27.50 and are available online at www.plays411.com/calvinberger or by phone at (323) 628-1030. The Hudson Backstage Theatre is located at 6539 Santa Monica Boulevard in Hollywood, 90038. Valet parking is available.