Review Roundup: SELL/BUY/DATE at Geffen Playhouse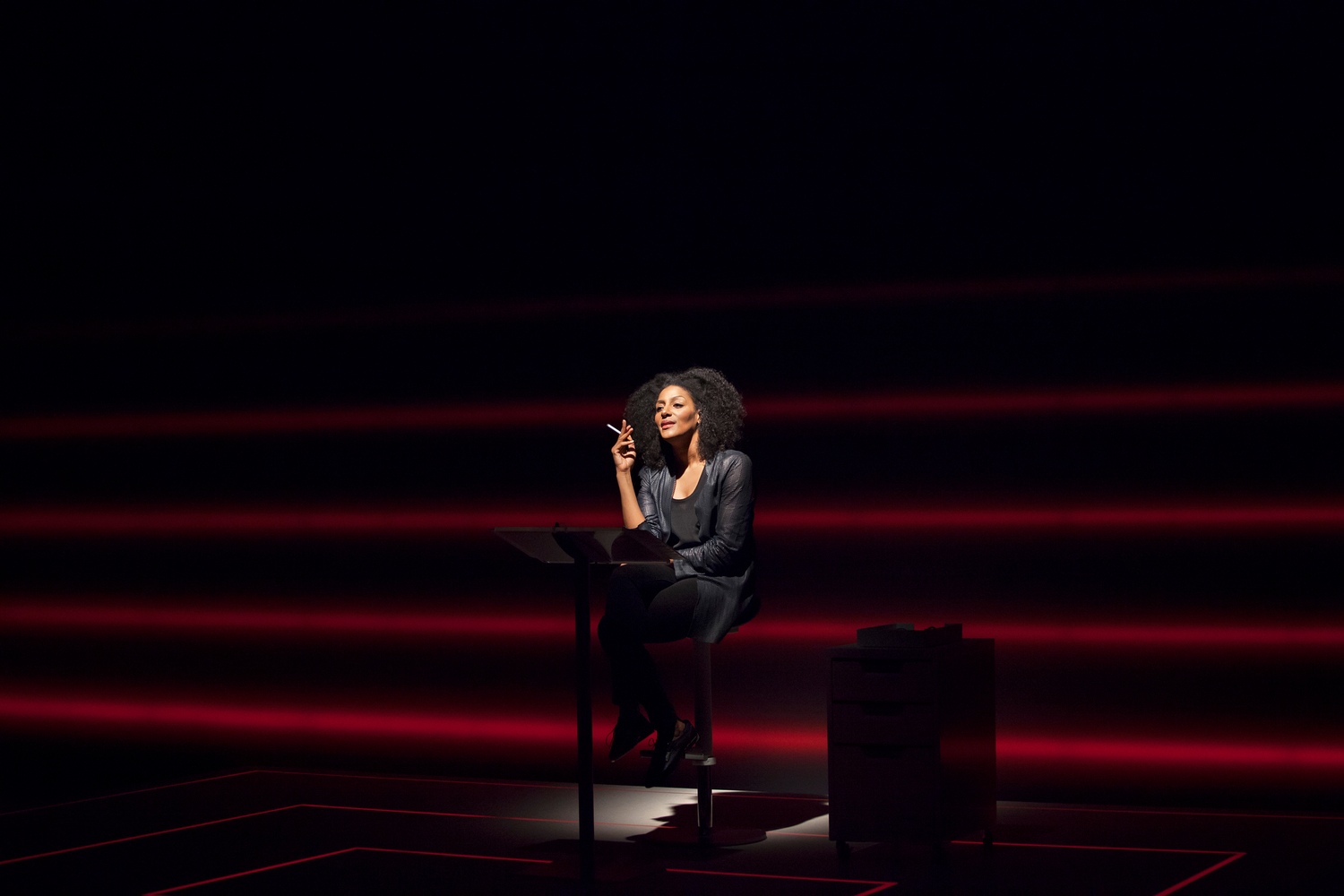 The reviews are in for SELL/BUY/DATE at Geffen Playhouse! A one-woman show ( both written and performed by Sarah Jones), SELL/BUY/DATE opened on February 27th, and has recently been extended through April 15th.
Let's see what the critics had to say!
Jill Weinlein, Onstage Blog: As Tony Award-winning playwright and performer Sarah Jones enters, we meet her first of many characters, the poised, British professor Dr. Serene Campbell. Taking a seat on a pure white chair behind designer Dane Laffrey's white lecture stand, and next to a white rolling file cabinet, we soon learn we are students in a futuristic college lecture hall. Jones brings a kaleidoscope of colors to the stage in her one-woman show through a medley of personalities ...I reflect on how Jones insightful and beautifully written show is relevant in today's #MeToo movement where men and women are having conversations about sex, power and attitudes. I hope we don't have to live in the fatalistic and disastrous future she presents.
Susana Alcantar, Daily Bruin: Tony Award winner Sarah Jones portrays multiple characters with a wide range of backstories, creating a nuanced and gripping narrative that depicts positive and negative experiences of working in the sex industry... Whether they are respectable or morally questionable, every character Jones plays has a purpose in the show - to reiterate the central theme of the objectification of women. Even characters who consent to being sex workers recognize they are giving men sexual pleasure, perhaps harming themselves in the process.
Shari Barrett, BroadwayWorld: Directed by Carolyn Cantor and brimming with Jones' masterful, multiple, multicultural characterizations, SELL/BUY/DATE asks the audience to participate as students in a study hall as Jones describes the historical research she will be presenting, recorded with futuristic mind-sharing technology which allows people to truthfully share their opinions on human sexuality and what part it has played in their lives as society evolved into an "anything goes" mentality... With so many great characters and stories, I cannot possibly share all of them in great detail now. However...remember that each one is brilliantly presented by Jones as a totally different individual from many cultures, races, religions, age groups and social beliefs.
Samuel Garza Bernstein, Stage and Cinema: Sarah Jones is a prescient writer and an actor of rare gifts and remarkable range. It's no wonder that an early patron and supporter was Meryl Streep, for like Streep, Jones goes in and out of accents and physical characterizations with precision in a way that appears effortless... Expertly directed by Carolyn Cantor, the evening breezes by. Jones's dialogue is always persuasive, her impressions about life well-observed, and her research for the piece was apparently exhaustive. All the facts feel right.
Photo Courtesy of Chris Whitaker.