Review: SELL/BUY/DATE Highlighted by Sarah Jones' Masterful, Multiple, Multicultural Characterizations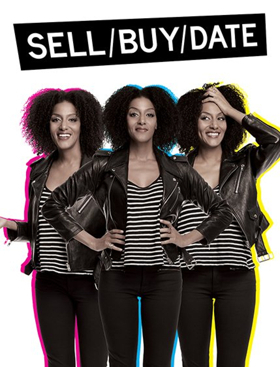 Have you ever wondered what the legal sex industry will look like in the future, given how rapidly our views on personal equality and freedom are changing? Certainly Tony Award-winning playwright and performer Sarah Jones has, given the subject matter of her new play SELL/BUY/DATE in which she takes on the role of an instructor presenting an honest, moving and even humorous look at the complex and fascinating subject, all while preserving the full humanity of voices seldom heard in the theater.
Directed by Carolyn Cantor and brimming with Jones' masterful, multiple, multicultural characterizations, SELL/BUY/DATE asks the audience to participate as students in a study hall as Jones describes the historical research she will be presenting, recorded with futuristic mind-sharing technology which allows people to truthfully share their opinions on human sexuality and what part it has played in their lives as society evolved into an "anything goes" mentality.
When you enter the Audrey Skirball Kenis Theater at The Geffen Playhouse, the futuristic set designed by Dane Laffrey, contains only one chair at a podium, surrounded by concentric lines in squares and rectangles which change into colorful combinations thanks to Elizabeth Harper's brilliant lighting design with each new character Jones presents, exuberantly inspired by the real-life experiences of people affected by the sex industry.
Her class lecture presentation of the many personal history modules begins with Jones
transforming her appearance with costume pieces also designed by Laffrey, while taking on a new and very authentic accent and different physicality for each of the men and women whose interviews she shares. During the entire play, Jones remains in contact with her VA (Virtual Assistant) who controls the recordings, lighting, as well as giving the lecturer the ability to request a "time out" to take personal phone calls without disrupting the class.
Jones first presents the recording of an 88-year old Middle Class Homemaker from New York who sounded just like Mike Myer's mother-in-law Linda,
the Coffee Talk hostess in Saturday Night Live skits. Her "yenta" insights into how things changed once the internet relaxed society's ability to enjoy sex with strangers with the click of a button in the privacy of their homes no doubt resonated with many in the audience as she admitted you can find a lot of sex but no love and fun when you treat sex like an extreme sport of endurance, shared without any tenderness. Sounds familiar to me.
With so many great characters and stories, I cannot possibly share all of them in great detail now.
However, as I describe a few of them, remember that each one is brilliantly presented by Jones as a totally different individual from many cultures, races, religions, age groups and social beliefs. There's Bella, a female student from the Bay Area who shares how pole dancing changed her life as she hurries to finish her interview to make it to her next class, Holding Men Accountable, which was greeted with much laughter from the women in the audience. Turns out Bella's life goal is to become a lawyer to protect the rights of all sex workers.
Next we meet a Jamaican sex worker who started her career as an in-home caretaker before realizing how much money could be made as a sex worker.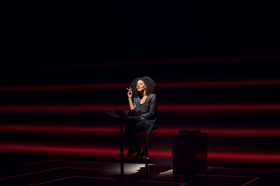 Loved her comment about how much better her life is now since "they pick me up and turn me over" rather than the other way around. It is during this interview that the topic of sex trafficking comes up, often due to the need of mothers to support their children back home. A 67-year old Irish woman shares a Barbie doll, asking if it was created in the past as a tool for anorexics, and how unfair it was that male sluts were just called "men" while women in the sex industry were vilified in society.
Other characters include a reformed pimp, a young man at his bachelor party, a Customer Service rep, a Russian women who describes her legal sex hotels, a Puerto Rican woman from the Bronx who considers all veteran sex workers suffer from PTSD, a young, giggly French woman who works at a breasturant, a lesbian woman from Australia named Katie who relishes her ability to play any type of much-in-demand Asian sex worker,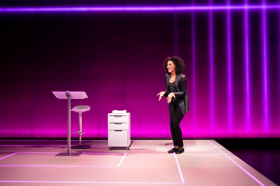 a female scientist from India who rehabilitates men by having them watch "Thelma and Louise" for days until their empathy for women is raised, and an older man who admits the real problem stems from the fact that "men don't buy sex - women sell it."
Ultimately, Jones, as the British lecturer, shares her own story of Bonita, a woman at the Survivors Institute of London who inspired her to pursue her desire to "Fly" (a beautiful song written by Bray Poor) by encouraging other women to not let themselves be grounded in any type of life that is not fulfilling. As Jones finished the song, a much-deserved standing ovation greeted her as she left the stage as the lights faded.
SELL/BUY/DATE written & performed by Sarah Jones and directed by Carolyn Cantor, continues through April 15, 2018 in the Audrey Skirball Kenis Theater at The Geffen Playhouse, located at 10886 Le Conte Avenue, Los Angeles, CA 90024. Tickets are $75-$80 and may be ordered at https://tickets.geffenplayhouse.com/ or by calling the box office at (310) 208-5454. This production contains minor profanity and explicit discussions of sexual subject matter. Run time is 85 minutes with no intermission. Please note there is no late seating and no re-entry while the performance is in progress.
Photo credit:
Chris Whitaker