Photos: WHAT THE BUTLER SAW At Marin Theatre
Marin Theatre Company presents the final show of its highly successful 2008-09 season with a seminal work of modern comedy, Joe Orton's uproarious farce What the Butler Saw in MTC's Boyer Theatre beginning June 4.
The all-star cast includes Charles Shaw Robinson (seen recently in Gore Vidal's The Best Man at Aurora Theatre) and Stacy Ross (who just appeared in Sarah Ruhl's In the Next Room at Berkeley Rep) as Dr. and Mrs. Prentice. Andy Murray, last seen at MTC as Sharky in the acclaimed production of The Seafarer, appears as Dr. Rance. The cast also includes Bay Area favorites Rowan Brooks as Nicholas Beckett, Kevin Rolston as Sargeant Match, and Cat Walleck as Geraldine.
When psychiatrist Dr. Prentice tries to seduce an aspiring secretary, his botched efforts lead to comic bedlam involving his insatiable wife, a randy bellhop, a befuddled police officer, and ultimately, the formidable manhood of Sir Winston Churchill. Wild, risqué, and ferociously playful, What the Butler Saw has been delighting audiences since it was first produced on the London stage in 1969.
"I love Joe Orton and am thrilled to be reviving one of his great comedies this season. We welcome back Amy Glazer, who has directed many hit productions at MTC over the years, to work with some of the Bay Area's best comedic actors. I promise that this hilarious play will put you in stitches!" says MTC Artistic Director Jasson Minadakis.
British playwright Joe Orton had a short but prolific career, ending early when he died at the age of 34 in 1967. He shocked, outraged, and amused audiences with his scandalous black comedies including Entertaining Mr. Sloane (1964 London Critics 'Variety' Award as Best Play), Loot (1966 Evening Standard Drama Award for Best Play), and Crimes of Passion. Orton's final play, What the Butler Saw, was staged in 1969 at the Queen's Theatre, and went to off-Broadway in New York where it won an OBIE Award.
Well-known director Amy Glazer has worked at almost every theater in the Bay Area. Her recent productions include directing Donald Margulies' The Model Apartment at Traveling Jewish Theatre and the 2008 production of Conor McPherson's Shining City at SF Playhouse. At MTC, she last directed Bryony Lavery's Frozen in 2007.

Stacy Ross and Charles Shaw Robinson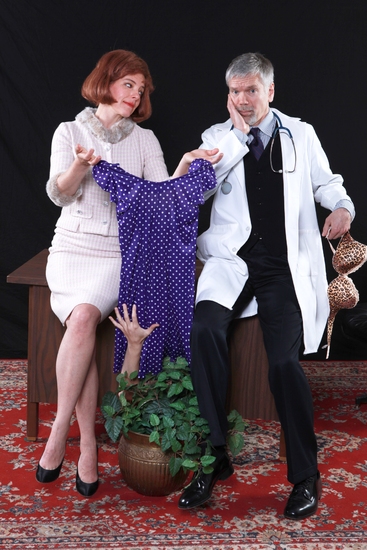 Stacy Ross and Charles Shaw Robinson

Stacy Ross and Charles Shaw Robinson