Photo Flash: The Katselas Theatre Company Presents LA RONDE DE LUNCH
The sophisticated cannibals of modern day Hollywood are comically ravaged when a self-serving movie deal morphs into a plethora of jaundiced shenanigans, including a slight-of-hand real estate negotiation, a sexually rapacious screenwriter, a litigious fitness instructor and much, much more. The Katselas Theatre Company continues its landmark 2009 Season with the tinseltown tour de farce, La Ronde de Lunch, by Peter Lefcourt, directed by Terri Hanauer. Producing is Gary Grossman. The production opens Saturday, October 17 at the Skylight Theatre.
An homage to Arthur Schnitzler's 1900 classic farce, La Ronde, Peter Lefcourt's skewering update captures 21st century Los Angeles' replacement for sex...lunch! Set in Tinseltown's most pretentious and expensive restaurant, El Pueblo de la Venezia, 10 agenda-driven diners are aided, abetted and terrorized by five waiters...all named Bruce. Lunch in Hollywood is not a meal; it is a power dance.
Peter Lefcourt, a Co-Executive Producer on Desperate Housewives, has found great success as a screenwriter, novelist and playwright. Other stage works include: Only The Dead Know Burbank (Hudson Theater), Sweet Talk (The Manhattan Class Company in New York), and The Audit (Actors Alley). Among his many television credits, Lefcourt created the Showtime series, Beggars & Choosers, and his scripting of Cagney & Lacy earned him an Emmy Award for television writing. His novel, The Deal, was adapted into a feature film, starring William H. Macy and Meg Ryan.
Terri Hanauer has worked successfully on stage, television and in film. Her short film, A Day in the Life, screened at various festivals. She adapted and directed Peter Lefcourt's short story, Recycling Flo, chosen by AFI to represent it at the Cannes Film Festival - International Short Film Corner. The film also has won two Best Short Film Jury Prizes at the Fort Lauderdale International Film Festival and The Farmington Comedy Film Festival.
The production design team includes: Sets and Lights by Jeff McLaughlin; Costumes by Shon LeBlanc, Choreography by Tracy Silver.
La Ronde de Lunch features: Matt Austin, Clent Bowers, Joe Briggs, Roslyn Cohn, Fiona Gubelmann, Kathryn Harrold, Gina Hecht, Jay Huguley, Amanda Kruger, Brie Mattson, Daniel Montgomery, Ashley Platz, Kate Siegel, Michael B. Silver, Haley Strode, Brynn Thayer, Demetrius Keone Thomas, and Robert Trebor.
Opening weekend of La Ronde de Lunch is Saturday, October 17 at 8pm and Sunday, October 18 at 7pm. Performances continue Fri, Sat at 8 pm, Sun at 7pm, until November 15. Skylight Theatre is located at 1816 Vermont Avenue, Los Angeles, CA 90027. Ticket Prices are: General - $25; students and seniors- $15. For tickets call: 310-358-9936. For General Information: www.katselastheatre.org
Photo Credit: Ed Krieger

Joe Briggs and Gine Hecht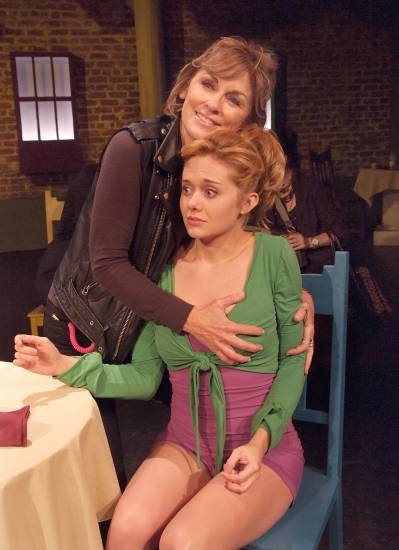 Brynn Thayer and Hayley Strode

Daniel Montgomery, Demetrious Keone Thomas, Terri Hanauer, Peter Lefcourt, Amanda Kruger, Clent Bower and Matt Austin

Jay Huguley and and Kathryn Harrold

Brynn Thayer and Gina Hecht

Related Articles View More Los Angeles

Stories

Shows
More Hot Stories For You