Photo Flash: Child Stars Gather With 100 Students Of Dolores Mission For Holiday Tour Of The Hollywood Museum
The Dolores Mission School is a grade school (K-8) committed to serving low-income families in Los Angeles. Together with the family, we strive to educate the whole child, academically, spiritually, physically, and morally, in a nurturing environment. The students and their families are part of a larger community with a rich cultural identity. The goal is to empower the children to rise out of poverty by becoming educated leaders in their community, "women and men for and with others."
On Thursday, Dec 7th,100 students from The Dolores Mission School gathered for a wonderful Holiday experience at The Hollywood Museum (located in the historic Max Factor building), with festive decorations by Dr. Christmas (Bob Pranga), as well as a meet and greet with inspirational politicians and personalities, including child stars (past & present). A guided tour followed a brief presentation with special gifts from participating personality
Dee Wallace
(who presented her BuppaLaPaloo Bear to the 6th graders and her "BuppaLaPaloo & the I Love Me's" book to the 1st & 2nd Graders), while child performers
Jax Malcolm
, Amber Romero and Conner Dean offered students POKETTIs. Hostess,
Donelle Dadigan
(President and Founder of The Hollywood Museum) treated the entire group to lunch in the festive atmosphere of Mel's diner and arranged for each student to receive Christmas stockings, overflowing with goodies, to take home and share with their families. Among the Child Stars (Past & Present) that appeared were
Erin Murphy
(Bewitched,
Darby Hinton
(Daniel Boone),
Chloe Noelle
(True Blood),
Joey Luthman
(The Goldbergs/Modern Family/iCarly),
Jax Malcolm
(Mid 90s), Landon Gimenez (Ressurection) Connor Dean (A Wrinkle in time),
Sean-Ryan Petersen
(Clique Wars), Savannah Liles (American Horror Story), Hunter Payton (A-Z), Ciara Wilson (Its A Smackdow/Bizaardvark), Amber Romero (Clique Wars), Jillian Estell (The Night Shift), James Calvo (A Haunting in Silver Falls), and Special Guests
Dawn Wells
(Gilligans Island) and
Dee Wallace
(ET: The Extra Terrestrial). Previous participating personalities include
Paul Peters
of "The Donna Reed Show," who remarked, "It's really all about the kids and history. Today was a fabulous pairing of both. It is an honor to be at the Hollywood Museum." Words of wisdom to the children came from "Little House on the Prairie" bad girl,
Alison Arngrim
, who suggested they should never be afraid of change, "...in fact, embrace it," and
Romi Dames
, of "Hanna Montana" fame, advised the youth in the room to "Never stop doing things that scare you. Going outside of your comfort zone leads to new experiences. You'll either have a lot of fun, or have a great new story to tell--or both!" Adding, "I was really impressed with the kids--they were such a polite audience! And they seemed like they were having a blast touring the museum. I think it's wonderful that the Hollywood Museum donates their time and resources to the children of the Dolores Mission. I'm a huge believer in having the arts as a part of school programs, because it helps contextualize historical events." Among the statements made this year,
Dee Wallace
offered what may have been the most inspirational, sharing her own history growing up in a single parent home with a poor family from Iowa. Explaining how she studied to become a high school teacher, before she began to pursue a career that would eventually lead to almost 250 film and TV credits, including that of Mary, Elliott's mom, in Speilberg's classic "ET: The Extraterrestrial." Wallace remarked, "Remember that the choices you make now, not only effect yourself but others around you. I advise you to think seriously about your choices before you make them." Wallace added additional thoughts by quoting Albert Einstein's comment "The most important decision you can make is: Is the world friendly or hostile?" and that
O. Henry
Ford, who said "If you think you can, or you think you can't....you're right." Following this years event, Connor Dean offered the "I love getting to spend time with the kids from the Dolores Mission school, their happiness makes my holiday."
Chloe Noelle
remarked "I love to come here and share the message to always follow your dreams and let nothing including your age stand in the way," and
Jax Malcolm
said "I was so happy to bring gifts from my friends at Poketti to share with the kids from the Dolores Mission to help make their holiday a little brighter." ABOUT DOLORES MISSION SCHOOL
In the early 1950 Dolores Mission School opened in one of the toughest and poorest neighborhoods in Los Angeles. Dolores Mission School was founded to serve families in two housing projects in the flats of Boyle Heights, Pico Garden and Las Casitas, whereby families pay roughly 30% of their income for rent, 92.3% of the population is Latino, and 40% of families with children, most of which are single-parent households, live below the federal poverty level. While this information is both disturbing and true, Dolores Mission School is a place of hope. Since the 1980s the California Province of Society of Jesus, the Jesuits, have committed to the challenges and hopes of the school. Today, Dolores Mission is a place of promise for the future, providing a quality education to students K-8th grades, a nutritional program, and we partner with Proyecto Pastoral to provide an after school program that is educational, safe, and fun! (
http://www.dolores-mission.org
) ABOUT THE HOLLYWOOD MUSEUM
See 10,000 Authentic Show Business Treasures spotlighting more than 100 years of Hollywood history - from the Silents to Talkies, to Hollywood's Golden Era, Film Noir, Television and its Pioneer Years, through the rebellious 60s, special effects 70s, evolving 80s, involved 90s, technological 2000s, and beyond to current day heartthrobs! The Hollywood Museum's exhibits showcase the best in film, network and cable television, and new digital platforms featuring iconic and fan favorites! Named one of the top tourist attractions by LA Weekly, voted one of the Top 10 Museums in LA by the Los Angeles Tourism & Convention Board, and annually receives the Certificate of Excellence from Trip Advisor. Located in the heart of Hollywood, at the corner of Hollywood Blvd and Highland Ave - The Hollywood Museum in the historic Max Factor Building is the "Official Museum of Hollywood" and offers visitors the most extensive collection of Hollywood memorabilia in the world featuring the glamour of Hollywood legends and stars - past, present and in the making.... See one-of-a-kind costumes, props, photographs, scripts, stars' car collections, personal artifacts, posters, and memorabilia from favorite stars, films and TV shows. The Hollywood Museum is a 501(c)(3) non-profit corporation. REGULAR HOURS: Wednesday - Sunday: 10:00 am - 5:00 pm
TICKETS: $15 Adults: $12 Seniors (62+): $12 for students with ID and $5 Children under 5.
ADDRESS: 1660 N. Highland Ave. (at Hollywood Blvd.), Los Angeles, CA 90028
MUSEUM INFO:
www.TheHollywoodMuseum.com
or Tel:
(323) 464-7776
Photo Credits:
Bill Dow
Photography


Dolores Missions students line up out side the Hollywood Museum for holiday tour, hosted by Museum President and Founder, Donelle Dadigan (5th from left)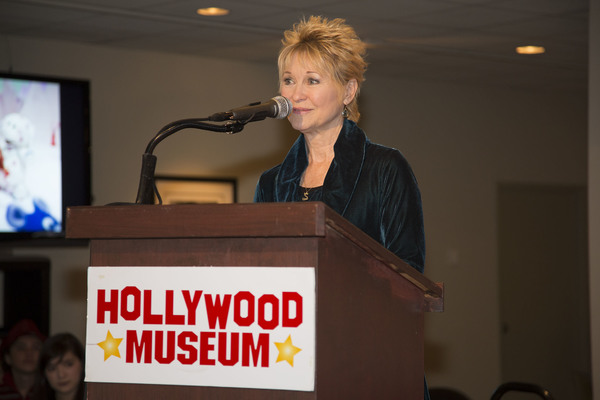 Dee Wallace offers students inspiration and gifts

Donelle Dadigan and Dee Wallace with impressive roster of child performers including (in no particular order) Chloe Noelle, Joey Luthman, Jax Malcolm, Landon Gimenez, James Calvo, Connor Dean, Sean-Ryan Petersen, Savannah Liles, Hunter Payton, Ciara Wilson, Amber Romero, and Jillian Estell,

Erin Murphy, Donelle Dadigan, Dee Wallace, Dawn Wells and Darby Hinton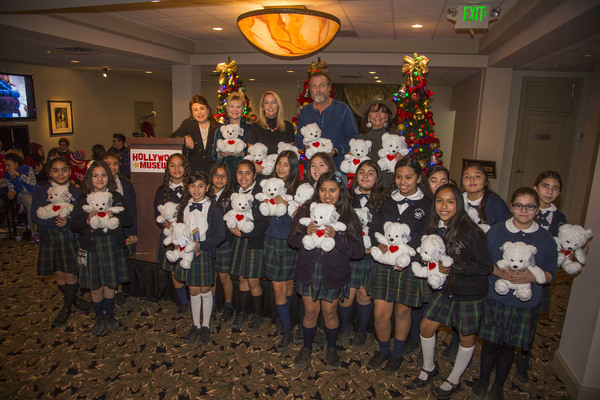 Donelle Dadigan, Erin Murphy, Darby Hinton and Dawn Wells help Dee Wallace (Second from left, top row) hand out her BuppaLaPaloo Bears, designed to help with selfesteem, to the 6th graders

Dee Wallace presents copies of her "BuppaLaPaloo & the I Love Me's" book to Dolores Mission principles Melissa and Corina for all of the 1st and 2nd graders.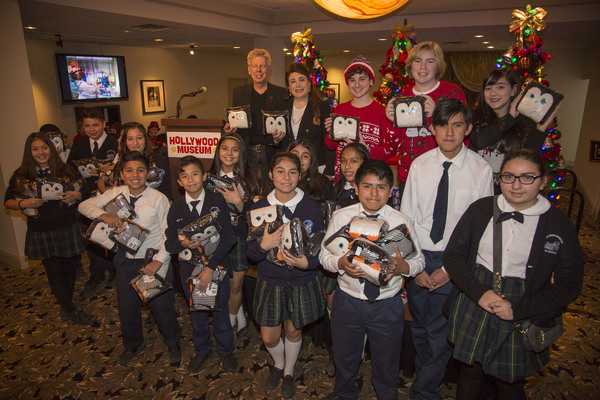 Hollywood Museum manager, Steve Nycklemoe, Donelle Dadigan, Jax Malcolm, Conner Dean and Chloe Noelle with some of the students to receive POKETTI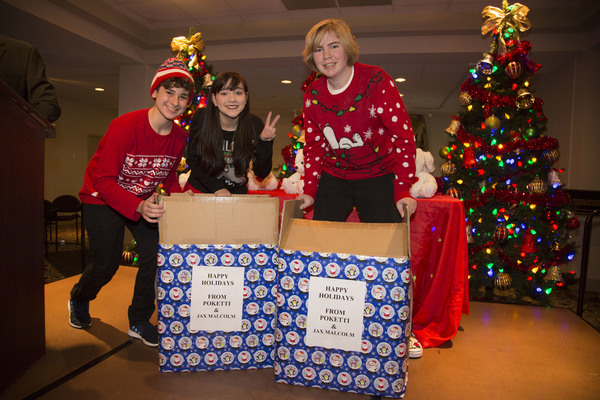 Jax Malcolm, Chloe Noelle and Conner Dean pepare to hand out POKETTI to all of the students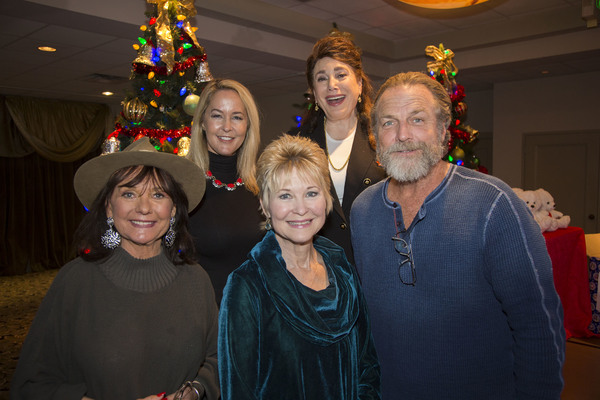 Dawn Wells, Erin Murphy, Dee Wallace, Donelle Dadigan and Darby Hinton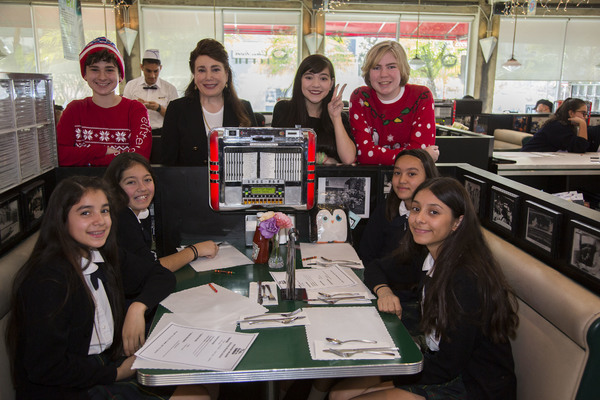 Jax Malcolm, Donelle Dadigan, Chloe Noelle and Conner Dean join some of the Dolores Mission students for lunch at Mel's Diner.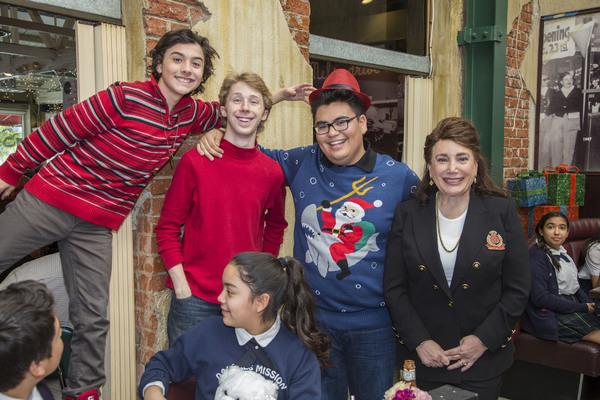 Hunter Payton, Joey Luthman, Sean-Ryan Petersen and Donelle Dadigan table hop to meet and great all of the students from Dolores Mission school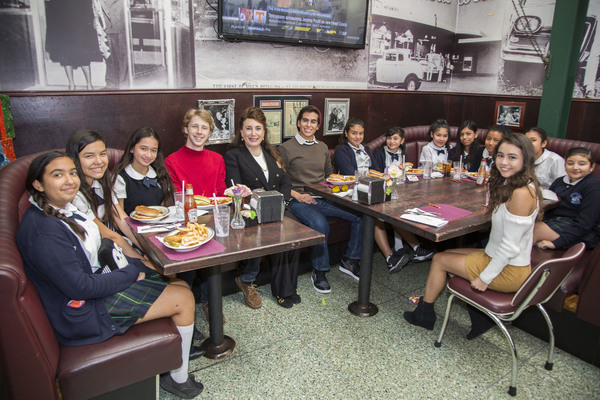 Amber Romero (right), Joey Luthman and James Calvo join Donelle Dadigan (center) and Dolores Mission students in corner booth at Mel's Diner

President and Founder of The Hollywood Museum, Donelle Dadigan, surrounded by child performers, Landon Gimenez, Hunter Payton, Jax Malcolm, Ciara Wilson, Conner Dean, Chloe Noelle and Joey Luthman pose with Christmas tree in the museum lobby.
Related Articles View More Los Angeles

Stories

Shows
More Hot Stories For You