Photos: GULF VIEW DRIVE The Final Play in Arlene Hutton's Trilogy
Rubicon Theatre Company presents GULF VIEW DRIVE , the third and final play in Arlene Hutton's Nibroc Trilogy, directed by Indy award-winning Katharine Farmer with the same cast reprising their critically-acclaimed roles from the Los Angeles Times "Critic's Choice" productions of Last Train to Nibroc and last season's See Rock City. Lily Nicksay ("Boy Meets World"/The Wild Duck at A Noise Within) and Erik Odom ("The Twilight Saga: Breaking Dawn - Part 2"/Sons of the Prophet at The Blank) return as May and Raleigh, along with See Rock City featured cast members Clarinda Ross (Spit Like a Big Girl/Steel Magnolias) and Sharon Sharth (Waiting for Grace/ member of Actors Studio and Circle Rep in New York). Joining the cast is returning Rubicon artist Faline England (Crimes of the Heart (Indy Award)/Turn of the Screw (Ovation Nomination). The ongoing love story of May and Raleigh concludes with the Kentucky couple now living comfortably in Florida in the 1950s. But their settled life is once again rocked by the arrival of family and turbulent events that threaten their sunny existence. Their love and devotion are put to the test when they must make unconventional decisions in a rapidly changing world. GULF VIEW DRIVE opens in Ventura on Saturday, January 28 at 7:00 p.m., followed by a post-show party with cast, crew and local VIPs. Low-priced previews are January 25-27. The show runs Wednesdays through Sundays through February 12, 2017.
GULF VIEW DRIVE picks up almost a decade after May and Raleigh part ways in See Rock City to pursue their separate dreams, keeping faith that they will remain connected and come together again. Having met during the early years of WWII in Last Train to Nibroc and endured the struggles of marriage, family and work against the backdrop of war and uncertainty in See Rock City, May and Raleigh have relocated to Florida, enjoying their dream house and the security their love brings. The year is now 1953, and May is a schoolteacher while Raleigh has found success as a novelist. Their peaceful home is turned upside-down when Raleigh's cheerless mother comes to stay for an indeterminate amount of time. With May's mother and Raleigh's pregnant sister already living with them, the strain becomes both humorous and unbearable. Outside their over-crowded home, questions concerning race, segregation, patriotism and traditional values seep into their lives, challenging them to grow and change with the times, or face the consequences of unyielding resolve.
Since Rubicon's initial staging of Last Train to Nibroc in 2015, (which earned two Ovation nominations and an Indy Award for director Farmer), audiences and critics alike have eagerly anticipated the subsequent plays in the trilogy, with last season's See Rock City earning rave reviews, six Ovation nominations and five StageScene L.A. Scenie Awards.
According to Rubicon Producing Artistic Director Karyl Lynn Burns, "Last Train to Nibroc was the surprise hit in our 17th season. The play seems understated and simple," she continues, "but it packs a powerful emotional punch. Many of our audience members related to the struggles faced by May and Raleigh and were captivated by the charm and gentle humor of the piece."
"The storytelling was so true," she continues, "and the characters so real, that every night after the performance, attendees asked what happened to May and Raleigh after the play ended. We quickly knew we had to produce the sequel."
"After See Rock City, we were thrilled to then be able to secure the rights for the final play in the trilogy. It is such a rare gift to be able to watch these characters unfold through three separate plays. We have become deeply invested in their stories and the characters have become family to us."
"We have also been privileged to come to know the brilliant creator of the Trilogy playwright Arlene Hutton," says Burns, "and to regard her as part of our theatre family. During the run of the show, we will be presenting a free staged reading of another new play by Arlene entitled Three Sisters Bronte."
The reading will take place on Monday, February 6 at 7:00 p.m. and complimentary tickets may be reserved through the Rubicon box office when ordering tickets to the Gulf View Drive.
Audiences will also have an opportunity to see $10 film screenings of Last Train to Nibroc and See Rock City before the opening of Gulf View Drive at the newly renovated Cinemark movie theatre in Downtown Ventura. The screenings take place on Monday January 9 at 1:00 p.m. and 6:00 p.m. (for Last Train to Nibroc) and Monday, January 16 at 1:00 p.m. and 6:00 p.m. (for See Rock City). Those tickets are also available only through the Rubicon Box Office or Rubicon's website.
Says Burns, "Thanks to funding from a London philanthropist, director Katharine Farmer was able to film live performances of Rubicon's productions of these first two plays for posterity in a format similar to that of National Theatre Live or The Met. We are delighted to be a part of this growing trend."
"Each of the plays stand alone, but they are certainly interrelated" according to Burns. "The films make it possible for those who didn't see the first two plays to become acquainted with the characters. And for those who did see the plays at Rubicon, the screenings are an opportunity to become reacquainted before enjoying the final chapter onstage."
Critics have lauded productions of Last Train to Nibroc and See Rock City at Rubicon, with both being designated "Critic's Choice" from the Los Angeles Times. Of See Rock City, reviewer Philip Brandes wrote, ""Pitch-perfect staging by Katharine Farmer once again frames Hutton's deceptively simple, character-based style (reminiscent of Horton Foote's portraits of everyday life at their naturalistic best)."
The Santa Barbara Independent reviewer effused, "There's something extraordinary happening at the Rubicon with See Rock City that makes it utterly irresistible. Arlene Hutton's writing has wings, and in young director Katharine Farmer's hands, the cast achieves memorable flights of ensemble coordination and chemistry."
The Ventura Breeze remarked, "See Rock City is a glowing example that lightning can strike the same place twice with double the intensity - especially when presented with the power and delicate finesse of the artists assembled."
Broadway World called the production, "Evocative... Intense...outstanding...[Lily] Nicksay is wonderful...[Erik] Odom is masterful...beautifully directed by 22-year-old Katharine Farmer."
Actors and Designers from Last Train to Nibroc and See Rock City Reunite
Actors Lily Nicksay and Erik Odom return to Rubicon for GULF VIEW DRIVE, continuing their critically-acclaimed portrayals of May and Raleigh, respectively, in Last Train to Nibroc and See Rock City.
Says director Katharine Farmer, "It has been such a great pleasure in rehearsal to see how deeply Lily and Erik know and own these characters. They've been incredible together from Last Train to Nibroc and then See Rock City; the passage of time has deepened their connection to each other and the challenges faced by this decent, devoted couple in a beautiful, sometimes unbearably beautiful, way."
The characters of May and Raleigh's mothers, the good-natured Mrs. Gill and the judgmental Mrs. Brummett, were introduced in See Rock City and also return for Gulf View Drive, played by Sharon Sharth and Clarinda Ross, respectively. Both received recognition in their roles with StageScene L.A.'s Scenie Award for Outstanding Performance by an Actress in a Featured Role, and Sharth received an Ovation nomination for Best Featured Actress in a Play.
Rubicon artist Faline England joins the cast as Raleigh's pregnant and diffident sister Treva. England has earned multiple Indy awards and is a two-time Ovation nominee (for Rubicon's Turn of the Screw and All My Sons). Other stage credits include Carry the World: Women and Peace, Viola in Twelfth Night (Indy Award), Roxie Hart in Chicago (Indy Award), Angelica in The Rover (Indy Award), The Three Sisters, Playboy of the Western World, The Changeling, and The Tavern. Faline performed in Heartbreak House and The Tempest with Theatre Artists Group, the original Finnegan's Wake with Santa Barbara Dance Theatre, Purge! with James Donlon & Co., and All in the Timing at Western Stage. She co-wrote, produced, and starred in the two-person show Flayjennnie Eroticus: A Documentary (Indy Award). TV and film credits include "Criminal Minds," "The Mentalist," "Nip/Tuck," "CSI," "Numb3rs," "Medium" and "Without A Trace."
Nicksay's prior theatre credits include The Wild Duck (A Noise Within, Ovation Nomination for "Best Featured Actress and A Singular They at The Blank Theatre (StageScene L.A. Scenie Award - Best Performance). She originated the role of Morgan Matthews in the long-running ABC Television show "Boy Meets World," and reprised the role for the new Disney Channel show, "Girl Meets World." Other film and television roles include the upcoming feature "Killing Animals" (executive produced by James Franco), "The Negotiator," "Up Close and Personal" and "The Adventures of Rocky and Bullwinkle"; with guest appearances on "The Mentalist," "The Guardian," "8 Simple Rules" and "Judging Amy." Nicksay received her M.A. in Latin and Ancient Greek from the University of St. Andrews, Scotland.
Odom made his London stage debut last year with Pig Farm at the St James Theatre, directed by Katharine Farmer (Last Train to Nibroc and See Rock City). Other theatre credits include the L.A. Premiere of the 2012 Pulitzer Prize finalist Sons of the Prophet at The Blank Theatre, the World Premiere of Uploaded and the West Coast Premiere of A Bright New Boise at the Rogue Machine (nominee for 2013 LA Weekly Theatre Award for Best Supporting Male Actor). Screen credits include Peter in "The Twilight Saga: Breaking Dawn - Part 2" and "Grimm." He next appears in "A Crooked Somebody" (opposite Rich Sommer and Ed Harris) and "Luke and Jo."
Ross returns to Rubicon having appeared in Steel Magnolias, Bad Apples and the World Premiere of her own play Spit Like a Big Girl. She made her film debut in "Blue Sky" with Jessica Lange and Tommy Lee Jones, directed by Sir Tony Richardson, and later appeared in "Fluke" directed by Italian filmmaker, Carlo Carlei. Clarinda's first play From My Grandmother's Grandmother Unto Me celebrates its thirtieth anniversary next year, having toured extensively in the '80's and '90's and was made into a television special for PBS with Ross in the lead.
Sharth's award-winning play Waiting for Grace, in which she co-starred, garnered accolades for its recent successful run at the Odyssey Theatre in L.A. She has been nominated for two Best Leading Actress Awards, for Alan Ayckbourn's Woman in Mind and for A Perfect Ganesh by Terrence McNally. She has starred on and Off-Broadway and in numerous television and film roles. She has starred in productions at Circle Rep, Manhattan Theatre Club, the Geffen Playhouse, Mark Taper Forum, Odyssey Theatre, Old Globe Theatre in San Diego, Actors Theatre of Louisville Humana Festival, Yale Rep, and the Eugene O'Neill Playwrights Conference. Sharon has toured internationally, most notably in Japan as May in Sam Shepherd's Fool for Love.
The design team for GULF VIEW DRIVE also returns this year, with lighting and set design by Mike Billings (nominated for two Ovation awards for See Rock City), sound design by Austin Quan, and costume design by Marcy Froehlich (nominated for an Ovation award for Last Train to Nibroc). Jessie Vacchiano is Production Stage Manager with Christina M. Burck as Production Manager and David King as Technical Director.
More About the Director
Katharine Farmer, who at 21 was the youngest person to ever direct a mainstage show at Rubicon with Last Train to Nibroc, returns to Rubicon Theatre Company to direct Gulf View Drive, the final play in Arlene Hutton's Nibroc Trilogy. Katharine received an Ovation Award nomination for Best Director - Larger Theatre for See Rock City and won an Indy Award for her direction of Last Train to Nibroc, which was also nominated for an Award for Best Production of a Play - Larger Theatre. She made her West End directing debut with Pig Farm at the St. James Theatre in London, also starring Erik Odom. Most recently, Farmer co-directed the Canadian premiere of 23.5 Hours (formerly known as Conviction) with Karyl Lynn Burns at the Royal Manitoba Theatre Centre. Other recent credits include readings of Three Sisters Brontë at the Barrow Group Theatre and New Dramatists (NYC), Carey Crim's Glamping at the Samuel French Off-Off-Broadway Festival and an adaptation of The Importance of Being Lewis as a charity fundraiser for the Duchenne Research Fund at the West End's Dominion Theatre. Farmer served as Associate Producer and Assistant Director to Rubicon Artistic Director James O'Neil on the Off-Broadway production of Lonesome Traveler, which ran at 59E59; and was Assistant Director to Jenny Sullivan on the Off-Broadway production of Wiesenthal. Katharine also served as Assistant to the Director for Sir Trevor Nunn on his acclaimed revival of Scenes from a Marriage. She is the company director of Dead Posh Productions and is Director of International Programming at Rubicon.
More About the Playwright
Arlene Hutton is an alumna of New Dramatists and member of Ensemble Studio Theatre and the Dramatists Guild. She is best known for The Nibroc Trilogy, which includes Last Train to Nibroc (Drama League - Best Play nomination), See Rock City (Spirit of America Award) and Gulf View Drive (L.A. Weekly, Ovation Award nominations), all published by Dramatists Play Service. Her plays have been presented Off- and Off-Off-Broadway and at theatres across the U.S., in London, Edinburgh, and throughout the world. Other works by Hutton include Letters to Sala, Running, Vacuum, I Dream Before I Take the Stand, As It Is In Heaven, Happy Worst Day Ever (commissioned by Cincinnati Playhouse and winner of the Macy's New Play Prize), and Three Sisters Brontë (which will be workshopped at Rubicon during the run of Gulf View Drive). Twice named a Tennessee Williams Fellow at the University of the South, Hutton is a three-time winner of the Samuel French Short Play Festival, finalist for the Francesca Primus Prize and recipient of the Lippmann Award, the Calloway Award, an EST/Sloan Commission and a 2016 NYSCA/NYFA Artist Fellowship. Residencies include the Australian National Playwrights Conference, Blue Mountain Center, MacDowell Colony, New Harmony Project, SPACE at Ryder Farm and Yaddo. Her play for teens Kissed the Girls and Made Them Cry was just published by Playscripts. Hutton teaches playwriting at The Barrow Group in New York City.
Sponsors
Title show sponsors for Gulf View Drive are BBA and Janet and Mark L. Goldenson. Additional sponsors for the 2016-2017 Season are Diane and Peter Goldenring, Barbara Meister, Jordan Laby and Anne and Michael Towbes.
Movie Screenings of Last Train to Nibroc and See Rock City
Film screenings of Last Train to Nibroc and See Rock City will be shown at the newly renovated Cinemark in Downtown Ventura on Monday, January 9 and Monday, January 16, 2017 at 1 p.m. and 6 p.m. These special screening are made possible in part by the City of Ventura, Downtown Ventura Partners and Kevin Clerici, and Cinemark.
Showtimes for Last Train to Nibroc $10 General Admission
Monday, Jan. 9, 2017 @ 1 p.m. & 6 p.m.
LAST TRAIN TO NIBROC begins in the winter of 1940 when Raleigh and May are forced to share a seat on a crowded train headed east - an event that changes the path of both of their lives forever. Raleigh, a recently discharged flyboy who dreams of becoming a writer, and May, a young woman set on becoming a missionary, meet and discover that they grew up mere miles from each other in Kentucky. The possibility of romance emerges, and the two imagine going to the Nibroc festival together in May's hometown. But they are thwarted by their own natures and by circumstances. This intimate and charming exploration of human relationships premiered at the New York Fringe Festival in 1998. The play quickly moved Off-Broadway, where it was nominated for Best Play by the New York Drama League. The Associated Press described the show as "a gently charming play reminiscent of Thornton Wilder in its look at rustic Americans who are to be treasured for their simplicity and directness." The reviewer from the Financial Times called the play "beautifully written," adding that "every line is a heartbeat."
Showtimes for See Rock City $10 General Admission
Monday, Jan. 16, 2017 @ 1 p.m. & 6 p.m.
SEE ROCK CITY opens with May and Raleigh returning to Corbin, Kentucky after plans to honeymoon in Rock City are derailed. The newlyweds settle into small-town life, living with May's parents. May is the local school principal; and Raleigh, discharged from the army for medical reasons, is beginning to find success as a short-story writer. The couple works to make ends meet and find their place in the community under the watchful eyes of May's gentle and supportive mother (Mrs. Gill), and Raleigh's taciturn, judgmental mother (Mrs. Brummett). When victory overseas results in unexpected consequences on the home front, May and Raleigh must confront hidden truths and deal with the challenges of a new, post-war America.
Schedule, Special Performances and Ticket Info for GULF VIEW DRIVE
Low-priced previews for GULF VIEW DRIVE begin on Wednesday, January 25, 2017 at 7 p.m., continuing Thursday, January 26 and Friday, January 27 at 8 p.m. Opening night is Saturday, January 28, at 7 p.m. with a post-show party. The production continues Wednesdays at 2 and 7 p.m., Thursdays and Fridays at 8 p.m., Saturdays at 2 and 8 p.m. and Sundays at 2 p.m. through February 12. All performances are at Rubicon Theatre, 1006 E. Main Street in Ventura's Downtown Cultural District (the corner or Main and Laurel). For tickets, go to www.rubicontheatre.org or call (805) 667-2900. Talkbacks with actors are scheduled after the Wednesday 7 p.m. performances on February 1 and 8.
Tickets for GULF VIEW DRIVE range from $30 to $55 (opening night is $99 and includes a post-show reception. Tickets for students with ID are $25; Equity members and military are $30. There is a $5 discount for seniors 65 and older. There is a $4 service fee for ticket handling. Discounts of 10% to 20% are available for groups of 10 or more, depending on the size of the group. Tickets for GULF VIEW DRIVE may be purchased in person through the Rubicon Theatre Company Box Office at the corner of Main and Laurel in Ventura (Laurel entrance and downstairs) or online at www.rubicontheatre.org. To charge by phone, call 805.667.2900.
Photo credit: Jeanne Tanner

Clarinda Ross,
Sharon Sharth
, Erik Odom and
Lily Nicksay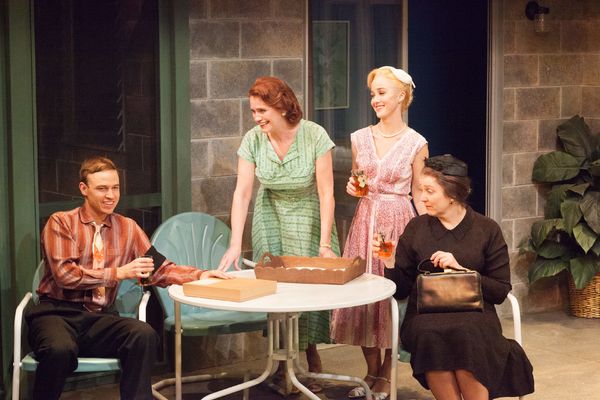 Erik Odom,
Sharon Sharth
,
Lily Nicksay
, and Clarinda Ross
Erik Odom, Faline England,
Sharon Sharth
and
Lily Nicksay
Erik Odom and
Lily Nicksay
Sharon Sharth
, Clarinda Ross, Faline England, Erik Odom,
Sharon Sharth
and
Lily Nicksay