Musical Theatre West Presents The Southern California Premiere Of YANKEE DOODLE DANDY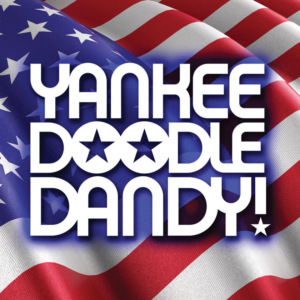 Celebrate America and the beginnings of our country's musical theatre history with a new look at the life of George M. Cohan in the Southern California premiere of Musical Theatre West's (MTW) production of Yankee Doodle Dandy! at the Carpenter Performing Arts Center July 6-22, 2018. For tickets go to www.musical.org, call (562) 856-1999 ext. 4 or visit the MTW Ticket Office. Tickets start at $20.
Yankee Doodle Dandy! sparkles and shines in David Armstrong's new take on the life of American showman and songwriter George M. Cohan. The patriotic and biographical journey explorers the life of the musical pioneer, from his humble beginnings to his meteoritic rise to the top. This high-flying musical is filled with a score of 22 beloved songs, including "Give My Regards to Broadway," "Over There," "You're a Grand Old Flag," and "Yankee Doodle Dandy," and additional new music and lyrics by Albert Evans. Musical Theatre West's production is under the direction of Jamie Rocco, who also serves as choreographer, with musical director by Jeff Rizzo.
Different than the musical George M! and the film Yankee Doodle Dandy!, the musical explores the highs and lows of Cohan's life. Set against the colorful backdrop of 'Old Broadway,' the show explorers the life of the man; from the hard-knock days of his family's adventures in vaudeville through his reign as the star-spangled 'King of Broadway' and what happened when faced with the consequences of fame, failed relationships, and changes on Broadway. Today, Cohan is recognized as the father of the American Musical. Throughout his lifetime he wrote more than 40 Broadway plays and musicals; wrote and composed more than 500 songs and musical numbers; produced 128 theatrical works; and personally appeared in five films and more than 3,400 live performances. Additionally, Cohan collaborated with other authors on 14 plays, on many of which his name was uncredited. In 1941, Cohan won a Congressional Medal of Honor for the song, "Over There."
Yankee Doodle Dandy! boasts a cast of Broadway, regional theater, and local talent, including one member of the original production. Adam Wylie stars as the larger-than-life George M. Cohan. Best known for his portrayal of Zach Brock on the Emmy award winning series "Picket Fences," and Brad Langford on "Gilmore Girls," his stage credits include the Broadway revival of Into the Woods as Jack; Boq in the LA company of Wicked, and Goat in The Robber Bridegroom at ICT, for which he earned a Broadway World Award. Wylie is an accomplished voice artist, who can be heard as Peter Pan in "Jake and the Neverland Pirates" and well and Panicky Smurf in "Smurfs" and "Smurfs 2". An accomplished close-up sleight of hand magician, he is a recipient of the Carl Balentine Award as well as being featured on the television hit "Masters of Illusion."
Six-time LA Stage Alliance Ovation Award winner David Engel (Jerry) has appeared on Broadway opposite Carol Burnett in Putting It Together,a nd in Seussical: The Musical. He also created the role of Hanna from Hamburg in the original Broadway production of La Cage Aux Folles and played an Aggie in both the stage and the film versions of The Best Little Whorehouse in Texas. Mr. Engel is most noted for creating the role of Smudge in the original off-Broadway production of Forever Plaid and its holiday sequel Plaid Tiding, as well as appearing in the film Forever Plaid: The Movie. MTW's audiences may remember Engel's performances in Singin' in the Rain, and Crazy for You as well as his turn in Irving Berlin's White Christmas this past December.
Cynthia Ferrer created the role of Nellie in the world premiere production of Yankee Doodle Dandy! and originated the role of Marion Cunningham in Happy Days: The Musical. Off-Broadway, Ferrer starred as Emily in Elf: The Musical and as Kathy Selden in the first National Tour of Singin' in the Rain. A favorite for MTW audiences, she most recently co-starred in Dirty Rotten Scoundrels and in the Reiner Staged Reading Series performances of Li'l Abner, Busker Alley, and Anyone Can Whistle. Film and television audiences may remember her as Dr. Rachel Ryan on "General Hospital" or in the film "Georgia Rule" starring Jane Fonda and Lindsay Lohan for director Garry Marshall.
Rounding out the cast are Cassie Simone as Ethel/Georgette, Tro Shaw as Josie, Matt Kacergis as Sam Harris and David Allen Jones as Old George.
Musical Theatre West's 2017-2018 Season Sponsors include The Port of Long Beach, The Ackerman Family/Evalyn M Bauer Foundation, Ken & Dottie Reiner, and The Schulzman-Neri Foundation. Yankee Doodle Dandy! is made possible thanks to the support of Honorary Producers Joe & Edna Moore and Associate Producers George & Gloria Deukmejian Youth Performance Underwriters are Don Black & Judy McNulty Black. The Ackerman Family/Evalyn M. Bauer Foundation, Stanley Cohen, Ethel Severson and Mari Hooper. Paul Garman serves as Musical Theatre West's Executive Director/Producer.
Tickets are now on sale for Yankee Doodle Dandy! at the Carpenter Performing Arts Center July 6-22, 2018. For tickets go to www.musical.org, call (562) 856-1999 ext. 4 or visit the MTW Ticket Office. Tickets start at $20.
822-0900lori@musical.org
Related Articles View More Los Angeles

Stories

Shows
More Hot Stories For You