BY POPULAR DEMAND! Jackie Evancho Returns To The McCallum Theatre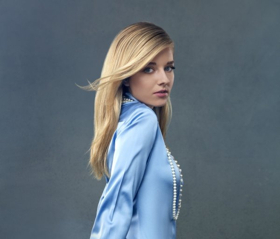 The McCallum Theatre welcomes the return of Jackie Evancho for one performance on Friday, January 11, at 8:00pm. Since she first dazzled American television audiences at the age of 10 with her stunning debut on "America's Got Talent," Jackie has released a string of Platinum and Gold albums, with sales of over 2.5 million in the U.S and #1 spots on the Billboard Classical chart. She also made history as the youngest solo Platinum artist, the youngest Top 5 debut artist in the U.K., the youngest person to give a solo concert at Lincoln Center, and the highest-ranking debut artist of 2010.
Jackie's YouTube video stardom led to her spectacular performance of the Puccini aria "O mio babbino caro" on "America's Got Talent." Her breakthrough transformed into a serious career. In less than a decade, Jackie has made seven chart-topping albums and DVDs, headlined three PBS specials, appeared in the film The Company We Keep at the request of Robert Redford, and toured the world, singing for Presidents, world leaders, and fans everywhere. In addition to her solo success, Jackie has recorded duets with Tony Bennett, Susan Boyle, Il Volo, Plácido Domingo, Barbra Streisand, Chris Botti, The Tenors and Joshua Bell.
Her first major-label recording, O Holy Night, made Jackie the top-selling debut artist of 2010 and the youngest solo artist ever to debut in the Top 5. With sales of more than a quarter of a million copies in its first week, O Holy Night was certified Platinum and Jackie became the youngest performer to go Platinum in the U.S.
Dream with Me was Jackie's first full-length album for Sony Music, produced by David Foster. Debuting at No. 2 in the Billboard 200, the album confirmed the success of O Holy Night, featuring duets with Barbra Streisand and Susan Boyle and bringing Jackie a Platinum record and international acclaim. Dream with Me took her to television's best-rated programs, a PBS special, and a tour of sold-out top concert venues around the world.
Jackie followed with more successful albums, including Heavenly Christmas, Songs from the Silver Screen, and Awakening, all expanding her repertoire, her collaborations with artists and writers, and her worldwide audience. Jackie's album Someday at Christmas (2016) continued her unbroken streak of No. 1 titles on the Billboard Classical Album chart. The album featured her favorite holiday tracks, a collaboration with Plácido Domingo, three new tracks including the Stevie Wonder title song, and "The Little Drummer Boy" with Il Volo.
Two Hearts (2017) features popular hits, both old and new, classical crossover Italian songs, and Jackie's emerging gifts as a collaborative songwriter. With Two Hearts, Jackie reaches an exciting new place, both creatively and personally. Jackie's heart is always in the classical crossover, but she is discovering another facet of her work, her range and, thus, her heart, a love of songwriting and a new pop sound. Two Hearts features a wide variety of classic and popular, and four songs she co-wrote.
Throughout her career, Jackie has sought to broaden her experience and embrace new challenges. In 2013, she performed as part of Cirque du Soleil extravaganza at the Bellagio's "O" Theatre to support "One Night for One Drop" on World Water Day. Jackie made her film debut in 2013 when Robert Redford cast her as his daughter in The Company You Keep. That same year, GUESS owner Paul Marciano selected Jackie to star in the Fall 2012 GUESS Kids clothing campaigns.
Jackie sang for Pope Francis I during his US visit, performed at the lighting of the National Christmas Tree in Washington, performed for the President and Congressional leaders during the National Prayer Breakfast, and performed on Oprah Winfrey's farewell special.
In 2012, Jackie was selected to represent the U.S. in Russia at the opening of the St. Petersburg Economic Forum. She performed prior to the Forum's opening, singing with international opera stars Russia's Dmitri Hvorostovsky and South Korea's Sumi Jo. Jackie was invited to perform for Japan's Royal Family at the Imperial Palace, as well as sold-out performances with the Tokyo Philharmonic.
Never could there be a better time for her album called Two Hearts - a celebration of the success Jackie Evancho has achieved, but an opportunity to reach higher and farther to transform a career that is already a dream come true.
Tickets for this performance are priced at $99, $89, $69 and $59. Tickets are available at the Theatre's website at www.mccallumtheatre.com or by calling the McCallum Theatre Box Office at (760) 340-2787.