David Green - Page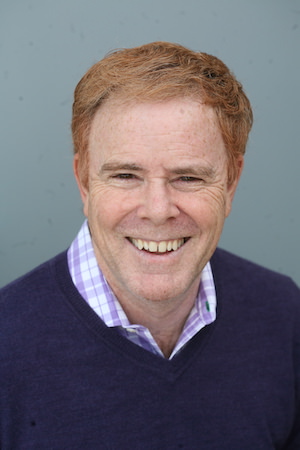 David Green is the Founder and Executive Director of Musical Theatre University, a comprehensive training ground for young people with aspirations for careers in professional theatre. His alumni include Tony Nominees Matthew Morrison (TV's "GLEE" and "The Light In The Piazza"), Susan Egan ("Beauty and the Beast") and Stephanie Block ("Wicked", "9 to 5", "Edwin Drood"), Drama Desk Nominee Lindsay Mendez ("Dogfight" and "Wicked"). Krysta Rodriguez (TV's "SMASH" and "The Addams Family"), Anneliese VanDerPol ("Vanities", "Beauty And The Beast" and TV's "That's So Raven"), Columbus Short (TV's "Scandal" and Films "Stomp The Yard" and "Cadillac Records"), and many more. He was the founder of The California Conservatory of the Arts and co-founder of The Orange County School of the Arts. He was recently named one of the top ten reasons so many "stars" come out of Orange County by Orange Coast Magazine.
Mr. Green has staged and directed over 200 musical and theatrical productions for both educational and professional theatre and worked with stars ranging from Debbie Reynolds, John Raitt, Betty Garrett, Davis Gaines, Stephanie Zimbalist, Carol Burnett, Rachel York, Carol Cook, JoAnne Worley, Rex Smith, Carol Channing, Bruce Vilanch, Bob Hope and Liberace. He has written and directed seven PBS television specials and served as the Artistic Director for the State of California Department of Education's Distinguished School Awards for ten years. He co-created and developed the nationally acclaimed Fashion Island Tree Lighting Ceremony in Newport Beach, CA which has grown to an event with an audience of over 25,000 patrons annually. He has staged and directed multiple staged reading of new musicals in both New York and Los Angeles.
Mr, Green is the Regional Editor for Broadway World, the nation's leading and largest online publication on professional theatre, and he hosts a weekly radio show called The Entertainment GPS which is produced in The Coachella Valley but airs for a national audience on iHeart Radio. He served as a Director for the internationally acclaimed Young Americans before his work with the various schools of the arts.
COYOTE STAGEWORKS Wins Nine Desert Theatre League Awards

October 9, 2020

Coyote StageWorks, the Coachella Valley-based award winning Actors Equity professional theater company, announced that it won a total of nine awards from the Desert Theatre Leaguea's annual awards announcement on October 4th, the most awards presented to a professional theater company. Coyote StageWorks had been nominated for 28 awards, many for the production of a A Doll's House, Part 2 by Lucas Hnath, which ran from February 7 though 16 at the Palm Springs Cultural Center, and their popular Barbara Keller Playdate Series of staged readings. Coyote StageWorks has now received an impressive 89 Desert Theatre League Awards since it was founded.
---
The McCallum Theatre Appoints The Ordway's Jamie Grant As New President And CEO

June 21, 2020

The Board of Trustees of the McCallum Theatre in Palm Desert, California announced today the appointment of Jamie Grant as its new President and CEO effective September 14, 2020. Grant has, for the past four years, served as President and CEO of The Ordway Center for the Performing Arts in Saint Paul, Minnesota which hosts a 1,900-seat Music Theater and an 1,100-seat Concert Hall.
---
Arnaz, Batt, Mendez, Vilanch And More Appear In TOGETHER WE CAN! Televised Special To Save The Arts In Palm Springs Schools

June 18, 2020

a?oeTogether We Can: A Celebration Of Arts Educationa??, a commercial-free, hour-long televised variety special on Saturday, June 27 at 7:00 pm. The production is produced, staged and directed by David Green, founder and Director of Musical Theatre University, which is one of the school district's most treasured arts programs. a?oeTogether We Cana?? is co-hosted by Emmy Winning Comedian and Actor Bruce Vilanch and local CBS Personality Patrick Evans and will showcase the PSUSD's vibrant performing and visual arts programs and make the case for the critical need for arts education in our schools, as the district faces probable budget cuts due to the Covid-19 crisis. This special event is the kick-off to a year-long fundraising campaign by The Foundation For The Palm Springs Unified School District called a?oeTogether We Will; Protect The Artsa??.
---
THE ALLIANCE OF DESERT THEATRES Launches To Help Local Theatres Move Beyond The Pandemic

June 17, 2020

With concerns about how the coronavirus pandemic will affect the performing arts community in the Coachella Valley and beyond, a new group has formed for a common good. Six local, producing theatre companies have created the Alliance of Desert Theatres. Its mission statement reads: The Alliance of Desert Theatres is a cooperative of producing theatre companies that network and take action in order to advocate for and nurture a vibrant performing arts community.
---
McCallum Theatre Announces Its 2020-2021 Season Featuring COME FROM AWAY, Kristin Chenoweth, Patti LuPone And More

April 16, 2020

The McCallum Theatre announced today its new lineup for the 2020-2021 season, with an exciting schedule of world-class artistry that has been the Theatre's hallmark for more than three decades. The new season includes an assortment of McCallum debuts, along with iconic superstars, long-awaited return visits from show business royalty, plus a robust comedy lineup and an impressive array of Broadway's most cherished, long-running shows.
---
McCallum Theatre Announces Search For Dancemakers For 23rd Annual Palm Desert Choreography Festival

March 26, 2020

McCallum Theatre Education's 23rd Annual Palm Desert Choreography Festival is searching for original choreography by dancemakers from across the nation and abroad. Choreographers can submit their work electronically at https://www.mccallumtheatre.com/index.php/education/choreography-festival. The deadline to submit is April 15, 2020. All finalists receive a cash award and will present their work on the McCallum stage for a large audience and panel of esteemed judges. This one of a kind festival, scheduled for Saturday, November 14th at 7pm and Sunday, November 15th at 4pm continues to promote dance as an art form by creating a venue for emerging and established choreographers and developing new dance audiences.
---
McCallum Theatre Cancels All Performances Through The End Of April

March 12, 2020

McCallum Theatre is concerned about the health and safety of our patrons, ticket buyers, volunteers and staff. In response to the evolving Coronavirus (COVID-19) situation and by order of Cameron Kaiser, M.D., Riverside County Health Officer, Department of Health, McCallum Theatre is suspending all performances scheduled through the end of April.
---
It's An OPEN BAR At The McCallum When Acapella Sensation Straight No Chaser Comes To The Desert

March 4, 2020

A cappella sensation Straight No Chaser will bring the Open Bar tour to the McCallum Theatre at 7:00pm, Monday, March 30.Straight No Chaser has had an amazing decade-plusa?"moving from being a college a cappella group to enjoying international success, thanks to a viral video or two along the way.
---
International Post-Post-Modern Phenomenon Meow Meow Creates PANDEMONIUM At The McCallum

March 4, 2020

The phenomenon that is Meow Meowa?"she's an international siren, a comedienne extraordinaire and a creator of beautiful mayhema?"will return to the McCallum Theatre at 8:00pm, Wednesday, April 1. The spectacular crowd-surfing queen of song creates an unforgettable evening of exquisite music and mayhem. Prepare for Piazzolla tangos, Weill, Brecht, Brel and even Radiohead, alongside original chansons.
---
Grammy Winner Steve Tyrell Returns To The McCallum

March 4, 2020

Grammy Award-winning vocalist Steve Tyrell has reinvented and re-popularized classic pop standards for a modern audiencea?"and he's been a McCallum favorite for more than 15 years! Through the generosity of Rich and Judy Billings, he'll return to Palm Desert at 8:00 pm, Friday, March 27. Tyrell is widely known for his breakthrough performances in Father of the Bride and Father of the Bride II. His hitsa?"a?oeThe Way You Look Tonight,a?? a?oeThe Simple Life,a?? a?oeCrush on Youa?? and a?oeThe Sunny Side of the Streeta??a?"have launched millions of romances and been played at thousands of weddings, including Chelsea Clinton's!
---
Alvin Ailey's AILEY REVEALED Tour Makes A Stop At The McCallum WIth Its Excellence In Dance Artistry

February 27, 2020

Alvin Ailey American Dance Theater is continuing its a?oeAiley Revealeda?? season during a 21-city North American toura?"including a stop at the McCallum Theatre at 8:00pm, Wednesday, March 25. Led by artistic director Robert Battle, Ailey's 32 renowned dancers will elevate a legacy of innovation and excellence in artistry with diverse works by pre-eminent choreographers, including world premieres that shine a spotlight on social issues, new productions, returning favorites, and timeless treasures by Alvin Ailey.
---
The Award Winning Coyote Stageworks Brings THE VELOCITY OF AUTUMN To The Palm Springs Cultural Center To Round Out Its' Eleventh Acclaimed Season

February 26, 2020

Coyote StageWorks, the Coachella Valley based award-winning Actors' Equity professional theater company, will conclude its eleventh season with a full production of a?oeThe Velocity of Autumna?? by Eric Coble, which will run from March 13 through 22 at the Palm Springs Cultural Center, located at 2300 East Baristo Road in Palm Springs. Directed by Chuck Yates, The Velocity of Autumn swirls around Alexandra, an 80-year-old artist in a showdown with her family over where she'll spend her remaining years. In Alexandra's corner are her wit, her volcanic passion, and the fact that she's barricaded herself in her Brooklyn brownstone with enough Molotov cocktails to take out the block.
---
The Internationally Acclaimed Musical 'Flea Circus' MNOZIL BRASS Brings Brazen Comedy To The McCallum

February 26, 2020

Mnozil Brass has become an international sensation thanks to a seamless blend of technical virtuosity and technical brilliancea?"and the McCallum Theatre will be hosting the talented brass septet on Tuesday, March 24, at 8:00 pm. The show is being presented through the generosity of Gary and Phyllis Schahet. Performing more than 130 times a year, the group has sold out houses worldwide. Mnozil Brass' videos have garnered millions of YouTube views, and fans travel countless miles to hear them play.
---
Extraoridnary Magicians, Illusionists And Variety Acts Make Uo The 63rd Edition Of IT'S MAGIC At The McCallum

February 26, 2020

The McCallum Theatre will welcome some of the world's biggest stars in magic for the 63rd annual edition of It's Magic!, at 3:00 pm, Sunday, March 22. Producers Milt Larsen and Terry Hill have put together an entirely new lineup of extraordinary magicians featuring illusionists, comedy magicians, expert manipulators and variety acts from America's Got Talent, headliners from Las Vegas and international magic award winners! This year's lineup includes Henrik Bothe, David and Dania, Chuck Jones and Co., Ray Pierce and Co., and Nick Diffatte.
---
The McCallum Theatre Announces Springtime Trip To Broadway To Include MOULIN ROUGE, SIX And MRS DOUBTFIRE

February 26, 2020

The McCallum Theatre, in partnership with Break-Away Tours, is pleased to announce its 2020 Springtime Theatre Tour to New York. The New York trip is 7 days/6 nights from Wednesday, May 13th through Tuesday, May 19th, 2020. Guests will be staying at the Westin Times Square Hotel. Four exciting Broadway productions are included: MOULIN ROUGE, SIXa??THE MUSICAL, MRS. DOUBTFIRE, a new musical based on the film and FLYING OVER SUNSET.
---
Amazing Vocalese And Astounding Harmony! The MANHATTAN TRANSFER Will Raise The Roof At The McCallum

February 26, 2020

Known for amazing harmony and versatility, incorporating pop, jazz, R&B, rock and roll, swing, symphonic and a cappella music, The Manhattan Transfer will perform at the McCallum Theatre at 8:00pm, Saturday, March 21. The show is made possible through the generosity of Harold Matzner. The Manhattan Transfer has become a cornerstone of contemporary music. Originally launched by Tim Hauser in 1969, the group consisted of Hauser, Alan Paul, Janis Siegel and Laurel Masse in 1972. Cheryl Bentyne joined the group in 1979 after Laurel Masse left following a car accidenta?"and that lineup would perform together for some 35 years.
---
I Love Paris! PARIS! THE SHOW Brings Piaf, Aznavour, Brel And More To The McCallum

February 26, 2020

The greatest French songs of the post-war years will be in the spotlight at the McCallum Theatre at 8:00pm, Friday, March 20, in Paris! The Show, made possible through the generosity of Charles and Nancy Nevil. After the success of Piaf! The Show, starring the internationally acclaimed Anne Carrere, producer and creator Gil Marsalla created a brand-new show, also starring Carrere, highlighting the best French music. This spectacular evening is a vibrant tribute to the greatest French songs of the post-war era, capturing the charm and essence of Paris.
---
BWW Interview: Scott Coulter Helms The Latest Iteration Of Michael Childers' One Night Only

February 10, 2020

Michael Childers' presents One Night Only benefitting the Barbara Sinatra Children's Center. a?oeThe Way We Were: Songs of the '70'sa?? features the best of Broadway and pop music from that era, for one performance only on April 22 at 6:30 pm, at The McCallum Theatre. With Direction & Choreography by Scott Coulter and Music Direction by Todd Schroeder, the cast features the best of Broadway and Hollywood performers. I had the chance to catch up with director, Scott Coulter, as he was preparing the production for rehearsal. Here are a few excerpts from that conversation:
---
BWW Review: BEAUTIFUL - THE CAROLE KING MUSICAL Is A Satisfying, If Not Remarkable, Evening In The Theatre At The McCallum

February 9, 2020

Sometimes an evening in the theatre can be provocative, emotionally stirring, highly uplifting, mind-altering, eye-opening or even life-changing. Sometimes an evening in the theatre can bring you such immense joy or elation by the power of the story or the incredible performances that your very soul is set on fire and the a?oehigha?? lingers far beyond the final curtain. Sometimes you feel that your life would be just a little emptier, or that you would have really missed out on something very special, had you not spent that evening in the theatre. BEAUTIFUL is none of these. But it's a nice evening, all the same.
---
The New York Gilbert And Sullivan Players Bring Their Highly Acclaimed Production Of THE MIKADO To The McCallum

February 7, 2020

The McCallum Theatre welcomes the New York Gilbert and Sullivan Players to Palm Desert for a performance of the company's all-new, critically acclaimed production of The Mikado, at 7:00pm, Monday, March 9. The Mikado sets the real-life characters of Victorian London's D'Oyly Carte Opera Company within the imagined Japanese town of Titipu. Audiences will meet Messrs. Gilbert, Sullivan, and D'Oyly Carte themselves, and join them on a fantastic voyage to a land where the timeless libretto, beautiful music, and a fantastical cast of characters await.
---