BWW Review: Tom Dugan Thoroughly Inhabits Simon WIESENTHAL, Honoring the World-Renowned Nazi Hunter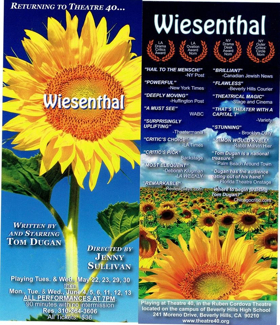 For those of us with family roots that go back to Eastern Europe during World War II, the Holocaust is always relevant since so much was taken from us for no other reason than we were born Jewish. So I did not hesitate to attend when I heard that WIESENTHAL, the critically acclaimed production based on the life of Simon Wiesenthal, was returning to Los Angeles at Theatre 40 where it originated in 2011.
WIESENTHAL tells the powerful true story of Simon Wiesenthal, often called the "Jewish James Bond," a Holocaust survivor who, after cheating death at the hands of Hitler's S.S., spent his life bringing to justice the most notorious war criminals in human history. This provocative solo performance, written and performed by Tom Dugan and directed by Jenny Sullivan, is an uplifting and highly entertaining one-man show that unfolds like a gripping spy thriller, telling how Wiesenthal devoted his life to bringing more than 1,100 Nazi war criminals to justice after WW II.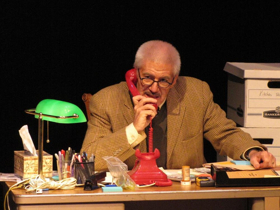 For those not familiar with his life, Simon Wiesenthal was born in 1908 in what is now Ukraine. He received his architectural engineering degree in 1932 and was married in 1936 to Cyla Mueller. During World War II, Wiesenthal was imprisoned in five different Nazi concentration camps and by 1942, eighty-nine members of his and his wife's relatives had perished from being sent to these death camps. After Wiesenthal survived World War II, he dedicated his life to Holocaust memory and education and founded the Jewish Documentation Center in Vienna. He died in 2005 in Vienna, Austria, at the age of 96. Los Angeles' The Simon Wiesenthal Center is named in his honor and contains his real office just as he left it when he retired, on the day the play WIESENTHAL takes place in 2003.
The play opens with Dugan welcoming the audience to Wiesenthal's office, excited to have us there as his last group of visitors to learn more about his life and work. As such, audience members interact with Dugan as Wiesenthal throughout the show, often answering questions posed to us.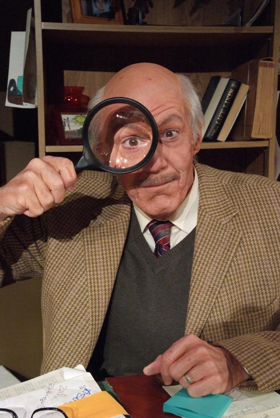 But Dugan makes this breaking of the fourth wall work to his advantage, created an authentic atmosphere in which the events of the evening could have actually taken place.
Dugan thoroughly researched Wiesenthal and his life to recount tales of how he worked tirelessly to investigate and locate Nazi criminals for prosecution, including Adolph Eichmann and Franz Stangl, two of the most notorious Holocaust enablers. To completely inhabit the role, until this year Dugan shaved half his head to better resemble Wiesenthal and worked with a dialect coach to effectively and clearly speak with a strong Viennese-Jewish accent which could be understood by American audiences.
A lesson for all time is Wiesenthal's mission to give voice to those who were silenced, encouraging future generations to fight against hatred and intolerance for all people. To remind us to "never forget" what happened to so many innocent people, he searched his desk to find an old Bible from which he pulls out an old piece of yellowed paper upon which a message is written from Albert, the youngest child from an orphanage who asked its reader to remember him.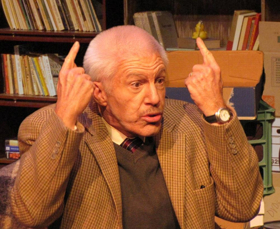 "I trust you," Albert goes on to say, hoping his short life, like Anne Frank's, will serve a real purpose when his story is told. So, when Wiesenthal asks his last question, "Who will remember Albert?" no doubt everyone will.
Sunflowers also had special meaning for Wiesenthal after seeing them blooming on the graves of Holocaust survivors, their large "eyes" seemingly offering a way for the light of the world to reach those taken from it too soon. No doubt you will notice the brilliant yellow bloom standing in a vase in Wiesenthal's office, its beauty offering him a bit of hope during long hours of research. And you can bet it is one of the only things he takes with him as he leaves, until he realizes a better place for it to be. Can you guess where that might be?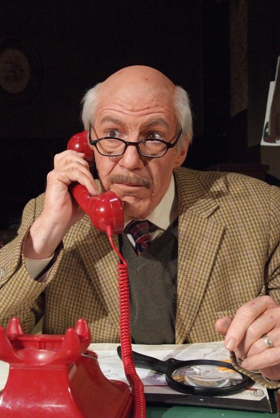 Certainly any of us who have known a Holocaust survivor can understand that child's request, knowing how important it is to share the truth to prevent such senseless cruelty from ever happening again. May we always remember to honor those who perished at the hands of the Nazis, as well as the remarkable work done by Simon Wiesenthal to bring those criminals to justice, by working to achieve tolerance, understanding and equality everywhere in the world for all people.
WIESENTHAL will run for just 10 performances through June 13, 2018 on Tuesday and Wednesday nights in May, then Monday, Tuesday, Wednesday nights in June, at Theatre 40 in the Reuben Cordova Theatre, 241 S. Moreno Drive, Beverly Hills, CA 90212 (on the campus of Beverly Hills High School). General admission tickets are $36, available by calling (310) 364-3606 or online at www.theatre40.org. Run time is 90 minutes without an intermission.
Photo credit: Marty Gray