Review: THE CAR PLAYS Makes Its Highly-Anticipated Return Trip to Segerstrom Center
Imagine this: A set of ushers lead you and a companion to step inside a parked vehicle to take a seat---sometimes in the rear of the vehicle, other times up front, either as a front passenger or even as the "driver" behind the steering wheel. Once the ushers shut the car doors behind you, something remarkable happens: a frikkin play! Yes, you read that right. You and your fellow "audience member" sit inside like silent voyeurs as a drama or a comedy or a mystery slowly unfolds before your very eyes. The actors---one, two, maybe three---are literally mere inches from you as they act out a scenario inside the tight space of a car.
At times exciting, at times unnerving, and at times even rather uncomfortable---as good theater often does---the entire venture puts a thunderstruck pair of theatergoers in the thick of a story, pretty much entrapped inside the vehicle for the next ten minutes until the car doors are opened for you to exit from to go to the next vehicle for another intimately-staged story.
Still one of the most the most unique and thrilling live theatrical offerings you will ever experience, THE CAR PLAYS has once again parked themselves at the Julianne and George Argyros Plaza at Segerstrom Center for the Arts in Costa Mesa for another highly-anticipated round of claustrophobic, stopped-in-traffic high drama or amusing hilarity. Produced by Moving Arts under Creator/Artistic Producer Paul Stein, THE CAR PLAYS is again presented as part of Segerstrom Center's annual popular "Off Center Festival," its celebration of unique and avant-garde musical and theatrical acts. And, I truly agree: THE CAR PLAYS are very much off-center.
Because "seating" is literally limited, there are only so many spots available to take in this incredible site-specific theater experience, which explains why it has been extended an additional weekend---through February 3, 2018---to meet the high demand.
Here's how it works: THE CAR PLAYS offers a total of 15 specifically-commissioned ten-minute plays---each written by a different playwright---which are divided up into three distinct "series" of five plays each. When audience members (usually in pairs) "check-in," they are given a randomly-selected "Notice to Appear" citation card that shows which series they are seeing. (Tip: though the stage managers on hand actually pick the row of cars for you, coming early enough to check-in might give you a better chance to persuade them to have you select from the desired row of cars you want to see if there are citations for that particular row still left)
Each series of five 10-minute plays is named either BLVD, STREET, or ROAD. At the start of the performances, audiences of two queue up side-by-side (like they were boarding Noah's Ark) as they are ushered as pairs to one of five parked vehicles in their series to experience their first of the five plays. Each person is told specifically where to sit in each car, SUV or mini-van that "houses" their play. Once seated, the ushers close the doors and the play magically begins!
"The actors may touch you, but you are not allowed to touch them!" explains the host during the pre-show instructions.
At the end of each 10-minute play (where you may find yourself laughing like crazy or wiping tears off your face), the ushers open the car doors again---your sign that this particular play is over---and you are then escorted to your next vehicle in your series. At the end of your fifth play in your series, you are done---which often triggers bursts of spontaneous applause that finally break out. For their part, the actors are finally free to shed their respective characters that they have just repeated five times in a row in the span of an hour. Audience members are then encouraged to stay and have cocktails at the 360 Bar to meet and chat with cast members.
Like the thrill of riding an unfamiliar roller coaster for the first time, THE CAR PLAYS by its very unpredictable nature induces a heart-pumping excitement with each fresh vehicle you enter. While the plays may run just 10 minutes each, a lot can happen within that timespan: heartbreak, humorous exchanges, and, more often than not, truly relatable human drama.
The superb actors employed for these plays also have to contend with their own excitement of unpredictability---although they're working off a script and have specific timing and beats they need to hit in order to contain their given play within their scheduled time allotment, the very nature of being outdoors in a public space requires keen concentration of their craft and making sure that their story is delivered in the manner in which each has been envisioned.
What a challenge it is: not only do the actors have to deal with random pedestrians walking by, perplexed by their wild actions inside the vehicles, they also have to essentially compete with the stories happening in other cars parked just a few feet away. There have been times when I was actually slightly distracted by the passionate shouting happening in another vehicle in the adjacent series, which, naturally, had me thinking---"awww, man, I wonder what's happening in THAT car?! I sooooo wanna be in that car!"
But, I must say, while, sure, some plays are certainly better than others in whichever series you are given when you check-in, the overall experience itself of THE CAR PLAYS is its own satisfying reward. I guarantee you that no matter what comfort level or expectation you may have about seeing this unique theatrical offering, you will not walk away disappointed or un-entertained.
The first time I had the privilege of experiencing THE CAR PLAYS was back in 2012 when it was offered during Segerstrom's very first Off-Center Festival. I remember being so thrilled and impressed by this confined but vividly in-your-face environmentally-specific theater project that I sought out to see it again down at the La Jolla Playhouse.
I really wish I didn't have to wait this long to see THE CAR PLAYS make a return trip to the O.C., but I'm happy to once again have them here. And this year, though I was initially invited to review just a single row of 5 cars on Opening Night, I was so thrilled by the return engagement that my friend and I decided to spontaneously stay and purchase tickets (that luckily became available from cancellations) so that we could experience another row of cars---a decision that I am so glad we agreed to do.
In total, I was able to see 10 of the 15 original plays offered during this 2018 run, with just one of the plays being a repeat from the 2012 set.
The first series of plays I was randomly given was the "BLVD" row.
The first vehicle I entered was "Near Miss" written by Bryan Davidson and directed by Kim Glann. Here, a harried, overly worried mom, Nancy (played wonderfully by Madelynn Fattibene) worries constantly for the safety and well-being of her seemingly wild (or is she?) teenage daughter Kristy (Veronica St. Clair). Nancy's fears are further stoked by a dream she had that her daughter was involved in a really bad car accident. Beautifully acted by the pair.
The next vehicle, a mint-condition vintage Mustang, is the setting for the World Premiere play "The Magic Car," a touching drama by Lisa Kenner Grissom and directed by Ross Kramer. The play examines an elderly father (Mark Bramhall) hanging onto his most prized possession even though his son Stu (Tony DeCarlo) aches in having to tell him that he is no longer fit to drive. The palpable realism of the father-son exchange brims with compassion and familial love that really broke my heart. The two actors in it were just superb.
A Kia Mini-Van is the third vehicle we boarded in the series which features the very funny "Anniversary Party," written by Jon Kern and directed by Diana Wyenn. In this amusing vignette that slightly reminded me of my own Filipino family, grandparents Mei (Sharon Omi) and Harold (Alberto Issac) are waiting impatiently in their daughter's mini-van as they discuss whether their now grown children are ever poised to finally get their respective houses in order. But at the same time, they also struggle to keep a secret from these same children. Little do they know that their conversation is being eavesdropped on by not only two audience members but also their son Nathan (Albert Park) hiding in the very back seat. Smile-inducing, the play has great, amusing dialogue with a very endearing ending, terrifically acted by its trio of actors.
The fourth vehicle, a new SUV, is the setting for the chilling and mysterious "She Beside Me, Sitting," written by Finegan Kruckemeyer and directed by James Elkin. My personal favorite of this BLVD set, the play features a gorgeous young lady (the alluring Alexandra Grossi) meeting up with an anxious but handsome man (the intriguing Johnny Clark). What first feels like a titillating, sexually-charged first date veers sharply into something alarming and unexpected. Well, you'll just have to experience itself for yourself to witness it unfold. Unnerving and slightly ominous, the play made me shudder as I exited the vehicle (and my friend and I looked at each other as we walked to our next car and silently mouthed "Ohmigod!")
Our final nondescript vehicle for the series contains the comical (and comics-centric) "The Night Gwen Stacy Died" written by Trey Nichols and directed by Lee Wochner. Here, a nerdy, middle-aged man going by the alias PeterParker72 (Jason Duplissea) parks his car just a stone's throw away from ComicCon in San Diego where he meets up with another nerdy, but more shlubby middle-aged dude named Ben (Jon Amirkhan). The nature of the meet-up: PeterParker72 wants to sell his precious and very rare issue of The Amazing Spider-Man #121 which Ben agreed to purchase. But Ben's attitude towards the significance of the character of Gwen Stacy is giving PeterParker72 second thoughts about going through with the transaction. Luckily for his vivid imagination, Gwen Stacy herself (Heather Ann Gottlieb) is here to help with PeterParker72's ultimate decision. It's silly fun with even a trickle of sentimentality that I enjoyed.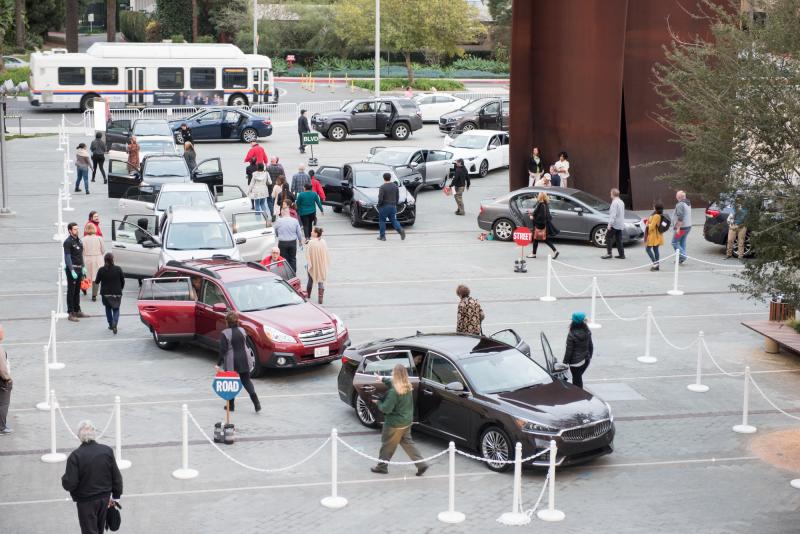 The second series of plays I experienced was the "STREET" row, which prove to hold many of my other favorites of the evening.
Up first, a fancy-looking high tech SUV is the site for the engaging World Premiere play "Terrible Amazing" written by Dan Steele and directed by Darin Anthony. Set in the future, the play features the meeting of a man's happiness-seeking personas at three stages of his life inside what is supposed to be some kind of time travel simulator. Teenage Danny (Carlos R. Chavez) worries about a sexual escapade gone wrong. In comes Dan (Chris Jewell Valentin), his future self in his late 20's (or early 30's maybe), telling him to chill---that life improves from where he is. But, surprise, in comes much older Daniel (Joe Camareno) who also advises both that life's hurdles---and there will be many---can be conquered. All three actors do a great job with their material, so much so that I am able to forgive the notion that the youngest, Danny, has a noticeable accent, while his future selves Dan and Daniel do not. The three charming actors combined convinced me that, uh, sure... accents apparently just disappear when you grow up.
Next up is "Abraham and Isaac" by Allain Rochel and directed by Kimberley Browning. Riveting and compellingly acted, the play features Abe (the captivating William Christian), a religious black man seen quoting bible verses eloquently to someone on the phone as if he's behind the pulpit during Sunday services. While parked near the Staples Center in downtown L.A., a young baby-faced redhead college freshman from USC named Isaac (Bret Correll) saunters up to the passenger side window, inquiring whether Abe "had anything." Is this kid assuming Abe is a drug dealer because he is a black man in parked car on the street? Understandably perplexed, Abe invites the young white kid into the car and begins to question this young man's beliefs and prejudices, scaring the crap out of him in the process. Intense and quite thought-provoking, this one had me at the edge of my seat, wanting to hang on to every piece of dialogue and watching every facial expression from both great actors.
The next vehicle---my personal favorite from this set---is the setting for "The Time She Proposed," a delightfully manic and, at times, emotionally-charged two-person drama that had me unexpectedly teary-eyed when I exited the vehicle. Written by Dana Schwartz and directed by Madison Mellon, the drama (with a sprinkling of very funny lines here and there) finds a very angry Laura (Sarah Rosenberg) dramatically storming out of a restaurant into this very vehicle followed closely behind by her girlfriend Mandy (Stacy Highsmith). Mandy shocked Laura with a marriage proposal that Laura didn't take too well. As the couple argue out their grievances, I can't help but feel slightly ecstatic at how nonchalant the play is treating their couple's argument, as if demonstrating that just like straight people, gays have similar doubts and hangups about the whole marriage thing, too (even though they are now able to lawfully have them). Both actresses provide stellar, enchanting work here... so much so that I genuinely cared about their future and well-being beyond the end of the play.
The penultimate vehicle of this set holds the one play that I have sat in before, "Disneyland" written by THE CAR PLAYS Creator Paul Stein and directed by Kiff Scholl. This time, though, an interesting surprise: instead of a dad playing the parent in the play (as was my experience down in La Jolla), it now features a mom, played here with amazing gusto by Shanti Reinhardt. She is so good and convincing that my friend and I found ourselves feeling as if we really were two naughty brothers that have rendered our exasperated parent into turning the car around back to L.A. instead of heading towards our original destination: the Happiest Place on Earth. Reinhardt looked directly at our eyes the whole time, never wavering from her scolding and allowing snippets of vulnerability to escape here and there, revealing a woman with a lot going on. Frankly, I prefer the play with a mom rather than a dad---it's so much more layered with context this way.
Finally, our row ended with Terence Anthony's "Start," directed by Deena Selenow. In this short play, audience members are flies on the wall witnessing an awkward first date between nice guy Charles (Réchard François) and nice but hella intimidating gal Angela (Alexa Vellanoweth). The pair met during a rally, which to them was enough of a commonality to necessitate a first date. But things get awkward quickly, particularly because they're inside Charles' dilapidated vehicle and Angela seems overdressed for the date. His frequent calls from his buddy Eddy (an unseen Aaron Rozenfeld) is only making things worse. But every cloud has a silver lining---a common theme here in CAR PLAYS that one should always expect the unexpected.
Ranging from eerie or intense to funny and touching, I cannot sing the praises of experiencing THE CAR PLAYS enough for yourself. Brave and adventurous types or those just looking for more than just sitting in a theater far removed and distant from the action and story, should definitely try to catch these plays while the series is here. A few things to expect: it forces great acting performances from its actors, because such close proximity almost vehemently demands such compelling acting; it is a unique theatergoing experience, one that places you in a voyeuristic position that will jolt your comfort zone in a good way; and, lastly, supporting this kind of guerrilla, site-specific experimental theater is a wonderful way to discover new and unique stories that you may not experience similarly in any other kind of setting.
Besides, what do you have to lose? With each play lasting just ten minutes each... if you don't like one, there's always the next car up ahead.
** Follow this reviewer on Twitter: @cre8iveMLQ **
Photos by Doug Gifford, courtesy of Segerstrom Center for the Arts.
----
Performances of THE CAR PLAYS --- part of the Annual OFF-CENTER FESTIVAL at Segerstrom Center for the Arts --- has been extended through February 3, 2018. Tickets can be purchased online at www.SCFTA.org, by phone at 714-556-2787 or in person at the SCFTA box office (open daily at 10 am). Segerstrom Center for the Arts is located at 600 Town Center Drive in Costa Mesa. For tickets or more information, visit SCFTA.org. To learn more about The Car Plays and Moving Arts, visit www.MovingArts.org.