Latest News on Paul Stein
Latest News on Paul Stein
Stage Credits
  [Broadway]
1934
Officer of Archduke Karl
  [Broadway]
1934
Company Guard
  [Broadway]
1933
Company Guard
Photos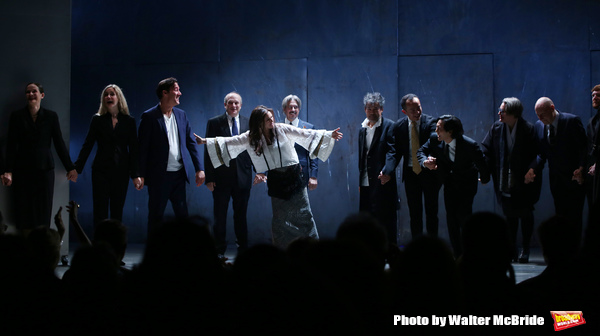 Clive Owen, Donald Holder, Julie Taymor, Elliot Goldenthal, David Henry Hwang, Ma Cong, Jin Ha, Constance Hoffman and Paul Steinberg with the cast during the Broadway Opening Night performance Curtain Call for 'M. Butterfly' on October 26, 2017 at Cort T
From: 
Date:
12/30/2017
Stage
Performances
  [Broadway]
1934
Officer of Archduke Karl
  [Broadway]
1934
Company Guard
  [Broadway]
1933
Company Guard
Paul Stein News

Theatre Raymond Kabbaz Presents VINCENT, The True Story of Vincent Van Gogh
by A.A. Cristi - Jan 15, 2019
Theatre Raymond Kabbaz (TRK) is proud to present a captivating one-man performance by acclaimed French actor, Jean-Michel Richaud, portraying Vincent Van Gogh, on February 7, 2019.
BWW Review: THE CAR PLAYS Makes Its Highly-Anticipated Return Trip to Segerstrom Center
by Michael Quintos - Jan 26, 2018
Still one of the most the most unique and thrilling live theatrical offerings you will ever experience, THE CAR PLAYS has once again parked themselves at the Julianne and George Argyros Plaza at Segerstrom Center for the Arts for another highly-anticipated round of claustrophobic, stopped-in-traffic high drama or amusing hilarity. Produced by Moving Arts under Creator/Artistic Producer Paul Stein, THE CAR PLAYS is again presented as part of Segerstrom Center's annual popular 'Off Center Festival,' its celebration of unique and avant-garde musical and theatrical acts. Because 'seating' is literally limited, there are only so many spots available to take in this incredible site-specific theater experience, which explains why it has been extended an additional weekend---through February 3, 2018---to meet the high demand.

Photo Coverage: Take a Look Back on 2017's Top Curtain Call Moments!
by Walter McBride - Dec 30, 2017
As 2017 comes to a close, BroadwayWorld takes you back through this year's top curtain call moments. From the opening nights of every new show this year, to the anniversary performance of The Lion King which featured a performance by Elton John, check out photos of these curtain call moments to remember!

Review: VINCENT by Leonard Nimoy Staged Featuring Acclaimed French Actor, Jean-Michel Richaud
by Shari Barrett - Nov 14, 2017
I have always been a great fan of Vincent Van Gogh's paintings, so much so that I have traveled to the French countryside around the city of Arles to visit several locations featured in his paintings. While driving through the fields on a rainy afternoon, it was easy to imagine the famed painter sitting with his easel, frantically painting while the light was still good. While Van Gogh's critics labeled his work madness, it has gone on to become some of the most popular in French Impressionism. But the great artist's story is so much more than that of the misunderstood artist who cut off his own ear.

Photo Coverage: Clive Owen & M. BUTTERFLY Company Take Opening Night Bows!
by Walter McBride - Oct 27, 2017
David Henry Hwang's Tony Award-winning play, M BUTTERFLY, directed byJulie Taymor, opened just last night at the Cort Theatre (138 West 48th street). We're taking you inside the Cort for the company's first official bows below!
Photo Flash: First Look at Clive Owen & Company in M. BUTTERFLY- Opens Tonight!
by Nicole Rosky - Oct 26, 2017
David Henry Hwang's Tony Award-winning play, M BUTTERFLY, directed by Julie Taymor, opens tonight at the Cort Theatre (138 West 48th street).

Full Cast Announced for Almeida's THE TWILIGHT ZONE
by Julie Musbach - Oct 17, 2017
Between light and shadow, science and superstition, fear and knowledge is a dimension of imagination. An area we call the Twilight Zone.
Tim Minchin to Receive Qantas Australians in Film's Orry-Kelly Award
by Caryn Robbins - Sep 27, 2017
The multi-talented Tim Minchin will be honored with the Qantas Orry-Kelly Award which celebrates an Australian who has contributed to the national identity of Australia with their body of work and has created opportunities and inspiration for other Australians internationally.
Broadway's M. BUTTERFLY Adds Special Preview with Prime Seats for Students
by BWW News Desk - Sep 22, 2017
Broadway audiences have another opportunity to see this fall's most anticipated production! David Henry Hwang's Tony Award-winning play, M BUTTERFLY, directed by Julie Taymor and starring Clive Owen, has added an additional performance on Saturday, October 14 at 2pm.

M. BUTTERFLY Box Office Spreads Wings Tomorrow at the Cort Theatre
by BWW News Desk - Sep 8, 2017
The box office for M. Butterfly will open tomorrow, Saturday, September 9, 2017 at 10am at the Cort Theatre (138 W 48th Street).
Paul Stein Videos
BWW TV: Segerstrom Center for the Arts presents OFF CENTER FESTIVAL
by Michael L. Quintos - Jan 13, 2012
Segerstrom Center for the Arts in Orange County, CA introduces a bold new project with its first OFF CENTER FESTIVAL, a dizzying mix of contemporary theater, music, dance and performance art taking place throughout the campus over nine days January 13 - 21. Every company and performer will be appearing at the Center for the first time.
Paul Stein Frequently Asked Questions
How many Broadway shows has Paul Stein been in?
Paul Stein has appeared on Broadway in 3 shows.
How many West End shows has Paul Stein been in?
Paul Stein has not appeared in the West End