BWW Review: Madcap Romantic Comedy Road Trip ASHES TO ASHES Offers Laughs Galore at Every Stop
"We are living in challenging times," says Culver City resident Katherine James. "Sometimes we just need to go to the theater to laugh and experience something positive and have a blast." And to that end, she has brilliantly directed the world premiere of ASHES TO ASHES, a madcap romantic comedy written by Debbie Bolsky and presented by The Athena Cats, a collective of Southern California female playwrights and directors, as a visiting production at the Odyssey Theatre hrough Jan. 14, 2018.
The play centers on liberal Sara (Lena Bouton) and right-winger Jefferson (
Kevin Young
), ex-spouses who are polar opposites about everything except their love and devotion for their two, newly deceased, filthy-rich best friends. Trapped by the time-constraints of their friends' will, the two are forced to spend the next 16 days, 21 hours and 32 minutes together, scattering their friends' ashes across Europe under the direction of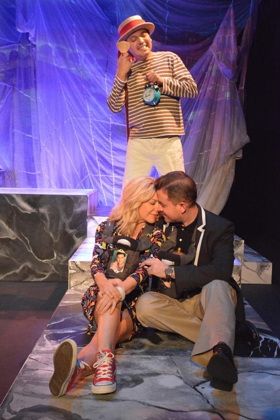 pre-arranged tour guides who meet the duo as they arrive at each of their destinations.
The places visited where ashes are to be left trace a journey of the heart from their friends' lives, and the feuding duo soon realize the steps in a relationship that test true love may soon re-ignite the passion between them.
"The play is written in the tradition of classic film screwball comedies, but with a highly theatrical bent," explains James. "You know from the minute you walk in that these two people are going to end up in love - yet how that happens is so surprising and the journey is so much fun that the audience is all in."
Adding to the fun of this madcap road trip to love is that each of the many tour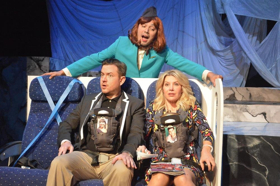 guides is played to the hilt by Michael Uribes, who steals every scene in which he appears. In fact, it is the talented Mr. Uribes who welcomes audience members into the theater, handing out programs and showing you to your seat as a rather conservatively dressed, redheaded airline stewardess thanks to the costume wizardry of Kate Bergh. All the while, music selections highlighting air travel from "Up, Up and Away" to "I'm Leaving on a Jet Plane" and Sinatra belting "Come Fly with Me" welcome you for the wild, no-intermission journey you are about to take!
The when the play opens, airline seats and a bathroom are moved into place from within the set designed by Pete Hickok, and we are merrily on our way with Sara and Jefferson, each cradling an urn containing their friend's ashes strapped to their chests in baby carriers as the clouds move by thanks to projection designer Nick Santiago who Among the other devices to keep the pair together are wrist bands that light up if they get more than 20 feet apart from each other, which of course manages to happen more than a few times during their international adventure.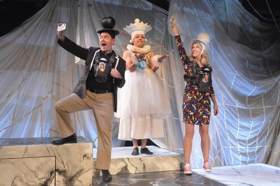 And whether they make it or not, the audience is in for a bumpy and very funny ride from Ireland, to the running of the bulls in Spain, back to the UK where all three appear as chess pieces, Scotland where of course they must drink Scotch with Uribes as a very drunk fisherman, then on to Belgium, Paris, Florence and Venice (yes, Uribes changes costumes and becomes a new character for each locale!) before boarding a plane back to the spot where the last of their friends' ashes will be sprinkled.
And after we learn so much about the constantly feuding pair during their journey, no doubt this last spot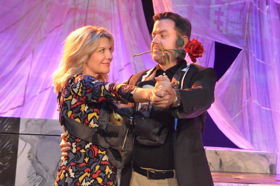 will also prove to be the starting point for Sara and Jefferson's new life journey together. Or will it? I'm not telling - but I am sure you can guess!
ASHES TO ASHES performances take place through Jan. 14, 2018 on Fridays and Saturdays at 8 p.m. and Sundays at 2 p.m. (dark Dec. 24 and Dec. 31). There will be two additional performances on Thursday, Dec. 21 and Thursday, Dec. 28, both at 8 p.m. at the Odyssey Theatre, located at 2855 S. Sepulveda Blvd., West Los Angeles 90025. All tickets are $30. For reservations and information, call 310-564-9410 or go to www.AshesToAshesThePlay.com.
Photo credit: Ed Krieger