Feature: LOVE IS... at DConstruction Arts
DConstruction Arts Celebrates Five Years of Love Is…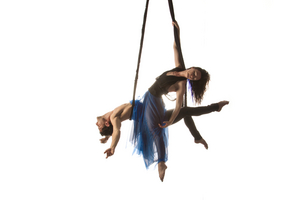 Love Is...whatever you make it.
"I love you deeply. You compliment me in ways that are opposite from you. Between the two of us, we have every single skill set that we need." This sweetly, spontaneous remark by DConstruction Arts Co-Artistic Director, Jane Rose to Artistic Director and performing partner Tavi Stutz, sets the tone for their upcoming aerial narrative, LOVE IS...
As May 29, 2021, marks the 5th anniversary of the show, the two muse on how they've tracked innumerable ideas of love over the years. So many, that the show has evolved into a piece that is hard to define, starting with the medium itself. LOVE IS... in many ways, is exactly the opposite of circus where the performer is invisible. "We want to show the audience who that performer is, what they care about, and what helps them to find love."
As far as finding a conclusion about love, there doesn't seem to be one on the horizon. Nor may there be a need. "I don't think we've even gotten close to finishing it in 5 years," says Rose. "But then, finishing wasn't even the goal. Once we understood that, the show was designed to be flexible and modular. We continue to play with different audiences and a lot of experimentation. In this last year, we played with the form a lot and one of the interesting things to discover is that we can adapt. Love is adaptable. Love is infinite. Love will find a way to be relevant and reach an audience."
Adaptability this time around is key. How they are reaching their audience is, of course, an important aspect for this year's presentation as theater is only beginning to emerge from the more than 1-year restrictions of COVID-19. The presentation will be virtual, a point that doesn't seem to faze either performer. The show is well suited as an online experience. In fact, according to Stutz, you might even say, the small screen lights up. One thing is certain though, Stutz and Rose do not want the audience to just sit back, relax and enjoy the show.
"There's a lot of escapism in the world of entertainment," says Stutz. "We wanted to address that when we founded our company. What's important to us is to get people thinking. Conscious Theater is in our non-profit mission statement. We want to take the show out of 'entertainment-for-entertainment's-sake,' and bring it back to the roots of storytelling like Greek Theater; then make it contemporary."
DConstruction Arts was born from Stutz's desire to strive for something bigger than just aerial performance. A classical dance and movement artist with impressive career highlights, he has worked in one capacity or another with organizations such as New York's Roundabout Theatre Company, Harvard University, Moscow Art Theatre, Russia's Bolshoi Ballet, and Cirque du Soleil. Stutz, however, prefers to articulate all his experience and raison d'être into a singular passion, "I'm a storyteller at heart."
Rose's credentials are just as grounded. She is tenured faculty at Cal State Los Angeles in the TV & Film department and also runs a post-production company with her husband called Happy Feet Foley. (Two of their more recognizable projects are HBO's THE NEVERS and GAME OF THRONES). She also does sound and projection design & editing and has a background in theater film, multimedia, tv, dance, and theme parks. "Aerial was something I got into. My husband is a rock climber and it was a big influence."
The two are rehearsing in Stutz's backyard today in Van Nuys, California. The modest setup has been rigged for practice on straps, hammocks, and Stutz's favorite metal umbrella - a unique apparatus designed especially for his aerial work. As they prepare, there's a lot to contemplate including DCon's brand evolution and how they've come to coin the new term "Circus Theater" as what they actually offer to audiences. What it comes down to though, whether talking about the company's formation, successes, or staying power, is the element of relationship.
"Art, in and of itself, is collaborative in its nature," says Stutz "There's a lot of showing up. Jane was not the first person I approached to start something up with. But she's the one who stuck around. There are so many layers to her and a plethora of skills. Her interests go beyond just doing a great split. She's a person who is always capable of doing more. So, our collaborative process, even when it's challenging, is ultimately very easy."
The relationship, the non-profit, and the show itself have all evolved quite a bit since 2017. The original version of LOVE IS... was definitely more theatrically "traditional." There was a stand-alone plot with made-up characters and a fourth wall, that tracked through an insular experience from start to finish. The contemporary story has removed the narrative aspect and come back to the original but without the passivity of people watching something happen to someone else. The audience is presented with DCon's definitions of love and then invited to create their own.
"The arc introduces the idea that they haven't defined love. Throughout all of the different media and acts, people don't just listen to a definition of love that may not be theirs. They take a journey. 'I love you,' is different when you say it to different people. And you realize the infinite definitions of love you hold within yourself."
DCon's language [of love] is in the air and occasionally on the ground. Sensual and intimate, it is one of physicality. Understanding the body from a spiritual, anatomical, physiological perspective, finding the breath in movement, the ebb, and flow, the transitions, in meditation, in stillness. "The bodies we have, are about the life we've lived."
The audience, however, is the key component of the piece. "All our ideas come back to our fascination with people and the stories they tell." For this iteration, they've also invited the unsung heroes of LOVE IS...; all of the people who have historically been a part of the teamwork since the beginning, including those not on stage. Ultimately, the duo's dream and goal are to make this something that ripples outward.
Virtual doors will open for LOVE IS... on Saturday, May 29, 2021 at 6pm.
Tickets are currently on sale at: https://www.dconstructionarts.org/virtual-show
Connect with them on Instagram: https://www.instagram.com/dconstruction_arts/
Like them on Facebook: https://www.facebook.com/dconstructionarts/
Make a Love Bite!
Audiences are invited to create their own Love Bites for DCon's virtual love board, in a 10-second video starting with the phrase: "To me love is..."
You can forward your videos to DCon at: DConstructionArts@gmail.com
Some videos may also be featured in the show.
Review: CLYDE'S at Mark Taper Forum

November 26, 2022

Quite possibly, a perfect production.  Two-time Pulitzer Prize-winning playwright Lynn Nottage's Tony Award-nominated CLYDE'S at the Mark Taper Forum is heartfelt, funny, and seriously delicious.
---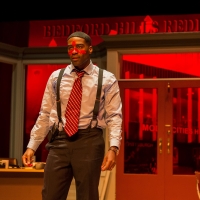 Review: RADIO GOLF at A Noise Within

November 2, 2022

There is a reason why August Wilson is one of the more prolifically produced playwrights in modern American theater. He just gets it. The same could be said for RADIO GOLF director Gregg T. Daniel.
---
Review: DESERT STORIES FOR LOST GIRLS at Latino Theatre Company In Association With Native Voices At The Autry

October 7, 2022

In this full-circle journey, for the women of DESERT STORIES FOR LOST GIRLS, for us the viewers, and for their future generations, there is the sense that healing is what life for all Native American women absolutely needs to be about.
---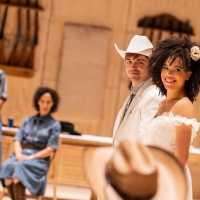 Review: OKLAHOMA at Ahmanson Theatre

September 20, 2022

It seems everybody is having one of two reactions to Director Daniel Fish's revival of OKLAHOMA! currently playing at the Ahmanson Theatre. But love it or hate it, so much of this update of Rodgers & Hammerstein's acclaimed 1943 musical in which a farm girl is courted by two rival suitors, works.
---
Review: LAVENDER MEN at Skylight Theatre

August 25, 2022

Taffeta's dialog is often an attack on the audience rather than a composition about Lincoln.  A passive character study with a blow-horn built in so that you don't doze off into your own fantasy about who she is and what SHE represents.
---