Tracey Paleo
MOST POPULAR ARTICLES
LAST 365 DAYS
BWW Review: THE ENIGMATIST at The Geffen Playhouse
Posted: Sep. 27, 2021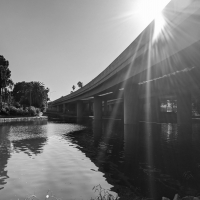 BWW Review: UNDERNEATH THE FREEWAYS OF LOS ANGELES at The Echo Theatre Company
Posted: Apr. 4, 2021


BWW Review: A THEATRE GEEK'S GUIDE TO DISNEY, GOOGLE & THE NFL at Book Review
Posted: Jul. 14, 2021


BWW Review: TEVYE IN NEW YORK! at The Wallis Annenberg Center For The Performing Arts
Posted: Jun. 29, 2021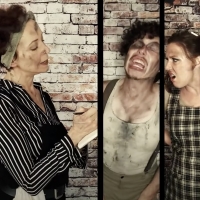 BWW Review: URINETOWN THE VIRTUAL MUSICAL at MSD Productions
Posted: Aug. 5, 2021


BWW Review: THE SOLDIER DREAMS at Open Fist Theatre Company

October 29, 2021

Director Amanda Weier has coordinated a well-cast and appealingly fluid production that retains Canadian playwright Daniel MacIvor's 90s generational stamp -  one of the best aspects of this dream play. 
---
BWW Review: THE ENIGMATIST at The Geffen Playhouse

September 27, 2021

Renowned magician and New York Times crossword constructor David Kwong offers a sophisticated presentation of multi-layered illusion, where clues are everywhere and the surprises that happen often, can be solved by observing with a rational eye.
---
BWW Review: URINETOWN THE VIRTUAL MUSICAL at MSD Productions

August 5, 2021

Producer and multi-award-winning director and choreographer Marcus S. Daniel's rendition has magically transformed this stage musical into a hilarious, provocative, and sometimes frighteningly heightened parody that is filled with deliciously unsavory archetypes and caricatures. 
---
BWW Feature: THE MOST IMPORTANT THEATER CONVERSATION THIS YEAR IS NOW NOW NOW at Hollywood Fringe Festival

August 4, 2021

With every shift of the Covid-19 crisis, live stream, rather than continuing to be a bramble of thorns for theater, has become a way forward. NOW NOW NOW writer/director Tom Cavanaugh says, 'Embrace the Zoom!'
---
BWW Review: WE'RE NOT FRIENDS at Zephyr Theatre

July 29, 2021

How is it that siblings can be absolutely superficial with one another?  Seemingly not care, have time, or energy, or desire to go deep and really hear what the others are saying?  Is, not knowing enough about one another, or knowing too much that creates the barrier to intimacy?
---
BWW Review: FORT HUACHUCA at the Zephyr Theatre

July 27, 2021

Denied membership in the American Red Cross during WWII, 180 black women of the 32nd and 33rd WAAC companies were reluctantly accepted into the Army, assumed their duties at Fort Huachuca, Arizona, and went on to contribute an important chapter to America's history.
---
BWW Review: A THEATRE GEEK'S GUIDE TO DISNEY, GOOGLE & THE NFL at Book Review

July 14, 2021

"So many of our #dreams at first seem impossible, then they seem improbable, and then, when we summon the will, they soon become inevitable." 27-year-old author and Google project manager Brett N. Axler has a real way forward for theater geeks trying to make it in the real world.
---
BWW Review: THE IMPORTANCE OF BEING EARNEST: LIVE IN HD at L.A. Theatre Works

July 5, 2021

Brian Bedford originally thought that playing Lady Bracknell in the 2011 Broadway presentation of THE IMPORTANCE OF BEING EARNEST was a rotten idea. Luckily, for us, he changed his mind. Now streaming Live-in-HD until July 31st.
---
BWW Review: TEVYE IN NEW YORK! at The Wallis Annenberg Center For The Performing Arts

June 29, 2021

With the re-imagining of its outdoor terrace, the Wallis provides an exceptional example of how theater has successfully responded to the limits of Covid-19.  And they didn't forget the fun!
---
BWW Review: OVERTONE INDUSTRIES ORIGINAL VISION at Overtone Industries

June 7, 2021

There's been a #local #opera #evolution @OvertoneIND #LosAngeles that is registering more than a blip on the theatrical EKG.
---
BWW Review: THE DOOR YOU NEVER SAW BEFORE - A CHOOSICAL MUSICAL at The Geffen Stayhouse

May 25, 2021

The Geffen Playhouse has created a colorful, world premiere, CHOOSICAL MUSICAL adventure for 'frustrated kids in quarantine'. It is off-the-charts fun!
---
BWW Feature: LOVE IS... at DConstruction Arts

May 21, 2021

@DconstructionA Celebrates Five Years of #Love Is…May 29, 2021, marks the 5th anniversary of the show
---
BWW Review: UNDERNEATH THE FREEWAYS OF LOS ANGELES at The Echo Theatre Company

April 4, 2021

'We hope you can help us understand what happened here so it never repeats itself and justice can be served.'
---