Now Extended! THE HOUND OF THE BASKERVILLES Is Unleashed This Week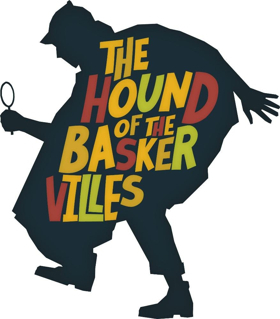 This week, a lighting-quick comedy takes the stage at TheatreSquared in the "gut-bustingly hilarious" (The Times) The Hound of the Baskervilles, a new adaptation that simultaneously spoofs and reveres Sir Arthur Conan Doyle's most celebrated mystery. In this highly theatrical adaptation by Steven Canny and John Nicholson, Sherlock Holmes and Watson set off to the moors to debunk a family "curse," and encounter dozens of suspicious characters who may be too much for Sherlock-or, for that matter, a cast of three-to handle. TheatreSquared's production is produced in partnership with Virginia Stage Company and directed by Mark Shanahan (Peter and the Starcatcher). Performances are April 25-May 27 at Walton Arts Center's Nadine Baum Studios in Fayetteville. Tickets are on sale now from $17-$48 at (479) 443-5600 or theatre2.org.
"Peter O'Toole once said, 'Dying is easy, comedy is hard'. In Baskervilles, the actors do both brilliantly-seven times a week," said T2 Artistic Director Bob Ford. "What better way to end the season than with a belly laugh? Or a hundred."
"I'm happy to report that excitement for this show has been so far beyond elementary," said T2 Executive Director Martin Miller, "that, even before it opens, we've already extended it a week." Performances will now continue beyond the scheduled closing date of May 20 through Sunday, May 27.
The Hound of the Baskervilles is recommended for ages 8 and older, with parental guidance for occasional language.
Director Mark Shanahan returns to TheatreSquared, having helmed Peter and the Starcatcher, Around The World In 80 Days, and the workshop of The Quest For Don Quixote. His directorial work has been seen on numerous stages across the country, including The Alley Theatre, George Street Playhouse, Fulton Opera House, Arkansas Rep, Merrimack Rep, Penguin Rep, Florida Studio Theatre, Cape Playhouse, Weston Playhouse, Hangar Theatre, Florida Rep, Westport Country Playhouse and others. His New York acting credits include the Broadway hit The 39 Steps (American Airlines, Cort Theatre); Small World (59E59); The Shaughraun and Tryst (Irish Rep); Checkers (The VineyardTheatre); As Bees In Honey Drown (Lucille Lortel Theatre); Philadelphia, Here I Come! (Roundabout); and many more.
The cast of The Hound of the Baskervilles reunites three TheatreSquared veteran performers: Patrick Halley (Peter and the Starcatcher); Steven Pacek (Peter and the Starcatcher); and Bruce Warren (The Ding Dong, Peter and the Starcatcher, Around the World In 80 Days).
The creative team for The Hound of the Baskervilles includes scenic designer Charlie Corcoran, lighting designer John Ambrosone, costume designer Jeni Schaefer, sound designer Sean Hagerty, Assistant Director/Choreographer Stephanie Card, and production stage manager Shannon Jones.
TheatreSquared's production is made possible in part with support from lead show sponsors Greenwood Gearhart Inc. and Nick & Carolyn Cole, along with show sponsors Leigh Hopkins, Ben & Christine Clark, and Roger Collins.