BWW Feature: HONKY TONK CHRISTMAS WITH MAMA'S WRANGLERS at Firelight Barn Dinner Theater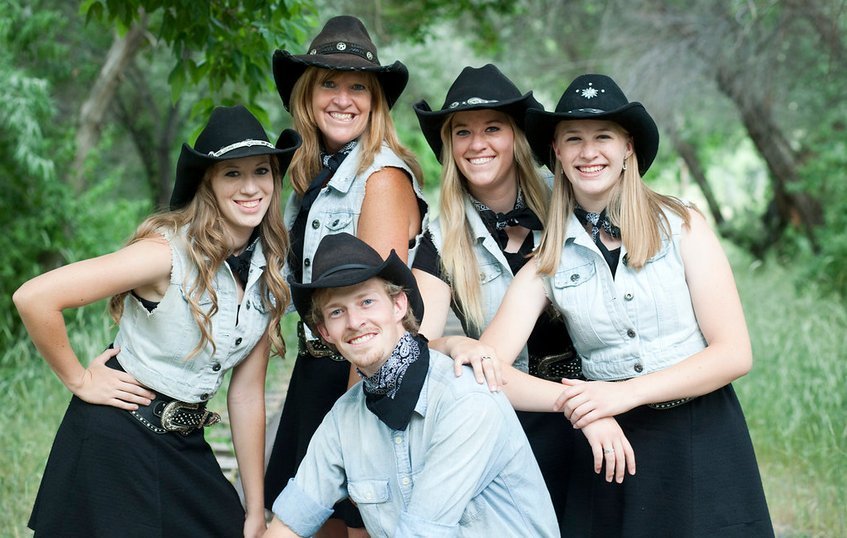 When this musically talented mom discovered that her children were also gifted and loved to perform, Mama's Wranglers was literally as well as figuratively born with each child. Think the Partridge family or the Jackson 5 (and famous siblings) performing country and western music and preserving American traditions. The holiday season is here, and Mama's Wranglers are celebrating with a Honky Tonk Christmas at the Firelight Barn Dinner Theater Dec. 13-22.
First, there is Toni, the mama of the group who sings as well as plays bass and keyboards. The kids are all grown, so the oldest in the group is Tess (banjo, mandolin, drums, fiddle, and vocals). Next is the only man in the group, Grayden (guitar, fiddle, drums, clogging, and vocals). In the middle is Mickinzie (mandolin, fiddle, drums, harmonica, clogging, and vocals). The youngest, who is still a teenager, is Skyler (keyboard, fiddle, drums, clogging, yodeling, and vocals). Like the Osbournes, there are two other adult children who don't perform now (but was part of the band at one point), but it is a full house when Mama's Wranglers come to play.
As for being the only man in the group, Grayden admits, "it is definitely a plus being the only guy in the group. I get the attention of all of the pretty women in the audience." Still, the drawback is that he moves most of the heavy equipment when on tour. Also, whatever the women says, goes, as he has learned. Grayden has to be the first one up to use the bathroom before all of the women descend and is usually the last one to go to bed.
"We have developed a closeness as a family because of all of the time we get to spend together," Mickinzie adds. "We are doing something that is positive and happy to have an impact on others which is really special to me."
"While all of my children are musically talented, the five of us love playing together, and this is the career choice for those in the group," Toni explains. However, all are either studying or received a college education for overall development.
Born and raised in Utah, Toni grew up in a musical family herself, and her mother taught piano, so Toni took lessons since she was young. She soon learned other instruments and enjoyed playing music.
Her life took a different turn from the corporate world to stay at home mom. Like her mother, Toni taught music lessons to paying students as well as her own children for over 20 years. While she can read music, Toni could not play by ear but made sure her children were trained in both modalities.
It was fiddle lessons that prepared everyone to become Mama's Wranglers. A short-term gig with a resort brought the family to Las Vegas, and they love it so much, Southern Nevada is now their home.
Along with touring, they decided to open Firelight Barn Dinner Theater. Dinner is chuck wagon style, and there are options including vegetarian. Along with performing, other artists will also be featured. Mama's Wranglers wanted to develop a home base, and the theater is located in downtown Henderson as part of the redevelopment of the community. However, there are future plans to build an actual barn for the dinner theater.
Mama's Wranglers have entertained in 49 states (Hawaii is on their bucket list), Canada, and Europe. They add their own spin on western classics like "Ghost Riders," and "The Devil Went Down to Georgia," and other favorites like "La Bamba," and "Kokomo." The array of instruments, 4-part vocal harmonies, humor, and fantastic clogging takes the energy level over the top.
"We have already plan much of the schedule for 2019 and as our fans ask, what is Mama's Wranglers going to do next?" Toni states.
Honky Tonk Christmas with Mama's Wranglers will perform at the Firelight Barn Dinner Theater, located at 133 W. Lake Mead Parkway in Henderson, Dec. 13-22 beginning at 6:30. Other shows are scheduled after the holiday. For more information, visit mamaswranglers.com.

Related Articles View More Las Vegas

Stories

Shows