Renowned Choreographer Crystal Pite Selects Protégé Khoudia Touré For 2018-2019 Mentoring Initiative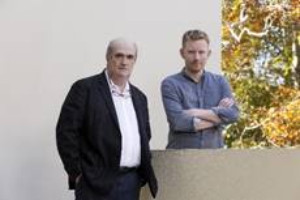 Crystal Pite (dance) has chosen an outstanding young talent for a period of creative exchange and personal inspiration, made possible through the Rolex Mentor and Protégé Arts Initiative.
The multidisciplinary philanthropic programme, established by Rolex, seeks out highly talented artists in the early stages of their careers and brings them together with recognized leaders in their fields for a year or more of open-ended collaboration, so that artistry at the highest level can be transmitted across the generations.
In the mentoring period that spans 2018 and 2019, Ghana-born British architect David Adjaye has chosen to work with Mariam Kamara, 38, Niger; Indian musician Zakir Hussain with Marcus Gilmore, 31, United States; Canadian choreographer Crystal Pite with Khoudia Touré, 31, Senegal; and New York-based Irish writer Colm Toíbín with Colin Barrett, 35, Ireland. The mentor-protégé pairs are free within this period to schedule their times and places of interaction according to their particular needs.
Rolex announced the new mentors and protégés at a public ceremony in Berlin celebrating the completion of the 2016/2017 mentoring year, the 15th anniversary of the programme.
"The artists who have so generously agreed to participate as mentors in the 2018?2019 Rolex Arts Initiative have influenced their disciplines profoundly and are held in the highest esteem by the public and their peers," said Rebecca Irvin, Head of Philanthropy at Rolex. "They now join a community of internationally acclaimed artists who have taken the opportunity through Rolex to pass on their passion and expertise. We extend our congratulations to the highly accomplished younger artists who have been chosen by the mentors."
Rolex announced a new programme schedule and the addition of a new discipline along with increased funding that will allow more time for the mentoring pairs. From this year, the Rolex Arts Initiative mentorships will address disciplines in alternating periods. In 2018-2019 mentorships will take place in architecture, dance, literature and music. In 2020-2021 the programme will address film, theatre, visual arts and a variable eighth mentorship. In this expansion of the programme, the variable mentorship will take place in other fields of the arts and will be multidisciplinary; it will be announced in 2020.
"We have moved to this schedule as a natural evolution of the programme based on 15 years of experience and extensive conversations with the participating artists," Irvin said. "The change enables us to provide greater flexibility for the mentor-protégé pairs in planning their work together and will help accommodate collaborations in fields where works need longer periods to develop. Giving time for cross-generational exchange is at the heart of the initiative, a consideration that can be expected from a company focused on making high-quality timepieces."
Rolex also said that protégés who have completed their mentorships will become known as Rolex fellows who will be invited to apply to a collaboration fund for joint projects. Through the fund, Rolex is acknowledging the bond that has formed with many of the past fellows who have become a global community, diverse in their ages and disciplines but united by their experience of the Rolex Arts Initiative. In encouraging former protégés' desire to create new work together, the fund recognizes that much exciting new work now happens between disciplines and beyond the traditional framework of a single artistic area.
The much sought-after Canadian choreographer is known for her passion to communicate ideas, emotions and stories through her powerful works, which are marked by a strong theatrical sensibility and a keen sense of wit and invention. A recent success, Betroffenheit (2015), cemented her place as a leading choreographer of her generation.
Related Articles View More Germany

Stories

Shows
More Hot Stories For You