Hampton Art Lovers Presents Traveling Exhibition 'Ebony Broadsides: Celebration Of The Masters' At N'Namdi Center For Contemporary Art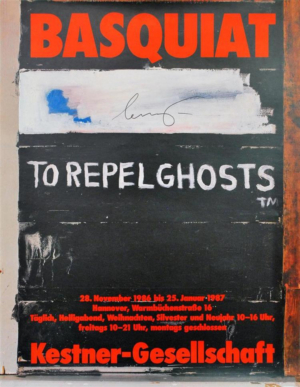 Hampton Art Lovers will present their traveling exhibition of "Ebony Broadsides, Celebration of the Masters," a fine art poster exhibition featuring originally signed exhibition posters from great African American artists during the second edition of Detroit Art Week.
The exhibition will take place at the N'Namdi Center for Contemporary Art(52 East Forest Avenue Detroit, MI, 48201). The show includes Jean-Michel Basquiat, Jacob Lawrence, Faith Ringgold, Betye Saar, John Biggers, Lois Mailou Jones, Gordon Parks, Roy DeCarava, Benny Andrews, Oliver Johnson, Don Thompson, and Ed Clark. The show also includes original signed poster art of Elizabeth Catlett, Romare Bearden, Samella Lewis, James Denmark, and Basil Watson. Also included in the exhibition are special artist proofs and studies by Ernie Barnes and A.C. Hollingsworth. All artwork is courtesy of The Norwood Collection. The exhibition includes examples of all of these artists' signed solo exhibition posters. The exhibition will be on display for a month.
Ebony Broadsides is first of its kind, to our knowledge, to feature fine art exhibition posters of African American artists. Fine Art exhibition posters are advertisements that incorporate an artists' image, painting, or design with exhibition dates, text, or gallery information. They promote the art, artist, and the gallery or museum. Produced by renown institutions, often in tight collaboration with the artists they advertise, executed by well-established printers and published in limited editions, they represent an original way of admiring fine art. Exhibition prints are often made in editions of a few hundred, yet grow even rarer as people don't realize their value. Although they incorporate the original artwork of the artists, the poster themselves become original artwork/design, then even more-so when signed by the artists again.
"Hampton Art Lovers is honored to partner with Gallerist George N'Namdi, who for nearly 40 years, has been at the helm of the N'Namdi Center for Contemporary Art in Midtown (Detroit). We are excited to create a footprint within the Detroit Art Week narrative," said Chris Norwood, co-Founder of Hampton Art Lovers.
Ebony Broadsides focuses on Black artists whose efforts in the twentieth century demonstrate their command of mainstream traditions of racial pride started by the "New Negro" movement of the 1920s which produced an exciting collection of African-American art. Many-Jacob Lawrence, Lois Mailou Jones, and Romare Bearden-responded in the 1930s and 1940s to Alain Locke's call for an art of the "New Negro" and explored the social and narrative aspects of African or African American sources. Contemporary artists-from Betye Saar and Faith Ringgold to Basquiat-drew inspiration from the biographies of their family members and rituals of Black people as a whole. Portraits and documentary images have dominated the subject matter of modern Black photographers who have chosen the people and environment of their own neighborhoods as their subjects. Black photographers, foremost among them Roy DeCarava and Gordon Parks, have sought out communities or traditions of the larger African American society.
For the novice in Black art, Ebony Broadsides is an excellent introduction to the Masters, we seek to reintroduce the genius of the artists through a medium familiar to wider audiences. Posters are part of everyday life and are more likely to be displayed in homes or workspaces than they are more formal works of art. Before the proliferation of television and film, the poster held the most political power of all visual media. It was simple to produce, able to be displayed anywhere the public could view it and had an immediate and intimate influence on audiences. In the 16th century, posters, then known as "broadsides" (also a naval term for cannon-fire launched from one side of a ship) were used to issue governmental notifications and commercial announcements printed and placed on walls, they could also be a political statement or opinion on a sheet printed to be nailed up in the village square or distributed hand to hand.
For more information, please visit www.hamptonartlovers.com.
Related Articles View More Detroit

Stories

Shows
More Hot Stories For You