DTC Presents The World Premiere Of THE TRIALS OF SAM HOUSTON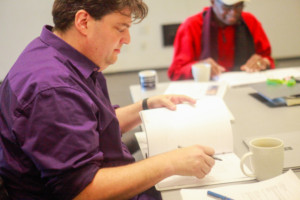 2017 Regional Theatre Tony Award Recipient Dallas Theater Center (DTC) presents the world premiere of The Trials of Sam Houston by Aaron Loeb at the Kalita Humphreys Theater. Directed by DTC Enloe/Rose Artistic Director Kevin Moriarty, The Trials of Sam Houston begins on April 20 and runs through May 13. A Pay-What-You-Can performance will be Sunday, April 22 at 7:30 p.m. Tickets to The Trials of Sam Houston are on sale now at www.DallasTheaterCenter.org and by phone at (214) 880-0202.
On the eve of the state's secession in 1861, Governor Sam Houston is torn between loyalty to Texas and loyalty to the United States. As he weighs the terrible choice he must make, certain of the devastating cost of either path, Houston tells Jeff Hamilton (his slave and office clerk) of a time when he, and the Union itself, stood trial. This searing, world-premiere drama presents the true story of some of America's most famous leaders, including Andrew Jackson, Francis Scott Key and John Quincy Adams, and one man's struggle with what it means to be brave in the land of the free.
"The Trials of Sam Houston is one of the most exciting new plays we've developed at DTC," said Moriarty. "It's filled to the brim with colorful characters, fast-paced dialogue, interlocking plot lines and deeply resonant themes for today. At its center is the glorious, irascible, charismatic, troubled, contradictory character of Sam Houston himself. As a director, it's a real joy to be immersed in this play and get to spend time with such entertaining and surprising moments from our Texas history, and to celebrate Aaron Loeb's dynamic, smart playwriting in this world premiere."
Cast members include Diane and Hal Brierley Resident Acting Company members Steven Michael Walters (The Christians, Deferred Action, All the Way) as Young Sam Houston; Ace Anderson (The Great Society, Hair, Inherit the Wind) as Young Jeff Hamilton/Joseph Vance/Henry; Kieran Connolly (Frankenstein, Inherit the Wind, All the Way) as George Chilton/Andrew Stevenson/Dr. Beanes; Liz Mikel (A Christmas Carol 2017, Miller, Mississippi, Inherit the Wind) as Lina Graves/John Quincy Adams and Alex Organ (Frankenstein, Miller, Mississippi, Inherit the Wind) as McKell/James K. Polk. Additional cast members include acclaimed stage, film and television actor Charlie Robinson (NBC's Night Court, TBS' Mom, Disney's KC Undercover, among others) as Old Jeff Hamilton/Old Sam Houston/Andrew Jackson; David Coffee (The Great Society, Electra, Fly by Night) as Stanbery/James Wayne/Mr. Skinner/Mrs. Vance and Kate Wetherhead (Cabaret, It's a Bird...It's a Plane...It's Superman, Sarah, Plain and Tall) as Francis Scott Key/Young Francis/Patricia Caras/Louisa Adams.
Tony Award-winning set designer Beowulf Boritt (The Great Society, All the Way, A Christmas Carol) returns, alongside costume designer Jen Caprio (The Great Society, All the Way, A Christmas Carol); original music and sound design by Ryan Rumery (Frankenstein, Constellations, Sherlock Holmes: The Final Adventure); lighting design by Tony Award-winner Jeff Croiter (A Christmas Carol 2017, Colossal, Joseph and the Amazing Technicolor Dreamcoat) and wig, hair and makeup design by J. Jared Janas (Hair, Bella: An American Tall Tale, Dreamgirls).
DTC's Come Early will take place before every performance, and DTC's Stay Late will take place after each performance. Come Early is a free, 30-minute informative talk designed to enhance a patron's play-going experience. Given one hour before every performance, a member of the cast or artistic staff will share details about the play's origins and context, as well as share insight into the creative process behind the production. Stay Late is a free, brief, post-show conversation with a member of the cast about the show. Patrons will engage with the artists, learn about the production and be able to share their insights about the play in a lively discussion. Stay Late is presented by Wells Fargo.
Support for The Trials of Sam Houston is provided by Presenting Sponsor The Moody Foundation, and Executive Producing Partners Edgerton Foundation and Laurents Hatcher Foundation.
ABOUT Dallas Theater Center:
One of the leading regional theaters in the country and the 2017 Regional Theatre Tony Award Recipient, Dallas Theater Center (DTC) performs to an audience of more than 100,000 North Texas residents annually. Founded in 1959, DTC is now a resident company of the AT&T Performing Arts Center and presents its Mainstage season at the Dee and Charles Wyly Theatre, designed by REX/OMA, Joshua Prince-Ramus and Rem Koolhaas and at its original home, the Kalita Humphreys Theater, the only freestanding theater designed and built by Frank Lloyd Wright. DTC is one of only two theaters in Texas that is a member of the League of Resident Theatres, the largest and most prestigious non-profit professional theater association in the country. Under the leadership of Enloe/Rose Artistic Director Kevin Moriarty and Managing Director Jeffrey Woodward, DTC produces a seven-play subscription series of classics, musicals and new plays and an annual production of A Christmas Carol; extensive education programs, including the National Arts and Humanities Youth Program Award-winning Project Discovery, SummerStage and partnerships with Southern Methodist University's Meadows School of the Arts and Booker T. Washington High School for the Performing and Visual Arts; and many community collaborations. In 2017, in collaboration with SMU Meadows, DTC launched Public Works Dallas, a groundbreaking community engagement and participatory theater project designed to deliberately blur the line between professional artists and community members, culminating in an annual production featuring more than 200 Dallas citizens performing a Shakespeare play. Throughout its history, DTC has produced many new works, including The Texas Trilogy by Preston Jones in 1978; Robert Penn Warren's All the King's Men, adapted by Adrian Hall, in 1986; and recent premieres of Miller, Mississippi by Boo Killebrew; Hood: The Robin Hood Musical Adventure by Douglas Carter Beane and Lewis Flinn; Bella: An American Tall Tale by Kirsten Childs; Clarkston by Samuel D. Hunter and Moonshine: That Hee Haw Musical by Robert Horn, Brandy Clark and Shane McAnally. Dallas Theater Center gratefully acknowledges the support of our season sponsors: Texas Instruments, American Airlines, Lexus and NBC 5.
More Hot Stories For You