Review: Seeing BW/Beck's wonderful ONCE once, is not enough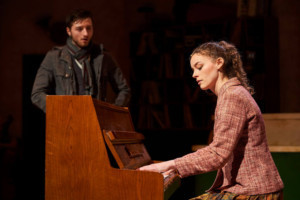 "On Stage" recently announced that Baldwin Wallace University's Music Theatre program has risen to number one calling it "a top destination for any student wanting to study musical theatre."
The honor is no wonder as around twenty of Victoria Bussert's thespians have graced Broadway for each the last several years. This, along with all those who are staring in professional productions, such as Great Lakes Theater, Idaho Shakespeare Festival and Lake Tahoe Shakespeare Festival have brought much attention and prestige.
If you need personal proof, and you haven't seen productions by the collegiate group at BWU or Play House Square, get over to Beck Center, where the students are appearing in "Once," the Edna Walsh (book), Glen Hansard and Marketa Irglová (music and lyrics) Tony Award winning musical,based on John Carney's 2006 film of the same name.
As "Once" starts, Guy, a busker, is singing a ballad of unrequited love. He is in despair over the loss of the-love-of-his-life who left him and went to America.
Girl is watching, listening, and approaches him. Posing personal questions, she finds out that he is giving up music because singing songs of love is just too difficult.
Seem like an extreme reaction? Not if you remember that the Irish are noted for their strong display of emotions, the acting out of their angst, and the expression of those feelings in songs, poetry and staged drama.
Of course, the two develop an emotional relationship, but are confronted with the barrier that Girl is married to a man who has left her and their daughter, but may return. Over the period of one week, the duo, with the help of various friends, creates a CD of raw, emotional, music.
A vacuum cleaner, a piano, a recording studio, hope, laughter and Irish angst all play into the tale. The expected happy ending may or may not take place, depending on how you interpret the touching final scene.
Jordan Janota's minimalistic set is transformed into various places by adding a few tables and chairs and some strategic lighting.
Though the songs are often dynamic, there is no rock and roll, no hip hop, nor show stoppers, leading to a laid-back feeling, not often found in musicals.
The cast members are four-level performers who act, sing, dance and play instruments. They present the depressing "Leave," the pretty and plaintive "Falling Slowly," the beautiful "Gold," and the dance-inducing "North Strand." There's nothing here that will make the hit parade of great songs. It's mainly emotional Irish "woe-is-me-music."
This is the kind of script that BW'sMusic Theatre Director, Victoria Bussert, does so well. It is full of pathos, needs creative staging and a firm understanding of the subtle, as well as the importance of blended dancing, good vocals, strong acting and a comfortable pacing. Bussert and her BW "cherubs" make it a "wee "grand experience.
The choreography, which is well-performed staged movement, is nicely designed by Gregory Daniels. The vocal blends and musical sounds are impressively conceived by Matthew Webb.
The entire cast impresses with their musical performances, proficient singing and clear characterizations.
Kelsey Brown is Broadway ready! Her nicely textured creation of Girl grabs and holds the audience. She has a good take on subtle comedy. Her singing voice and acting talents are well-honed. Her Czech dialect, developed under the coaching of Matthew Koenig, was clear, crisp and easy to understand. Her piano playing added a special dimension to her performance.
Jake Slater grows nicely into the role of Guy as he transforms from depressed, even by Irish standards, to having a positive outlet for life. He has a nice singing voice and displays good guitar skills.
The rest of the strong ensemble cast was impressive, displaying clear Irish dialects, thanks to Brennan Murphy's guidance, and excellent singing blends and solos. Their character development and playing of instruments impresses.
CAPSULE JUDGEMENT: The Beck Center/Baldwin Wallace Music Theatre Program production of "Once," is vibrant, and has talent overload. This production rivals the Broadway staging and is much superior to the touring show which was part of the Key Bank Series. It's the kind of production that you might be tempted to go back and see again! Go. You will enjoy!
"Once" is scheduled to run at Beck Center for the Arts through February 24. For tickets and information call 216-521-2540 or go online to http://www.beckcenter.org