Photo Flash: First Look - Shattered Globe's THE WHALESHIP ESSEX, Now Playing Through 10/11
Shattered Globe Theatre launches its 24th season with the Midwest premiere of the nautical drama THE WHALESHIP ESSEX by Founding Ensemble Member
Joe Forbrich
, directed by Lou Contey, playing through October 11, 2014 at its resident home, Theater Wit, 1229 W. Belmont Ave. in Chicago. Tickets are available at
www.theaterwit.org
, in person at the Theater Wit Box Office or by calling
(773) 975-8150
. The press performance is Wednesday, September 3 at 7:30 pm.
THE WHALESHIP ESSEX will feature a 15-member cast including Shattered Globe Ensemble Members Steve Peebles, Angie Shriner, Drew Schad, Kevin Viol, Ben Werling, Joseph Wiens and Brad Woodard with Zach Bloomfield, Lionel Gentle, Darren Jones, Josh Nordmark, Bridget Schreiber, Jonathan Stutzman, Alif Muhammad and Antonio Zhiurinskas.
The ship that inspired Melville''s Moby-Dick and its crew met with tragedy on November 20, 1820, when it was sunk by an enraged sperm whale in the middle of the Pacific Ocean. Based on first-hand accounts of this event, this imaginative new play is an epic, ensemble tale of survival. Infused with authentic sea chanteys, THE WHALESHIP ESSEX revels in the common language shared by both the theatrical and the nautical worlds, and weaves an historic story of whaling with our modern-day quest for oil, the lifeblood of our economy.
In 2008, Joe Forbrich built and sailed his 16-foot sailboat Jenny from Long Island to Martha''s Vineyard to spend the summer apprenticing as a boatbuilder by day, while working by night as an actor at The Vineyard Playhouse. It was on this trip that he first heard the story of the Essex and, blissfully caught between the nautical and theatrical worlds, the idea for his play - the true story of the destruction of a whaleship by a vengeful leviathan - was born. THE WHALESHIP ESSEX premiered June 21, 2014 at the newly remodeled Vineyard Playhouse after a reading at The Players Club and a workshop this spring in New York City.
The production team for THE WHALESHIP ESSEX includes: Ann Davis (set designer), Sarah Jo White (costume designer), Shelley Strasser Holland (lighting designer), J. J. Porterfield (sound designer), Michael Stanfill (projection design), Vivian Knouse (props designer), Christina Gorman (fight choreographer), Judy Anderson (production manager), Amanda Rozmiarek (technical director), Susan Gosdick (dialect coach) and Jeffrey Clark Stokes (stage manager).
Photos by Emily Schwartz


Ben Werling, Brad Woodard & Cast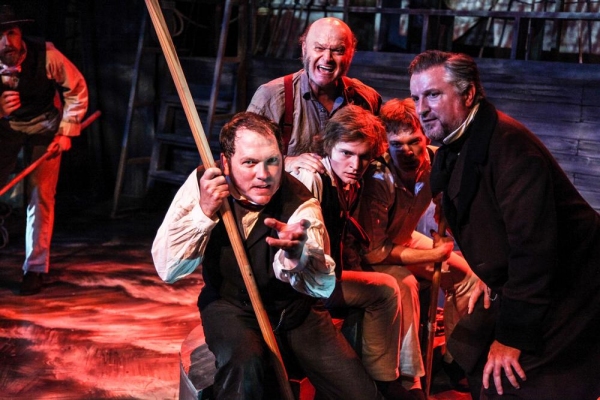 Josh Nordmark with Brad Woodard, Zach Bloomfield, Antonio Zhiurinskas, Drew Schad and Ben Werling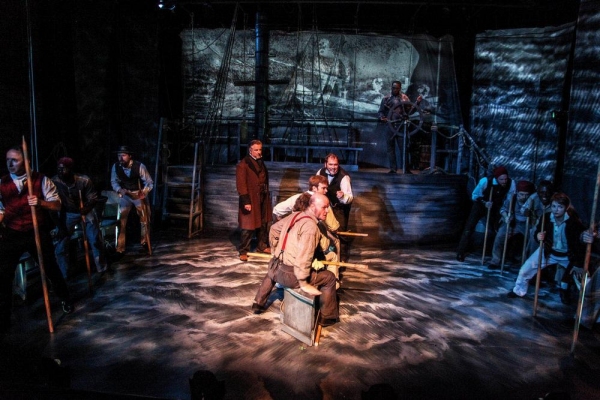 Cast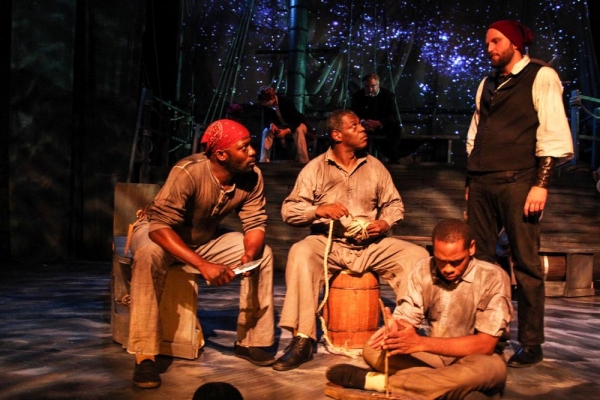 Lionel Gentle, Darren Jones, Alif Muhammad and Joseph Wiens

Cast
More Hot Stories For You