Matt Crowle to Make Goodman Theatre Debut in David Sedaris's THE SANTALAND DIARIES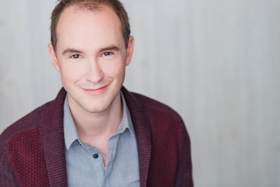 This holiday season, Goodman Theatre presents The Santaland Diaries-David Sedaris' "vivid, hilarious portrait of family Christmas with his deft combination of wicked humor and scalpel-sharp observation" (Chicago Magazine). Adapted by Joe Mantello and directed by longtime Goodman Artistic Associate Steve Scott, this "theatrical stocking stuffer" (Chicago Reader) is perfect for those who prefer their eggnog spiked. Chicago favorite Matt Crowle makes his Goodman debut in a solo performance as the strapped-for-cash struggling actor who takes a job as "Crumpet," an elf at Macy's Santaland-and his hilarious observations are more naughty than nice. The Santaland Diaries appears November 30 - December 30 in the Owen Theatre (opening night is December 6 at 7pm) in the Goodman's Owen Theatre (170 N. Dearborn); tickets ($15-45; subject to change) go on sale today by telephone 312.443.3800 or online GoodmanTheatre.org/Santaland. For "mature elves" only.
"I've been a fan of David Sedaris' unique voice and trenchant wit for many years now, and I'm thrilled to be able to bring that voice to the stage of the Owen Theatre," said Director Steve Scott, whose most recent Goodman credits include Eugene O'Neill's Ah, Wilderness! and Christopher Durang's smash sensation Vanya and Sonia and Masha and Spike. "I'm equally happy to be working again with Matt Crowle, whom I first directed years ago when he was my student at the Theatre Conservatory at Roosevelt University. Matt's now well-known comic sensibility is a perfect match for David's darkly hilarious take on one of our most esteemed Christmas traditions."
Matt Crowle's Broadway and national tour credits include Monty Python's Spamalot and Doctor Dolittlestarring Tommy Tune. Chicago and regional theater credits include Drury Lane Theatre, Porchlight Music Theatre, Mercury Theater Chicago, Paramount Theatre, Northlight Theatre, Saint Michael's Playhouse, Arkansas Repertory Theatre, Gateway Playhouse, Skylight Music Theatre and The MUNY. His television credits include The Chi and Empire. Crowle is an Artistic Associate with Porchlight Music Theatre where, this winter, he'll star as all eight doomed members of the D'Ysquith Family in the Chicago premiere of A Gentleman's Guide to Love and Murder.
Hailed as a "funny, sardonic, wickedly funny look at the traditions and trappings of Christmas" (Broadway World), Sedaris debuted The Santaland Diaries as an essay on National Public Radio in 1992. On the heels of that success, it was published in his essay collections Barrel Fever and Holidays on Ice. It was subsequently adapted by Mantello into a one-act, one-man stage production, which premiered at Atlantic Theater Company (1996) and performed across the nation for over the past two decades.
David Sedaris (Playwright) is the author of Barrel Fever and Holidays on Ice, as well as collections of personal essays, Naked, Me Talk Pretty One Day, Dress Your Family in Corduroy and Denim, When You Are Engulfed in Flames and his most recent book, Let's Explore Diabetes with Owls, each of which became an immediate bestseller. The audio version of Let's Explore Diabetes with Owls is a 56th Annual GRAMMY Awards Nominee for Best Spoken Word Album. He is the author of the New York Timesbestselling collection of fables entitled Squirrel Seeks Chipmunk: A Modest Bestiary (with illustrations by Ian Falconer). He was also the editor of Children Playing Before a Statue of Hercules: An Anthology of Outstanding Stories. Sedaris' pieces appear regularly in The New Yorker and have twice been included in "The Best American Essays." There are over ten million copies of his books in print and they have been translated into 25 languages. He and his sister, Amy Sedaris, have collaborated under the name "The Talent Family" and have written half-a-dozen plays which have been produced at La MaMa, Lincoln Center and The Drama Department in New York City. These plays include Stump the Host, Stitches, One Woman Shoe, which received an Obie Award, Incident at Cobbler's Knob and The Book of Liz, which was published in book form by Dramatists Play Service. Sedaris' original radio pieces can often be heard on the public radio show This American Life. He has been nominated for three GRAMMY Awards for Best Spoken Word and Best Comedy Album. His latest audio recording of new stories (recorded live) is "David Sedaris: Live for Your Listening Pleasure" (November 2009). A book of essays entitled Calypso was published June 2018, and a second volume of his diaries is expected for summer 2019. Davidsedarisbooks.com
Steve Scott (Director) was the Producer for over 30 years at Goodman Theatre, where he oversaw more than 200 productions; he is now a member of Goodman's Artistic Collective. His Goodman directing credits include Ah, Wilderness!; Vanya and Sonia and Masha and Spike; Horton Foote's Blind Date; Rabbit Hole; Binky Rudich and the Two-Speed Clock and No One Will Be Immune for the David Mamet Festival; Dinner With Friends; Wit; the world premiere of Tom Mula's Jacob Marley's Christmas Carol; A Midsummer Night's Dream (co-directed with Michael Maggio) and the 2011 and 2012 editions of A Christmas Carol. Other directing credits include productions at Northlight Theatre, Silk Road Rising, American Blues Theater, A Red Orchid Theatre, Redtwist Theatre (where he is a company member), Shattered Globe Theatre, Eclipse Theatre Company (where he is an ensemble member) and many others. He is a member of the Jeff Committee's Artist and Technical Team, a board member of Season of Concern and an advisory board member at Congo Square Theatre; he also teaches on the faculty of the Theatre Conservatory at Roosevelt University. He was one of six resident directors for WBEZ's series "Stories on Stage," and has contributed articles to a variety of publications, including the Encyclopedia of Chicago. Scott is the recipient of six Jeff Award nominations, an After Dark Award, the Illinois Theatre Association's Award of Honor, Eclipse Theatre Company's Corona Award, the 2017 Special Jeff Award for career achievement and the League of Chicago Theatre's Lifetime Achievement Award. As an actor, he most recently appeared in Next Theatre Company's production of Are You Now or Have You Ever Been...? (Jeff Award for Outstanding Ensemble).