Her Story Theater Announces Cast for MONGER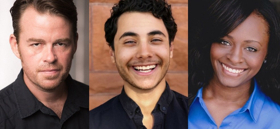 Full casting has been announced for Her Story Theater's world premiere of MONGER: THE AWAKENING OF J.B. BENTON - the fourth play in its cycle of dramas exposing sex trafficking practices in Chicago. Written by Her Story Theater Founder and Producing Artistic Director Mary Bonnett, and directed by John Mossman, Co-Founder of The Artistic Home, MONGER follows a Chicago criminal defense attorney with a secret sex life who deals with his sensitive 16-year-old son's legal crisis on the day he takes a deposition from the mother of a murdered teenage victim.
Ira Amyx will play the attorney, J.B. Benton. Amyx is a Chicago based artist who has enjoyed time on stage with Steppenwolf Theater, The Irish Theater of Chicago, Strawdog Theater Company and many others. He has been seen on TV and movie theaters in EMPIRE, SHAMELESS, CHICAGO PD, SIRENS, WRITTEN OFF, PUBLIC HOUSING UNIT AND a myriad of independent content. He has been nominated for three Joseph Jefferson acting awards, winning for best ensemble (Equity). He also works as an art director and scenic designer, gleaning two Jeff Award nominations for scenic design. Joshua Zambrano will take the role of J.B.'s son, Eddie. Zambrano is an alum of the Chicago High School for the Arts (Class of 2014), and a recent graduate of Colorado College.
The victim's mother will be played by Chicago native Jamise "Slim" Wright. Wright was recently seen in CHICAGO FIRE's winter finale episode, "The One Hundred"; in WINDY CITY, an Indie film directed by Gunjan Badjatya; and the theater production of JUST RANTING THE BLUES. Todd Wojcik will understudy the role of J.B. Benton.
The production team will include Parker Langvardt (projection design), Blake Cordell (lighting design), CCDM (music design) and Rafael Zhang (stage manager).
Bonnett's play uncovers the nationwide, anonymous brotherhood of men who use the Internet to find and compare notes on the women and underage girls they pay for sex. It also explores the toxicity of many of the prevailing notions of masculinity and how they contribute to an environment that allows these abuses to exist. Though the characters are composites of people Bonnett interviewed and the plot details are inspired by real-life events in Chicago. Bonnett's script includes actual posts from online chats among men engaged in this activity along with dialogue she imagined for the characters.
MONGER, sponsored by the Oppenheimer Family Foundation, will be performed over five weekends at the Greenhouse Theater Center from August 30 - September 30, 2018.
Since 2013, Her Story Theater has been a company dedicated to raising awareness of the epidemic of sexual exploitation. The three previously-produced plays in Her Story's "Chicago Sex Trafficking Cycle" include SHADOW TOWN (2013), THE JOHNS (2014), and MONEY MAKE'M SMILE (2016, 2017). As a group, the plays depict sex trafficking from the perspectives of the various participants - the traffickers, girls and boys who are trafficked, and the men who buy them.
MARY BONNETT (Producing Artistic Director, Playwright) created and cofounded HER STORY THEATER. Mary is the creator and director of GLOSS OVER, SHADOW TOWN, THE JOHNS, MONEY MAKE'M SMILE, MONGER. She has won numerous awards for excellence and outstanding contributions in professional theater, writing, directing, theater education. Her plays and directing have been seen in various theaters and universities. She speaks regularly to organizations across Illinois on domestic sex trafficking and the impact the current culture has on our youth. Mary has appeared on television and radio shows, championing the need for change in laws and awareness to protect children and women. Under Mary's leadership, Her Story Theater has raised thousands of dollars from ticket sales for its partner service organizations.
Mary created the Front Line Series on domestic sex trafficking which includes, COURT SIDE in partnership with Federal, county, and state governments; and most recently, nationally with trial court judges in Philadelphia, PA and Rhode Island. SCHOOL SIDE includes performance, curriculum and study guide for teachers and administrators. The stage readings series focuses on the trauma-based journey of a domestic trafficked victim. Front Line raises awareness, empathy, and understanding for professionals working with these victims and generates post show workshops in problem-solving. Two more works are in the making: BED SIDE for the medical community and JAIL SIDE for law enforcement.
Mary is a member of SAG-AFTRA, and the Dramatists Guild of America. She is winner of the BIBO Award for Community Action and the Illinois Senate Hero Award for her work in combatting sex trafficking in Illinois. Mary holds a BFA in Theater Arts, BFA in English Literature, MA in Creative Writing from Bath Spa University, England.
John Mossman (Director) is co-founder of The Artistic Home, where he recently earned a Jeff Award nomination for his leading performance in HOW I LEARNED TO DRIVE and in 2017 directed the hit production of BY THE BOG OF CATS. He also adapted and directed the world premiere of Paddy Chayefsky's Oscar nominated screenplay THE GODDESS for which he received an equity Jeff Award for New Adaptation, as well as directed the Jeff Nominated JUNO AND THE PAYCOCK, LOOK HOMEWARD, ANGEL; MARISOL, and the acclaimed revival of William Inge's NATURAL AFFECTION. Other productions include LANDSCAPE OF THE BODY, the revival of Clifford Odets's CLASH BY NIGHT, as well as Beth Henley's THE MISS FIRECRACKER CONTEST and RIDERS TO THE SEA by J.M. Synge. He directed THE SHADOW OF A GUNMAN for Seanachai Theater, for which he was named one of the top directors of 2011 by WBEZ, and JULIUS CAESAR for Lakeside Shakespeare Theater.
Also a filmmaker, he directed the award winning feature film INTO THE WAKE and has written and directed several short films that have won top awards at numerous international film festivals, including the Artistic Home-produced SPACEMAN DAN'S 243RD FLIGHT. He directed the short films DRAGGAGE and JELL-OHH LADY, featured in the American Cinematheque Series at LA's Egyptian Theater, for which he received the Best Director of 2002 award at the Midwest Independent Film Fest. Documentaries include THERE'S NO SUCH THING AS CRAZY, which received a Telly and a Voice Award for its portrayal of teenagers struggling with mental illness.