Harris Theater Announces 18-19 Mix At Six, Exelon Family Series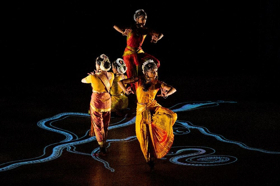 The Harris Theater announced last night the five artists and ensembles appearing in the 2018-19 Mix at Six series: British-Bahraini jazz trumpeter Yazz Ahmed, Afro-Cuban vocalist Daymé Arocena, Spanish guitarist Pablo Sainz Villegas, Quebecois circus arts ensemble Cirque Éloize, and some of the best young dancers from right here in our city - the Chicago Academy for the Arts Repertory Dance Company.
Mix at Six offers some of the most innovative and exciting work appearing on the Harris Theater's Elizabeth Morse Genius Stage. With one-hour performances beginning at 6:00 p.m., tickets starting at $10 each, and opportunities for audiences to eat, drink, and mingle with performers in the lobby, the series engages new audiences and seasoned arts patrons alike.
The popular Exelon Family Series will return in 2018-19 with three one-hour, Saturday matinee performances by artists also appearing in Harris Theater Presents Mainstage and Mix at Six series: Opera Atelier, Ragamala Dance Company, and Cirque Éloize. The series fosters an informal and inclusive environment for children and families to experience the performing arts together.
2018-19 Mix at Six Performances
Yazz Ahmed
October 12, 2018 | 6:00 p.m.
Yazz Ahmed is a British-Bahraini trumpet and flugelhorn player. Her music - through which she seeks to blur the lines between jazz, electronic sound design and the music of her mixed heritage - has been described as "...psychedelic Arabic jazz, intoxicating and compelling" (Hear and Now Media). In recent years, she has led ensembles in London, New York, Kuwait, Berlin,
Paris, Istanbul, and Amsterdam. Ahmed has also recorded and performed with Radiohead, Lee "Scratch" Perry, ABC, Swing Out Sister, Joan as Police Woman, Tarek Yamani, and Amel Zen, and has toured the world with art-rock band These New Puritans.
Daymé Arocena
December 10, 2018 | 6:00 p.m.
Daymé Arocena draws inspiration from the intertwining musical legacies of her native Cuba. With exceptional warmth and a powerful presence to augment her virtuosity, the singer, composer, and choir director is one of the "most inviting ambassadors" (Los Angeles Times) for Cuba's contemporary music. Arocena channels Santerian chant, rhythmic complexity, fluid jazz styling and a nuanced Afro-Cuban soulfulness in into her work, uniting "cosmopolitan musicianship with deep roots" (New York Times).
Pablo Sáinz Villegas
January 25, 2019 | 6:00 p.m.
Pablo Sáinz Villegas has become a worldwide sensation known as one of this generation's great guitarists. With "virtuosic playing characterized by irresistible exuberance" (New York Times), Villegas's interpretations conjure the passion, playfulness, and drama of Rioja and his homeland's rich musical heritage. While carrying on Spanish guitar traditions, Villegas is equally dedicated to new music, premiering works by John Williams, Sergio Assad, and others.
Cirque Éloize: Saloon
March 8, 2019 | 6:00 p.m.
A driving force in the reinvention of circus arts, Cirque Éloize ranks among the world's leading contemporary circus ensembles. Combining theater, humor, and acrobatics, and driven by live music, the Montreal-based company brings its newest creation, Saloon, to Chicago. The production tells an incredible love story set in the wild west, where almost anything goes.
Chicago Academy for the Arts
May 3, 2019 | 6:00 p.m.
The Chicago Academy for the Arts Repertory Dance Company is comprised of some of the Midwest's most talented young dancers. The ensemble aims to preserve world-class works set on Academy dancers, and to promote its students as youth ambassadors in the dance community. Alumni from this prestigious training program have gone on to such institutions as Alvin Ailey American Dance Theater, Joffrey Ballet, The Juilliard School, and New York City Ballet.
2018-19 Exelon Family Series Performances
Opera Atelier
November 17, 2018 | 2:00 p.m.
Porter, Airline Presenting Sponsor
This special Family Series matinee will introduce young audiences to the magic and drama of opera. Featuring narration from Opera Atelier's creative team, the program will explore excerpts from Actéon, the 17th century opera based on a story from Ovid's Metamorphoses, illuminating how sets, costumes, and performance style combine to create a mythical world onstage.
This Exelon Family Series presentation will include ASL interpretation.
Ragamala Dance Company: Written in Water
January 12, 2019 | 2:00 p.m.
Conceived by mother-daughter artistic directors Ranee Ramaswamy and Aparna Ramaswamy, Written in Water combines classical Indian dance, a contemporary aesthetic, and stunning sets and projections to enchant audiences of all ages. Inspired by the Indian board game Paramapadam - a precursor to Snakes and Ladders - the performance will feature live music composed and performed by Chicago native Amir ElSaffar and an international ensemble of musicians.
This Exelon Family Series presentation will be a sensory-friendly performance, designed to offer a safe, welcoming, and judgement-free environment for audience members on the autism spectrum or with other sensory sensitivities. Support services and accommodations include moderate sound levels, a quiet play area, and social narratives to guide audience members during their visit.
Cirque Éloize: Saloon
March 9, 2019 | 2:00 p.m.
The wild west comes alive in a Family Series matinee featuring excerpts from Cirque Éloize's newest creation, Saloon. Audiences will enter a mythical world where theater and circus collide, combining live folk music with the incredible strength, agility, and original choreography of the boundary-breaking ensemble.
This Exelon Family Series presentation will include ASL interpretation.
Subscriptions
Subscriptions for Mix at Six and the Exelon Family Series are available now online and at the Harris Theater Box Office. Series subscriber benefits include:
The deepest discounts of the season - Mix at Six packages are just $50 for five performances, and Family Series packages start at $18 for the three-performance series
Access to discounted parking in the Millennium Park Garage
Discounts and special offers when dining with Harris Theater Restaurant Partners
Invitations to special events, artist talks, and receptions throughout the season
To purchase a subscription or request a brochure, contact the box office at 312.334.7777 or visit in person at 205 E. Randolph. Hours are noon to 6 p.m., Monday through Friday and performance days.
Harris Theater for Music and Dance
The Harris Theater is Chicago's primary residence for music and dance, connecting diverse audiences with outstanding artists from across the city, the nation, and the world. The Theater's activities fall under three central strategies: support for local music and dance companies, presentation of national and International Artists, and community engagement and educational programs. Now in its fourteenth season, the Theater has earned national recognition as a distinctive model for collaboration, performance, and artistic advancement.
Today, the Harris Theater's original group of 12 resident companies has grown to include 30 diverse music and dance companies, and its Harris Theater Presents series has featured world-renowned artists and ensembles including Mikhail Baryshnikov, Batsheva Dance, Joshua Bell, Renée Fleming, Sir John Eliot Gardiner and the Monteverdi Choir, Hamburg Ballet, Angélique Kidjo, Paris Opéra Ballet, and Stephen Sondheim. The Harris Theater's community engagement initiatives build bridges between artists and community members, providing master classes, artist talks, and free tickets for more than 35 partner organizations throughout Chicago.
To learn more about the Harris Theater, Chicago's state-of-the-art 1,499-seat performance venue, visit HarrisTheaterChicago.org and follow us on Facebook, Twitter, and Instagram.
photo by Bruce Palmer
Related Articles View More Chicago

Stories

Shows
More Hot Stories For You