Goodman Theatre's 2666 Now Available for Streaming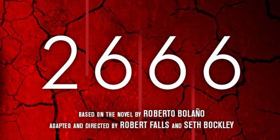 From internationally-celebrated novel, to world-premiere stage adaptation, to groundbreaking online event. Late Chilean author/poet Roberto Bolaño's 2666, co-adapted and co-directed by Goodman Theatre Artistic Director Robert Falls and Chicago-based playwright Seth Bockley, is now streaming at GoodmanTheatre.org/Watch2666 -accessible completely free of charge. This unprecedented stage-to-digital opportunity is generously made possible by The Roy Cockrum Foundation, which sponsored the Goodman's 2016 world-premiere production, and is presented by special arrangement with the Estate of Roberto Bolaño, Actors' Equity Association, Stage Directors and Choreographers Society and United Scenic Artists. An epic, global portrait of the modern world and the artist's role within it, 2666 debuted at the Goodman to popular and critical acclaim; however, the significant size and scope of Falls' and Bockley's production-with its five-and-a-half-hour running time, five distinct sets and 15-member ensemble cast appearing in 80 roles-presented challenges for subsequent productions. Now, viewers anywhere can access the production, which was captured by Chicago's HMS Media during a performance. Visit GoodmanTheatre.org/Watch2666 to stream all five parts of 2666-Part 1: The Part About the Academics; Part 2: The Part About Amalfitano; Part 3: The Part About Fate; Part 4: The Part About the Crimes; and Part 5: The Part About Archimboldi.
"We are proud to help provide global access to 2666, an exhilarating artistic triumph and once-in-a-lifetime theatrical event by Robert Falls, Seth Bockley and their enormously talented cast and creative team at Goodman Theatre," said Roy Cockrum. "It is good fortune for everyone involved-artists, audiences and communities alike-any time a play can have a life beyond its closing night. It's an absolute thrill to enable that future life in an exciting New Medium, with unlimited access for audiences everywhere."
From Spain to England, Mexico and Germany-and back in time, from the 1990s to World War II-the stage adaptation of 2666 spans nearly 80 years and unfolds across the globe in five linked parts, each distinct in style and tone. It begins with four European academics in pursuit of an enigmatic German author, Benno Von Archimboldi, and continues overseas into Santa Teresa-a Mexican border city where hundreds of women have been inexplicably murdered. The fictitious Santa Teresa is inspired by Ciudad Juárez, a real Mexican city Bolaño once referred to as "our curse and our mirror, the unquiet mirror of our frustrations and of our vile interpretation of freedom and of our desires" (Playboy). 2666 is widely considered to be the culmination of themes that run throughout Bolaño's body of work, which includes nine novels, two story collections and five books of poetry.
"Adapting 2666 for the stage with Seth Bockley, a strikingly imaginative writer and director, was one of the most extraordinary challenges of my artistic career-a project of love, discovery and passion," said Robert Falls. "It never would have been possible without Roy Cockrum-and I am enormously grateful to him, once again, for his unwavering belief in the power of this project and his generous support of its continued life online."
The cast includes Charín Alvarez, Janet Ulrich Brooks, Yadira Correa, Sandra Delgado, Alejandra Escalante, Sean Fortunato, Henry Godinez, Larry Grimm, Eric Lynch, Mark L. Montgomery, Adam Poss,Demetrios Troy, Juan Francisco Villa, Jonathan Weir and Nicole Wiesner. The creative team includes designers Walt Spangler (sets), Ana Kuzmanic (costumes), Aaron Spivey (lights), Richard Woodbury and Mikhail Fiksel (sound and original music), Shawn Sagady (projections and video) and Tanya Palmer (Dramaturg).
"I'm delighted to share our adaptation of 2666 with many more people in a digital form, and reach a whole new audience," said Seth Bockley. "The collaborative adapting and directing process with Bob was the experience of a lifetime. This documentation is a testament to the generosity and brilliance of our production team, cast and crew at the Goodman, who made an extraordinary effort to manifest this mammoth work onstage. I hope folks who are interested or curious will spend time with it-and perhaps will even find it 'binge-worthy'!"
Roberto Bolaño (Novelist ) was born in Santiago, Chile, in 1953, and later lived in Mexico, Paris and Spain before his death in 2003. During his lifetime he received the prestigious Herralde de Novela Award and the Premio Rómulo Gallegos and was posthumously awarded the National Book Critics Circle Award. Considered among the greatest Latin American writers of his generation, he wrote nine novels, two story collections and five books of poetry, before dying at the age of 50. In addition to his final novel 2666, his works include The Savage Detectives; By Night in Chile; Distant Star; Last Evenings on Earth; The Third Reich; The Romantic Dogs; Amulet; Antwerp; The Unsufferable Gaucho; Between Parentheses: Essays, Articles and Speeches, 1998-2003; The Unknown University; Tres; Nazi Literature in the Americas; The Return; The Skating Rink and Woes of the True Policeman.
"We try to bring artistry and empathy to an archival capture like 2666 that we do to large-scale broadcast specials," said Scott Silberstein, co-founder and executive producer of HMS Media, an Emmy Award-winning Chicago-based Production Company who has generated national and regional performing arts specials for public television. "We want someone who's never seen this show, or been to the theater, to experience something analogous to what the live audience did. We're thrilled to be in the middle of that."
ABOUT Goodman Theatre
AMERICA'S "BEST REGIONAL THEATRE" (Time magazine), Goodman Theatre is a premier not-for-profit organization distinguished by the excellence and scope of its artistic programming and civic engagement. Led by Artistic Director Robert Falls and Executive Director Roche Schulfer, the theater's artistic priorities include new play development (more than 150 world or American premieres), large scale musical theater works and reimagined classics (celebrated revivals include Falls' productions of Death of a Salesman and The Iceman Cometh). Goodman Theatre artists and productions have earned two Pulitzer Prizes, 22 Tony Awards, over 160 Jeff Awards and many more accolades. In addition, the Goodman is the first theater in the world to produce all 10 plays in August Wilson's "American Century Cycle" and its annual holiday tradition A Christmas Carol, which celebrated its 40th anniversary this season, has created a new generation of theatergoers. The Goodman also frequently serves as a production partner with local off-Loop theaters and national and international companies by providing financial support or physical space for a variety of artistic endeavors.
Committed to three core values of Quality, Diversity and Community, the Goodman proactively makes inclusion the fabric of the institution and develops education and community engagement programs that support arts as education. This practice uses the process of artistic creation to inspire and empower youth, lifelong learners and audiences to find and/or enhance their voices, stories and abilities. The Goodman's Alice Rapoport Center for Education and Engagement is the home of such programming, most offered free of charge, and has vastly expanded the theater's ability to touch the lives of Chicagoland citizens (with 85% of youth participants coming from underserved communities) since its 2016 opening.
Goodman Theatre was founded by William O. Goodman and his family in honor of their son Kenneth, an important figure in Chicago's cultural renaissance in the early 1900s. The Goodman family's legacy lives on through the continued work and dedication of Kenneth's family, including Albert Ivar Goodman, who with his late mother, Edith-Marie Appleton, contributed the necessary funds for the creation of the new Goodman center in 2000.
Today, Goodman Theatre leadership also includes the distinguished members of the Artistic Collective: Brian Dennehy, Rebecca Gilman, Henry Godinez, Dael Orlandersmith, Steve Scott, Chuck Smith, Regina Taylor,Henry Wishcamper and Mary Zimmerman. David W. Fox, Jr. is Chair of Goodman Theatre's Board of Trustees, Cynthia K. Scholl is Women's Board President and Justin A. Kulovsek is President of the Scenemakers Board for young professionals.

Related Articles View More Chicago

Stories

Shows
More Hot Stories For You