Goodman Theatre Concludes 40th Annual A CHRISTMAS CAROL with 'Tiny Tim Drive'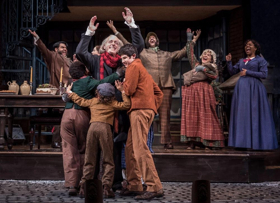 Goodman Theatre and Candlelighters NYC partner for the launch of the theater's "Tiny Tim Drive"-a charitable effort during A Christmas Carol that spotlights one service organization selected by the young performer portraying Tiny Tim. Candlelighters NYC-from which 10-year-old actor Paris Strickland has personally benefited-supports families who travel to New York City for pediatric cancer treatment. Contributions can be made in the form of a Walgreens/Duane Reade gift card (in any amount) in-person at the Goodman during performances on December 28 and 29; online at CandlelightersNYC.org/Tiny-Tim-Drive between December 26 and January 2, 2018; and by mail (Candlelighters NYC c/o Barbara Zobian, 345 East 73rd Street, apt. 2L, New York, NY 10021). The "Tiny Tim Drive" is part of the Arts in Action series, which provides Goodman Theatre audiences with ideas for simple, tangible, non-partisan actions on the issues explored on stage-and fosters connections between audiences and local agencies working on these issues.
"It's so inspiring to see Paris on stage, embracing life and following her passion," said Barbara Zobian, Founder and Executive Director of Candlelighters NYC. "We met Paris when she was just a beautiful infant, beginning her challenging journey with cancer. It's a wonderful gesture for Paris to select Candlelighters NYC for the Tiny Tim Drive, helping us support the many families facing pediatric cancer today."
Strickland and her family are one of the many families who received end-to-end Candlelighters NYC support during their fight against cancer. For 10+ years, Candlelighters NYC has assisted families through all stages and provides a support system full of fun and comfort while they are so far away from home-including providing gift cards, strollers, family and hospital support, clothing, babysitting, family connections, birthday and holiday parties, VIP access to special events throughout the city and more. Visit CandlelightersNYC.org/ for more information.
Over four decades, 1.5 million people have delighted in the spectacular storytelling, glorious music and Scrooge's unforgettable discovery of kindness, generosity and love. Ten directors, eight Ebenezer Scrooges and 29 Tiny Tims later, Goodman Theatre's A Christmas Carol celebrates 40 years, through December 31. Larry Yando marks his 10th year as Scrooge, and for the fifth year, Artistic Associate Henry Wishcamper directs Charles Dickens' universal tale of hope and redemption with a cast of 25 featuring Strickland in her Goodman debut as the theater's first female Tiny Tim-and returning cast members: Kareem Bandealy as Narrator/Scrooge Alternate; Ariana Burks as Martha Cratchit; Lisa Gaye Dixon as Ghost of Christmas Present; Joe Foust as Jacob Marley; J. Salomé Martinez as Abe; Ron E. Rains as Bob Cratchit; Sadieh Rifai as Mrs. Cratchit; Penelope Walker as Mrs. Fezziwig; Jonah D. Winston as Mr. Fezziwig; and musicians Justin Amolsch, Andrew Coil, Greg Hirte and Malcolm Ruhl. The newcomers include Breon Arzell as Dick Wilkins/Ghost of Christmas Future; Molly Brennan as Ghost of Christmas Past; Ali Burch as Frida; Meighan Gerachis as Schoolmaster; and Michele Vazquez as Mrs. Cratchit. The young performers in A Christmas Carol, cast from hundreds of Chicagoland children who auditioned, also include Margaret Chong, 10 (Chicago), as Emily Cratchit; Andrea Crisp, 10 (Darien), as Belinda Cratchit; Cameron Goode, 15 (Chicago), as Boy Scrooge; Kei, 9 (Chicago), as Turkey Boy; and Aaron Stone, 14 (Round Lake Beach), returning as Peter Cratchit.
About Goodman Theatre
AMERICA'S "BEST REGIONAL THEATRE" (Time magazine), Goodman Theatre is a premier not-for-profit organization distinguished by the excellence and scope of its artistic programming and civic engagement. Led by Artistic Director Robert Falls and Executive Director Roche Schulfer, the theater's artistic priorities include new play development (more than 150 world or American premieres), large scale musical theater works and reimagined classics (celebrated revivals include Falls' productions of Death of a Salesman and The Iceman Cometh). Goodman Theatre artists and productions have earned two Pulitzer Prizes, 22 Tony Awards, over 160 Jeff Awards and many more accolades. In addition, the Goodman is the first theater in the world to produce all 10 plays in August Wilson's "American Century Cycle" and its annual holiday tradition A Christmas Carol, which celebrates its 40th anniversary this season, has created a new generation of theatergoers. The Goodman also frequently serves as a production partner with local off-Loop theaters and national and international companies by providing financial support or physical space for a variety of artistic endeavors.
Committed to three core values of Quality, Diversity and Community, the Goodman proactively makes inclusion the fabric of the institution and develops education and community engagement programs that support arts as education. This practice uses the process of artistic creation to inspire and empower youth, lifelong learners and audiences to find and/or enhance their voices, stories and abilities. The Goodman's Alice Rapoport Center for Education and Engagement is the home of such programming, most offered free of charge, and has vastly expanded the theater's ability to touch the lives of Chicagoland citizens (with 85% of youth participants coming from underserved communities) since its 2016 opening.
Goodman Theatre was founded by William O. Goodman and his family in honor of their son Kenneth, an important figure in Chicago's cultural renaissance in the early 1900s. The Goodman family's legacy lives on through the continued work and dedication of Kenneth's family, including Albert Ivar Goodman, who with his late mother, Edith-Marie Appleton, contributed the necessary funds for the creation of the new Goodman center in 2000.
Today, Goodman Theatre leadership also includes the distinguished members of the Artistic Collective: Brian Dennehy, Rebecca Gilman, Henry Godinez, Dael Orlandersmith, Steve Scott, Chuck Smith, Regina Taylor,Henry Wishcamper and Mary Zimmerman. David W. Fox, Jr. is Chair of Goodman Theatre's Board of Trustees, Cynthia K. Scholl is Women's Board President and Justin A. Kulovsek is President of the Scenemakers Board for young professionals.
Photo: The cast of the 40th annual production of A Christmas Carol, directed by Henry Wishcamper at Goodman Theatre (November 18 - December 31, 2017). Credit: Liz Lauren
More Hot Stories For You