About Face Theatre Announces World Premiere Of PACKING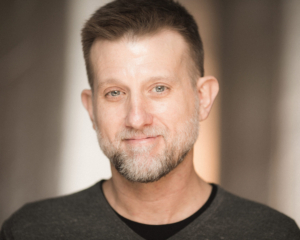 About Face will launch its 2019-20 season with the world premiere of AFT Artistic Associate Scott Bradley's intimately moving solo show PACKING, one artist's personal journey of self discovery as it intersects with recent queer history.
Directed by Chay Yew, PACKING will play October 31 December 7, 2019 at Theater Wit, 1229 W. Belmont Ave. in Chicago. Tickets go on sale Friday, September 6 at aboutfacetheatre.com, by calling (773) 975-8150, or in person at the Theater Wit Box Office.
Half of discovering who you are is finding where you belong. PACKING, a solo performance from writer/performer Scott Bradley (Alien Queen, Carpenters Halloween, We Three Lizas), is the tale of a genderqueer vagabond leaving small-town Iowa on a three-decade long odyssey, continually reinventing himself through new identities across multiple cities. His journey captures a snapshot of recent history through personal accounts of assaults, addictions, the plague years of the AIDS crisis and the fight for marriage equality. Combining personal memoir, historical record, popular music, and ancestral frontier stories, Bradley's story illuminates the deeply personal LGBTQ struggles too-often erased from U.S. history.
"As one of the country's few LGBTQ theatres, we have an important role to play as storytellers and innovators, comments Artistic Director Megan Carney. This singular and deeply nuanced view of recent queer history is opening the door for more healing, laughter and community transformation.
I'm thrilled to be collaborating with Scott Bradley on his powerful play, comments Director Chay Yew. This deeply personal autobiography about survival, addiction, family and the search for self, courses through the milestones of gay history of the last fifty years. Throughout his harrowing journey, Scott courageously bares his soul to us through humor, brutal honesty and poetry. What emerges is an uniquely American portrait of a man who is willing to risk it all to find a place called home.