2019 Special Jeff Award Goes To Teatro Vista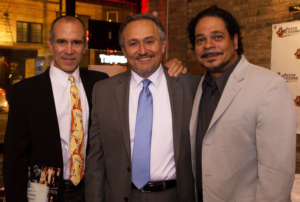 The Jeff Awards will honor Teatro Vista with the 2019 Special Equity Jeff Award at the Equity Ceremony at Drury Lane Oakbrook on October 21, 2019. Over the last three decades, Teatro Vista has theatrically depicted the human experience from its unique Latinx perspective. Founded in 1989 by actors Henry Godinez and Eddie Torres to provide a platform upon which stories born of and relevant to the Latino culture could be heard, Teatro Vista has enriched the Chicago theatre scene with haunting, humorous, historical and magical stories. Teatro Vista, now under the artistic direction of Ricardo Gutierrez, continues to challenge and entertain Chicago audiences with its gifted ensemble of dynamic artists.
The concept of forming the company began one March evening backstage at the old
Goodman Theatre
in 1989, when actors
Henry Godinez
and
Eddie Torres
found themselves talking between scenes of the Restoration comedy "The Rover." Torres had a small part as a "native" in that production. "There was Eddie, in a coconut bra and grass skirt." Godinez recounts, "Eddie said, 'there's gotta be something better than this.'" Frustrated with being cast in "token" roles and worse, the constant stereotypical casting as drug dealers, Godinez and Torres conceived the idea for Teatro Vista. In 1989, very few plays by Latino playwrights were being produced. In Torres' words, "Teatro Vista was founded to give an opportunity to actors, writers and designers to reflect voices that are seeking to be heard." With the valuable assistance of Carolos Tortolero, Torres' former high school math teacher, the first production was at Pilsen Arts Center (now the National Museum of Mexican Art). Their goal was to bridge the gap between Latino theatre and mainstream, large theatres, as well as the non-Latino communities of Chicago. Finding and encouraging a Latino audience has been perhaps the most challenging part of this mission. "A Latino theater-going person? This person didn't exist in 1990," says Torres.
Ricardo Gutierrez
, current Executive Artistic Director at Teatro Vista, says things are changing. "Latinos are coming to the theatre. It's been a struggle, but every year we continue to exist, they come out more and more." An early standout in Teatro Vista's history is a staged reading of The Crucible that the company performed at the Court Theatre in 1999. For a company typically so intent on giving life to new and underrepresented voices,
Arthur Miller
may seem like a strange choice, but Torres knew there was an interest in producing more adaptations and more revivals of "classic" plays with a Teatro Vista twist. In 2014, Gutierrez produced and directed A View From the Bridge with an all Latino cast. Just as the Latino experience is relevant to non-Latino audiences, decidedly non-Latino Theater is deeply relevant to the Latino community. As Gutierrez says, "We want, on occasion, to get those universal voices out there and bridge cultural gaps." Teatro Vista is blessed with a talented ensemble of actors, designers and playwrights who have graced most of the stages in Chicago as well as many national and international theatres. Currently, several ensemble members are regulars on national and international television series. The ensemble has received numerous Jeff Award nominations and awards including Best Production for The Elaborate Entrance of Chad Deity and Best Supporting Actress in a Play for
Sandra Marquez
, the first Latina to win a major Jeff Acting Award. More recently, Teatro Vista presented the world premiere of
Sandra Delgado
's hit play with music La Havana Madrid, which told stories of Latino immigrants in Chicago through the prism of an actual 1960's nightclub at the corner of Belmont and Sheffield Avenues. La Havana Madrid, hailed as Teatro Vista's most successful production ever, premiered to full houses at Steppenwolf's 1700 Theater, transferred for a summer run at Goodman Theater, followed by another hugely successful enhanced remount with Collaboraction at The Den just this past spring. In addition to the 29 years of strong artistic leadership from Godinez, Torres, and Gutierrez, Teatro Vista has had a trio of powerful associate artistic directors in ensemble members
Sandra Marquez
,
Sandra Delgado
and
Joe Minoso
, who amply provided guidance and artistic vision. The success of the ensemble has helped Teatro Vista comfortably collaborate with many of the larger theaters in Chicago. Victory Gardens, the Goodman, Steppenwolf, Court and many others have partnered with Teatro Vista on productions relevant to the Latino community, in the process offering even broader venues to share their point of view, and giving even larger life to so many voices wanting to be heard. By highlighting the stories of Chicago's fastest growing ethnic group, Teatro Vista has contributed to the city's cultural assets and provided work opportunities for theater artists of color. In 2011, Teatro Vista was celebrated as one of "Chicago's Cultural Leaders" by the Arts & Business Council of Chicago and received the League of Chicago Theatre's Artistic Leadership Award. Today, Teatro Vista is enjoying its 29th season, having grown to be Chicago's only Equity Latinx theater company producing full scale, Latinx theatrical productions in English. Gutierrez states "The health, the energy, the vibrancy of Latinx Theater here in Chicago may be unmatched in the States." Teatro Vista ensemble members include Charín Álvarez, Max Arciniega, Desmín Borges,
Cheryl Lynn Bruce
, Ramón Camín,
Ivonne Coll
, Laura Dahl,
Sandra Delgado
, Liza Fernández, Khanisha Foster,
Cruz Gonzalez-Cadel
, Issac Gomez, Ricardo Gutiérrez, Erik Juárez, Jon Lyon, Sandra Márquez,
Eddie Martinez
,
Salome Martinez
,
Joe Minoso
, Ayssette Muñoz,
Christina Nieves
,
Marvin Quijada
,
Tommy Rivera-Vega
, Gabriel Ruíz,
Nate Santana
,
Cecilia Suarez
and co-founder
Edward Torres
. Teatro Vista's Board of Directors consists of Tom Vega-Byrnes, President; Joan Pantsios, Secretary, and Ezequiel "Zeek" Agosto, Bhuvana Badrinathan, Adela Cepeda, Edgar Delgado, Ricardo Gutiérrez, Kelly Jones, Sylvia Lopez, Kareem Mohamednur, Carina Sanchez, Angel Torres and Jose Vasquez. Teatro Vista is supported by Alphawood Foundation, Paul M. Angell Family Foundation, The MacArthur Fund for Arts & Culture at the Richard H. Driehaus Foundation, Bloomberg Philanthropies, the Department of Cultural Affairs and Special Events of the City of Chicago, Art Works, Illinois Arts Council, Lester and
Hope Abelson
, The Shubert Foundation, The Gaylord and
Dorothy Donnelly
Foundation, the Bayless Family Foundation and Vidal & Associates. Purple Group is Teatro Vista's Headline Season Sponsor. The 51 st Annual Equity Jeff Awards ceremony honoring excellence in professional theatre produced within the greater Chicago area will be held on Monday, October 21 st , at Drury Lane Theatre, 100 Drury Lane, Oakbrook Terrace. This year's ceremony performances will again feature cast members from nominated musicals and plays. Pre-show appetizers and a cash bar will be offered from 6:00 to 7:30 PM, followed by the awards ceremony, directed by
Steve Scott
. A buffet reception will immediately follow the ceremony. Advance purchase tickets, which include the ceremony and pre-/post-show parties, are $85 ($65 for members of
Actors' Equity
Association, United Scenic Artists, Stage Directors and Choreographers Society, Stage Managers' Association, IATSE, The
Dramatists Guild
of America, and the American Federation of Musicians). Tickets at the door, if available, will be an additional $10 per ticket. The evening is black tie optional, and the public is invited to attend. To purchase tickets, visit the Jeff Awards website at
www.jeffawards.org
. For more information, contact Jeff Awards Equity Ceremony Producer
Deric Gochenauer
at
producer@jeffawards.org
.