Review: UNC Doctors Do No Harm in Charlotte Ballet's SHAKESPEARE REINVENTED
When Shakespeare wrote his plays four centuries ago, he knew the word "ballet" - but not as we do. Back then, he used the word interchangeably with "ballad." So yes, the man of so many words knew about dance, spoke about it over a hundred times in his works, but he was far more preoccupied with music and song. Collaborating with a couple of theatre heavyweights from UNC Charlotte, distinguished Shakespeare professor Andrew Hartley and department chair Lynne Conner, Charlotte Ballet is bridging the gap in their latest Innovative Works program at the Patricia McBride & Jean-Pierre Bonnefoux Center for Dance.
With Unsex Me Here, choreographed by Stephanie Martinez, and Let Be by Peter Chu, SHAKESPEARE REINVENTED seeks to wed ballet with the Bard. It's not an unheard-of idea, but it is an unusual one.
Truly reinventing Shakespeare sets the bar higher than merely blending, of course, and it's Martinez and Connor who take on that challenge most aggressively. Their core idea is that Shakespeare's universe is male-dominated, as evidenced in such titles as Romeo and Juliet, Troilus and Cressida, or Antony and Cleopatra. What would it be like to see that script flipped?
Martinez and Connor select four Shakespearean couples and give it a go. Some of the segments pair the couples as you would expect, Juliet with Romeo, Titania with Bottom, Lady Macbeth with Macbeth, and Kate with Petruchio. But each of the women, starting with a devastating Alessandra Ball James as Lady M in a devilish jumpsuit designed by Aimee J. Coleman, gets a solo spot - and so do the demoted heroes. At regular intervals, the men dance as a group, yet it seemed that more time was devoted to the women and their sorority.
Coleman's costumes, along with a few props, served to differentiate between the characters. Twin panels with studio mirrors were the only scenery on the bare Center for Dance stage, most effective when the guys rolled them apart and, aided by JP Woodey's lighting, the ladies made a dramatic upstage entrance.
Projected on the flipside of the mirrors - or prerecorded and delivered through the loudspeakers - text from the plays helped to orient us, and the soundtrack composed and constructed by Johnny Nevin and Peter de Klerk was heavily freighted with music by Bach, Handel, and Vivaldi to complete our time travels.
With so much sound and design necessary to orient us in the worlds of four Shakespearean couples, you may be dubious about how much a choreographer and her dancers can do to reinvent them. Other quibbles arise when men and women gather - presumably from different eras and countries - with no observable upshot or takeaway. Are we really contemplating gender when we watch a fairy queen cavorting with a donkey, or are we simply revisiting A Midsummer Night's Dream and having some fun?
Martinez and Coleman definitely set the women free from their traditional moorings, particularly James as Lady M and Amelia Sturt-Dilley as Kate. If you've seen or studied Macbeth, you're likely aware that the "unsex me here" quote comes from a Lady M soliloquy where she is steeling herself to commit regicide with her husband and seize the throne of Scotland. Perhaps less familiar is the quote gleaned from The Taming of the Shrew, "If I be waspish, best beware my sting." It comes from early in the first dialogue that Katherine has with Petruchio, shortly after he has obtained her father's consent to take her hand in marriage - with a sizable dowry to go along with the prize.
Belying her customary wildness - downright frowziness in some productions I've seen - Sturt-Dilly is rather dazzlingly dressed, intimidating in a whole new way. Nothing comical or witty remains here to remind us of the male-female sparring that often enlivens Shakespeare's comedies. Instead, Martinez channels all of the comedy into the Titania-Bottom encounter, as Sarah Lapointe vamps Peter Mazuroski to the tunes of a medley sung by Judy Garland from her iconic Judy at Carnegie Hall album. We can assume that we're not seriously contemplating gender when Garland is crooning "For Me and My Gal."
Clad in a simple summer dress, I mistook Sarah Hayes Harkins for Kate at first, but the rose she carries, referencing Juliet's signature "that which we call a rose would smell as sweet," should be a giveaway. Harkins gets to do some rather audacious stuff that we would not expect of a demure young teen, most notably when she brushes the flower across Ball's hand and produces the large bloody spot that Lady M obsesses over so famously.
Clocking in at an expansive 44+ minutes, Unsex Me Here was richly enjoyable and never struck me as an academic or PC rehab of these familiar men and women. Yes, it's true that the guys - even Bottom - were deemphasized, but there was no detectable condemnation or belittlement. Aside from Mazurowki, who got to wear the donkey ears, the most characterful men were Ben Ingel as a soulful Romeo and Drew Grant as a somewhat malevolent Macbeth. No longer tasked to tame Kate and not visibly intimidated by her, it was hard to discern what was driving James Kopecky in his portrayal of Petruchio.
The Chu approach in Let Be, following the development of Hamlet's character rather than his story, promised to be intriguing when I read the program notes. As the piece unfolded, I found it hard to connect anything I saw from Juwan Alston as the royal Dane with any developmental scheme whatsoever. Costume designs by Chu were a dreary gray and Woodey's lighting wasn't intended to dispel the gloom. Nor was the New Age musical score typified by Ólafur Arnalds' "Nyepi." Amorphous pods or globs were scattered across the stage when the lights came up, coalescing into a monkish Oriental style when dancers bloomed from them.
Instead of Ophelia, Horatio, the usurping King Claudius, or even Hamlet's spectral father, these were the shades that surrounded our troubled prince. When the ensemble sprouted pomegranate-colored fans, they snapped them open and shut in unison. Only by reciting lines from the most recognizable soliloquies could we know that Alston was Hamlet. Pitted against performances of these greatest hits that you may have seen onstage or on film by great Shakespearean immortals - or your 11th grade English teacher - Alston fares as you might expect. Wisely, nobody is asking him to ascend into those heavenly spheres of eloquence, so there's a vulnerable student simplicity to his speeches.
If no amazing synthesis or revelation emerges in SHAKESPEARE REINVENTED, there are no pretentious or stupid faux pas either, probably because these two talented choreographers didn't allow their academic partners to get inside their heads - or their art. The dancers embrace the project with an enthusiasm that matches their talents, so the result constantly bristles with excitement and electricity.
Photos by Christopher Record, Courtesy of Charlotte Ballet
  Perry Tannenbaum has been covering the performing arts across the Carolinas since 1987. He has also acted onstage in productions by Children's Theatre of Charlotte, innovative Theatre,... (read more about this author)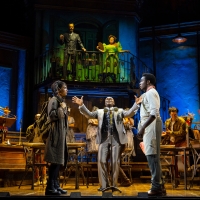 Review: HADESTOWN at Blumenthal Performing Arts

November 10, 2022

In a uniquely simpatico collaboration, composer-lyricist Anäis Mitchell and developer-director Rachel Chavkin have retold the Orpheus-Eurydice myth in a musical form that is slick and glitzy, with primal and profound truths lurking amid the razzle-dazzle.
---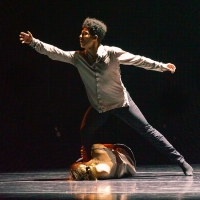 Review: FALL WORKS at Charlotte Ballet

October 18, 2022

Knight Theater should have been abuzz last Friday night. Yet somehow, a year after Charlotte Ballet's 50th-anniversary celebration - celebrated a year after the company's actual 50th anniversary - my own excitement wasn't reflected by the community at large. A night after Opera Carolina opened its 2022-23 season at Belk Theater to an empty upper balcony and a disappointing crowd, the curtain went up on Ballet's new era with a similarly sparse turnout.
---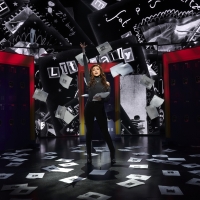 Review: MEAN GIRLS at Belk Theater

September 10, 2022

Tina Fey proves she still knows high school in her musicalized version of MEAN GIRLS, but she makes rookie mistakes about what to leave out and what to leave in. Music by Fey's husband, Jeff Richmond, doesn't compensate for these deficits with Nell Benjamin's lyrics. But the deep and talented touring cast often brings redemption.
---
Review: TO KILL A MOCKINGBIRD at Belk Theater

July 28, 2022

Amid a banquet of juicy roles doled out by Aaron Sorkin in his adaptation of Harper Lee's TO KILL A MOCKINGBIRD, Richard Thomas feasts the fullest, delivering the most powerful, staggering work I've seen from him in my 59+ years of watching his most memorable performances live on Broadway, live in Charlotte, and on TV.
---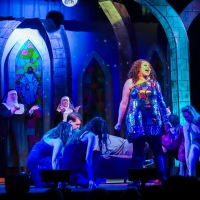 Review: SISTER ACT at Matthews Playhouse

July 22, 2022

We may have underestimated Cheri and Bill Steinkellner's musical adaptation of Paul Rudnick's SISTER ACT screenplay, moving the action from Vegas to Philly and making the show more character-driven. It actually works better on the smaller community theater stage at Matthews Playhouse than the big stage productions we've previously seen.
---