Arts & Cultural Council Of Bucks County Announces Pledge To Help Save "Oscar's House"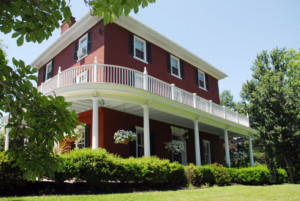 The Board of The Arts & Cultural Council of Bucks County announces their pledge to help save Oscar Hammerstein's home, Highland Farm, in Doylestown, PA, the very place where Hammerstein did most of his writing for internationally celebrated works, including Oklahoma!, Carousel, South Pacific, The King and I and The Sound of Music. Each year the A&CC selects an arts-related organization to help support, raise funds and awareness through their arts and marketing resources including the worldwide #GivingTuesday platform.
Active Board Member, Linda Lee, initiated the vote by the board after she learned of the impending threat of a 4-lot residential subdivision of the historic property and the non-profit's enduring mission to save the historic home. The mission of the 501(c)3 is to repurpose it as a multi-layered cultural center including house tours, a Broadway browsing museum and an education center. The museum will honor Oscar Hammerstein as an important cultural figure and humanitarian of the 20th century on the world stage.
"As an Arts Council, we can't sit back and watch this group continue to work so hard on a mission that would create such a positive impact for Bucks County. Not only on the arts community, but economically, thanks to the international lure of Hammerstein's work! I'm thrilled our board acknowledged the urgency of this project, while voting unanimously to get involved. We're honored and proud to be part of promoting our county's incredible cultural history." - stated Linda Lee, Board Member of BucksArts.org
"The Arts Council's involvement, resources and professionalism brings much relief and encouragement to the Hammerstein Center's mission" - stated Will Hammerstein, Executive Director of HammersteinCenter.org
This year's committee chairperson is a new Board member, Robbin Farr. Farr is head of organizing communications and is leading the Arts & Cultural Council's Giving Tuesday effort for helping to save Hammerstein home. For information on volunteering, donating, membership and more, please contact robbinfarr@gmail.com or call 267-205-0108.
The Arts & Cultural Council of Bucks County's original board helped to launch the James A. Michener Art Museum and now every year, the same council commits to raising funds for board-selected arts causes. Other annual support provided by the A&CC includes: R&M Music Studio, to provide music lessons to underprivileged students, Big Brothers, Big Sisters to fund tuition for a week experience at the Bucks County Community College's Kids on Campus Summer Camp and Bucks AIR (Artist in Residence) who provides art instruction to underserved schools. To volunteer, find out more or donate, please visit: http://www.bucksarts.org/feature-event/
ABOUT THE A&CC OF BUCKS COUNTY:
The mission of the Arts & Cultural Council of Bucks County is to foster, strengthen and promote Bucks County's diverse arts and cultural community, build arts alliances, and enhance the Bucks County arts experience. The Council's work is rooted in the continuation of Bucks County arts traditions, the enrichment of arts appreciation, continually inspiring a vibrant and collaborative environment for contemporary arts, artists and art lovers alike. The Arts & Cultural Council of Bucks County is a 501(c)3, nonprofit corporation governed by a volunteer Board of Directors. To learn more, visit www.BucksArts.org.