Latest News on Will Hammerstein
Will Hammerstein News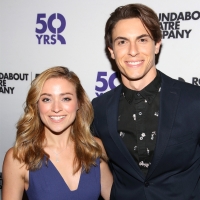 Oscar Hammerstein Museum Gala Featuring Christy Altomare, Derek Klena and Justin Guarini Raises $165,000
by Chloe Rabinowitz - Aug 3, 2022
Nearly $165,000 was netted from "Broadway Sings The Sound of Hammerstein," an exclusive gala held on July 11, 2022 at The Inn at Barley Sheaf Farm, the former estate of George S. Kaufman, a contemporary of Hammerstein's.

BWW Feature: Inside The Oscar Hammerstein Museum & Theater Education Center
by Pati Buehler - May 13, 2019

Arts & Cultural Council Of Bucks County Announces Pledge To Help Save "Oscar's House"
by A.A. Cristi - Nov 6, 2018
The Board of The Arts & Cultural Council of Bucks County announces their pledge to help save Oscar Hammerstein's home, Highland Farm, in Doylestown, PA, the very place where Hammerstein did most of his writing for internationally celebrated works, including Oklahoma!,  Carousel, South Pacific, The King and I and The Sound of Music.   Each year the A&CC selects an arts-related organization to help support, raise funds and awareness through their arts and marketing resources including the worldwide #GivingTuesday platform.

Grandson of Oscar Hammerstein II Visits OKLAHOMA! At Music Mountain Theatre
by A.A. Cristi - Aug 13, 2018
Audiences are saying they're in love with Oklahoma! at Music Mountain Theatre, playing through August 19. The cast was recently visited by Will Hammerstein, grandson of the show's book writer and lyricist, Oscar Hammerstein II.
Photo Coverage: AN ENCHANTED EVENING To Benefit The Oscar Hammerstein ll Museum & Education Center
by Stephen Sorokoff - Dec 8, 2017
Will Hammerstein and Oscar Hammerstein lV were at a special preview of 'An Enchanted Evening : A Night With Oscar Hammerstein ll. It's a one-of-a kind, intimate show highlighting Oscar Hammerstein's journey to become Broadway's greatest lyricist through curated documentary story-telling and imaginative performances.

Photo Coverage: The York Theatre Gala Honors Tom Jones & Harvey Schmidt with 2017 Hammerstein Award
by Stephen Sorokoff - Dec 5, 2017
Last night The York Theatre Company honored the musical theatre writing team of Tom Jones and Harvey Schmidt in a Fantastick gala concert and award ceremony directed by Richard Jay-Alexander. The 2017 Oscar Hammerstein Award for Lifetime Achievement in Musical Theatre was presented to the legendary team (The Fantasticks, I Do, I Do!, 110 in the Shade, Celebration) at the event held at the Asia Society on Park Ave in NYC and BroadwayWorld was there. Check out photo coverage below!
Doreen Taylor, Davis Gaines Set for Hammerstein Docu-Musical 'AN ENCHANTED EVENING' Off-Broadway
by BWW News Desk - Oct 2, 2017
Fresh from the sold-out premiere at the Bristol Riverside Theatre in Philadelphia, the brand new, innovative docu-musical AN ENCHANTED EVENING: A NIGHT WITH OSCAR HAMMERSTEIN II is coming Off-Broadway for a limited December 2017 engagement.

New Hope Arts & Crafts Festival 2017 Was a Great Success!
by A.A. Cristi - Sep 27, 2017
The Annual New Hope Juried Arts & Crafts Festival was a great success on September 23 and 24, 2017. It featured more than 160 local and national artists and craftspeople. Held at New Hope Solebury High School in New Hope, PA, the festival included events for the whole family. Next year's festival dates are already set. They are September 29 and September 30, 2018.
Hammerstein Grandson Raises Funds to Build Hammerstein Museum
by Julie Musbach - Jul 8, 2017
Will Hammerstein, grandson of musical theatre legend Oscar Hammerstein II, has every intention of preserving his grandfather's legacy. In 1941, the lyricist purchased Highland Farm, a sweeping property outside of Philadelphia. Now his grandson seeks to purchase the house and accompanying barn and renovate them into a Hammerstein museum.
Will Hammerstein Videos
STAGE TUBE: Help Turn Highland Farm Into the Hammerstein Museum!
by Stage Tube - Feb 21, 2017
Will Hammerstein, grandson of Oscar Hammerstein II and President of the Oscar Hammerstein Museum & Theater Education Center, needs your help! In the video below, he is standing outside Oscar's former home, Highland Farm, where all Oscar's most famous works where created - including the landmark musicals Oklahoma!, Carousel, South Pacific, The King and I and The Sound of Music. The property is being turned into a museum and is seeking donations to make the project a reality.