SU Drama Closes The 17/18 Season With LITTLE SHOP OF HORRORS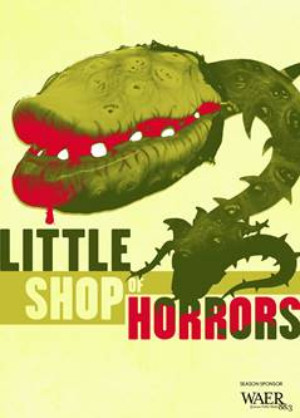 The Syracuse University Department of Drama closes the 17/18 season with the monstrously entertaining musical "Little Shop of Horrors," running May 4 - 12 in the Arthur Storch Theatre at the Syracuse Stage/SU Drama Complex, 820 E. Genesee Street, Syracuse.
Created by composer Alan Menken and the late Howard Ashman (the creative team behind Disney's "The Little Mermaid," "Aladdin," and "Beauty and The Beast"), "Little Shop of Horrors" opened at Off-Off-Broadway's WPA Theatre in 1982. It was an instant hit and soon transferred to the larger Off-Broadway Orpheum Theatre with the backing of high profile producers David Geffen, Cameron Mackintosh and The Shubert Organization. The Orpheum run lasted five years and eventually led to national and international tours, a star-studded movie musical, a Broadway production and, as most know, countless high school and community theater productions.
"Little Shop of Horrors" is a quirky amalgam of unlikely love story and 50s-era science fiction set to an infectious 60s-inspired pop score. In addition to a handful of off-beat characters, it stars a ravenous man-eating plant from outer space named Audrey II. The design for the original Audrey II was by Martin P. Robinson who, among other significant credits, spent 34 years as Mr. Snuffelupagus on "Sesame Street."
Faculty member Brian Cimmet directs this Department of Drama production. Cimmet praises what he terms the "absurdity of the universe" contained in "Little Shop of Horrors" and notes the effectiveness of the simple storytelling and pure characters.
"I love an awkward, goofy comedy in which the characters take their situations quite seriously and sincerely," he said. "I love the exploration of a human psyche struggling to balance what he thinks is good in the world against what he wants most."
Through its various iterations, the original "Little Shop of Horrors" has undergone some pruning and embellishment. Some criticized the Broadway production for its glitzy production values. Cimmet says he prefers the look and feel of Menken and Ashman's original Off-Off-Broadway production.
"It shouldn't be clean. It should be dark and grimy and rough and difficult," he says. "The characters live and work in the poorest part of town." As in the original production, the Drama Department's version will feature a nine-person cast and a five-person band.
Although the musical dates from the 1980s, Cimmet contends that it "speaks volumes" in 2018. "It addresses the power of greed and corruption. Right now, there's a tremendous amount of greed influencing America, greed that pushes people to do corrupt, immoral and unethical things," he explains. "Perhaps the message of 'Little Shop' will serve to remind people to reject the evils of the world."