Riverdale Repertory Company, Riverdale Rising Stars, and Riverdale Junior Rising Stars Present ANNIE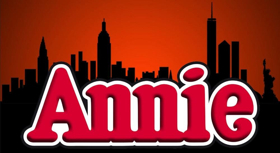 The sun will come out tomorrow! Riverdale Repertory Company, Riverdale Rising Stars, and Riverdale Junior Rising Stars proudly present ANNIE, the beloved Broadway musical about a penniless red-headed orphan and the billionaire who adopts her. This multi-generational production will be performed for six performances only:
Saturday, March 10 at 8:00 p.m.
Sunday, March 11 at 3:00 p.m.
Thursday, March 15 at 7:30 p.m.
Saturday, March 17 at 8:30 p.m.
Sunday, March 18 at 2:00 p.m. and 7:00 p.m.
Performances will be held at the Riverdale YM-YWHA, located at 5625 Arlington Avenue (just off of Riverdale Avenue and West 256th Street), in Riverdale, Bronx, NY.
Advance tickets are $12 (students/seniors) and $20 (adults) and may be purchased by calling Brown Paper Tickets at 1-800-838.3006 or online at www.riverdaley.org/boxoffice. Day-of-show tickets may be purchased at the door prior to showtime for $14 (students and seniors) and $22 (adults).
It's a hard-knock life for little orphan Annie. It's the height of the Great Depression, and she lives in an orphanage run by the cruel Miss Hannigan. Annie is determined to find her parents. Armed with irrepressible optimism, a huge heart, and her faithful dog Sandy, Annie sets off on adventure through the streets of New York City, to the White House, and finally into the arms of Daddy Warbucks, and a real home at last!
Annie is based on Harold Gray's comic strip Little Orphan Annie, and features music by Charles Strouse (Bye Bye Birdie) with lyrics by Martin Charnin, and a book by Thomas Meehan (The Producers, Hairspray). The indelible score is chock-full of such now-classic songs as "It's a Hard-Knock Life," "Maybe," "I Think I'm Gonna Like It Here," "You're Never Fully Dressed Without a Smile," and of course, "Tomorrow."
Featuring a cast of adults, teens, and children, this production of ANNIE is directed by Timothy Mathis, with music direction by Justin Fischer and Bob Walton, and choreography by Michael James and Matt Augustyniak. The design team includes Eric Zoback (Set Design), Arianne DiCerbo (Scenic Painting), Penelope Margeotes (Costumes), David Pentz (Lighting Design), and Denise Eberly (Sound Design).
The original Broadway production of ANNIE opened in 1977, and won seven Tony Awards, including Best Musical, and ran for over six years. Tony-nominated Broadway revivals opened in 1997 and 2013, The show also inspired the sequel Annie 2: Miss Hannigan's Revenge, which played in Washington DC in 1989, and was later revised as Annie Warbucks, and ran Off-Broadway in 1993.
ANNIE has had three separate film versions: in 1982 with Carol Burnett, Albert Finney, Bernadette Peters, Tim Curry, and Ann Reinking; in a 1999 television version with Victor Garber, Kathy Bates, Audra McDonald, Alan Cumming, and Kristin Chenoweth; and a contemporary adaptation in 2014 with Jamie Foxx, Cameron Diaz, and Quvenzhané Wallis.
Riverdale Rising Stars (Laurie Walton, Founder and Artistic Director) was created to provide the teens of the Riverdale community and beyond a professional repertory company experience. Since its inception in 2000, the organization has expanded its programming to include Rising Stars Jr., Riverdale Repertory Company, and the Riverdale Performing Arts Conservatory (RPAC), an educational program for adults and children. Of greatest importance is the way that all build self-esteem, learn enormous respect for others, develop camaraderie and create lifelong friendships. Together, these award-winning companies provide a world of expression, passion and creativity for all ages.
In addition to ANNIE, the 2018 season of musicals at the Riverdale YM-YWHA includes Seussical Jr (April 15-23) and The Mystery of Edwin Drood (May 5-13). The organization's annual Broadway Gala will be Guys and Dolls, featuring Gala honoree Laurie Walton (Founder and Artistic Director of Riverdale Rising Stars), a cast of Broadway talent, and Riverdale's most talented performers. This one-night-only event will be held on Sunday, June 17, 2018. For more information, visit www.riverdaley.org/programs/theater/.
The mission of the Riverdale YM-YWHA is to be the hub that brings together members of the Jewish and wider community. At the Y, individuals and families of all backgrounds and abilities gather to grow, to learn, and to deepen their understanding of themselves and their connections to one another. Rooted in Jewish values, our cultural, social, educational, health and wellness programs offer members of all ages multiple pathways into the richness of our local community life. Through our programs and partnerships, we strive to improve the quality of life in the Riverdale community and celebrate its uniqueness and its diversity. www.RiverdaleY.org
Related Articles View More Central New York

Stories

Shows
More Hot Stories For You