New Rochesterian Daniel Gwirtzman Brings ENCORE Home!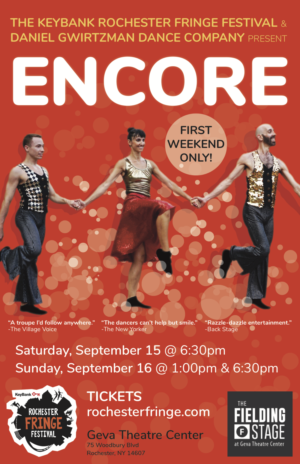 The Keybank Rochester Fringe Festival, Geva Theatre Center & Daniel Gwirtzman Dance Company present Rochesterian Daniel Gwirtzman's ENCORE.
Conceived, Directed, Choreographed & Performed By Daniel Gwirtzman
The Fielding Stage at Geva Theatre CenterSeptember 15 - 6:30pmSeptember 16 - 1:00pm & 6:30pm
Rochesterian Daniel Gwirtzman grew up performing musicals and plays at the J.C.C. and Brighton High School, his alma mater. Folk dancing at Temple Beth El played a central, formative role.
At 12 he began studying with Garth Fagan's The Bottom of the Bucket But...Dance Theater.
A week after graduating from The University of Michigan he joined Garth Fagan Dance.
Founded Artichoke Dance Co., 1995: "A welcome addition to the NY dance scene, New York Times.
Guest artist and international touring with the renown NYC-based Mark Morris Dance Group.
Founded the NYC-based Daniel Gwirtzman Dance Company (DGDC), a nonprofit performing and teaching company, celebrating twenty years! The 20th Anniversary Season culminates with Intersections: 20 Years of Daniel Gwirtzman Dance Company Feb. 22-24, 2019 at The 92nd Street Y.
Dance Films: numerous national & international film festival credits; Theater: selected by DanceBreak Foundation supporting the "next generation of great Broadway choreographers."
Professor and Guest Choreographer at numerous institutions nationally and internationally. Rochester partnerships involving ENCORE:2010-11 School of the Arts produces excerpts from ENCORE, performed by SOTA students.2011 Nazareth Summer Dance Festival features DGDC in excerpts from ENCORE.2012 Rochester City Ballet licenses ENCORE for its rep; performs at Nazareth.2014-18 University of Rochester, Nazareth College, Guest Artist, Master Classes.
The non-profit organization was "founded upon a philosophy that dance should celebrate human achievement through a combination of discipline and unbound optimism" (The New York Sun). DGDC has partnered with various institutions since its inception, demonstrating a commitment to education through multi-generational interactive programming.
The Company has received praise for its exemplary dancers and inventive choreography over two decades. Highlights include performances at Jacob's Pillow Dance Festival, the Edinburgh Fringe Festival (Scotland), Gda?ski Festiwal Tanca (Poland), The Kennedy Center, Bryant Park, The Studios of Key West, and Jazz at Lincoln Center.
In 2014 the Company premiered the evening-length dance The Oracle at the Brooklyn Academy Of Music's BAM Fisher. Best of Year, Atlanta: "Mathematical elegance and human warmth. Joyful physicality...a vision that vibrated on a frequency of harmony and brilliance" (Arts/ATL).
Residencies by: The Joyce Theater Foundation (NYC), The Yard (MA), Raumars Artist-in-Residence Program (Finland), Sacatar Foundation (Brazil), Djerassi Resident Artists Program (CA), CUNY Dance Initiative, Inception to Exhibition, La MaMa, Queens Museum of Art, Skafiotes Residency (Greece), Maison Dora Maar, (France), Aktuelle Architektur der Kultur (Spain), The Studios of Key West (FL) and Ucross (Wyoming).
In 2017 The Encore Project, a yearlong tour of performances, commemorated the 10th Anniversary of Encore, which premiered at Joyce SoHo in 2007 and was an official selection of the New York Musical Theater Festival in 2009.
The Company's mission is to present and promote the art of dance to the public in interactive, accessible and relevant ways. DGDC believes that everyone can join in the dance. Innovative programs, consisting of performances and a range of educational events, are designed to transform audiences into active participants, striving to teach how dance can play a meaningful part of one's physical and overall well-being and to gain comfort engaging in, viewing, and communicating critically about dance.
ENCORE performances will take place on Saturday, September 15 at 6:30PM, Sunday, September 16 at 1:00PM and Sunday, September 16 at 6:30PM at The Fielding Stage at Geva Theatre Center, 75 Woodbury Blvd. Tickets, priced at $18 (student, $15, children, $12) can be purchased online at www.rochesterfringe.com. Visit www.GwirtzmanDance.org for information.
Presenting a behind-the-scenes perspective, ENCORE gives audiences rare insight into a troupe of dancers preparing to go on the road under the pressure of a demanding choreographer. During their final rehearsal, the cast goes through the rigorous, lightning-quick paces of one show-stopping number after another - set to classic jazz recordings - working through the uncertainty, headaches and hilarity of the intense process of making art, and raising the age-old question: will the show come together? ENCORE's exploration of speed, virtuosity, and non-stop movement challenges the stamina of its performers, as well as its audience's expectations. Alternating between the artifice of the stage and the reality of life in the studio, ENCORE lives at the intersection of concert dance and the contemporary musical theater.
In June 2007 the Company premiered ENCORE at Manhattan's Joyce SoHo to critical and public acclaim. It was reprised later that year as part of The Joyce Theater's twenty-fifth anniversary season. In 2008, the New York City Department of Cultural Affairs funded the Company in a ten-performance tour of ENCORE, taking the Company to four of the City's five boroughs. In 2009 ENCORE enjoyed a sold-out run as an official selection of the New York Musical Theater Festival (NYMF). Since then the show has never fallen out of active repertory, performed without pause by the Company, other professional companies, pre-professional training programs, and university and arts high school dance departments. In 2017 the Company launched The Encore Project, a year-long tour celebrating the 10th Year Anniversary of the production, through a series of live-streamed performances.