New Opera to be Topic on WAMC's RoundTable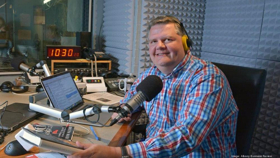 A newly created opera is worthy of some special attention. And, who better to focus a spotlight on such an endeavor than Northeast Public Radio's interviewer/host Joe Donahue? This coming Thursday at 11:10AM, the co-creators of "A Thousand Splendid Suns" will be interviewed on WAMC - 90.3FM. Live streamed at www.WAMC.org.
opera is the brainchild of Sheila Silver, a Spencertown resident who has created several other productions including "Beauty Intolerable", music composed for a collection of poetry by Edna St. Vincent Millay. But it has not evolved from her hands alone. Her writing partner is librettist Stephen Kitsakos, a friend and colleague for more than 30 years. Together, they will discuss the long, complicated, frustrating and rewarding process of bringing a story from the printed page to the musical stage.
A first obstacle was the author's reticence in allowing Silver to even pursue the idea. Author Khaled Hosseini, whose earlier work "The Kite Runner" received universal acclaim, wasn't interested. It wasn't until Silver had written him multiple letters - finally ending with a deeply heartfelt discussion of how the work could be transformed, that Hosseini signed off on the project.
A second problem was the cultural requirement that all women be completely covered whenever they were outside their homes. "Burqas and chadari made every woman in the cast completely unrecognizable," Silver explained, "to say nothing of the difficulties of singing clearly behind a facial covering..." It required some thought to determine how to overcome this while remaining true to the realities of life in Afghanistan. Listen to a brief clip of a Market Scene at http://tinyurl.com/y9mkwtzd.
Hear more about the transfiguration of "A Thousand Splendid Suns" on WAMC this Thursday. You can see Act I on film screened at the Hudson Area Library on Thursday, November 9th at 6pm and watch a live workshop of Act II - complete with 6 performers and 7 musicians, on Saturday, November 18th at 1pm and again at 4pm. Although there is no fee to attend, the high level of interest has necessitated reservations. Go to www.HudsonAreaLibrary.org or call the Program Director, Brenda Shufelt at 1.518.828.1792 x101. E-mail programs@hudsonarealibrary.org. "A Thousand Splendid Suns is scheduled for a world premiere performance by the Seattle Opera in 2020.
PHOTO CAPTION: Host Joe Donahue of radio station WAMC's The Roundtable will be interviewing the composer and the librettist of the brand new opera A Thousand Splendid Suns on Thursday, October 26th beginning at 11:10 am. Live stream at www.wamc.org or listen on 90.3 FM. The opera is being showcased at the Hudson Area Library during November. For more information and to make reservations, go to www.HudsonAreaLibrary.org. Photo courtesy of Albany Business Review