Fiercely Independent 2017 Woodstock Film Festival Maverick Award Winners Announced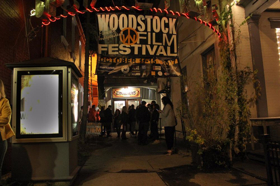 On Saturday, October 14, the 18th annuAl Woodstock Film Festival Maverick Awards Ceremony took place at Backstage Studio Productions in Kingston, NY. More than 500 filmmakers, film industry members, community leaders, and audience members attended the event held in the heart of Kingston's Uptown Historic District.
Awards were presented to exceptional films and honorees in numerous categories.
The evening opened with world renowned tight rope walker and the subject of the Academy Award winning documentary Man on Wire, Philippe Petit who introduced festival Co-Founder and Executive Director Meira Blaustein. Ulster County Executive Mike Hein gave welcome remarks as well and addressed the recently announced Ulster County Film Finance Program.
Celebrated producer, talent manager, and film agent Shep Gordon was presented with the Trailblazer Award for his visionary approach to the arts.
Actor Bill Pullman received the Excellence in Acting Award. Earlier today, following the East Coast premiere of THE BALLAD OF LEFTY BROWN, the actor discussed his role as the title character.
Films from the 2017 Woodstock Film Festival were honored at the Maverick Awards Ceremony with presentations for Best Narrative Feature, Best Documentary Feature, Best Narrative Short, Best Student Short, Ultra Indie Award, Animation Award, Haskell Wexler Award for Best Cinematography, World Cinema Award, James Lyons Editing Award for Narrative & Doc Features, the Maverick Award for Best Short Documentary, and the Carpe Diem Andretta Award.
Winners are announced below..
BEST NARRATIVE FEATURE
The GIGANTIC PICTURES' FEATURE NARRATIVE AWARD went to Bob Byington for INFINITY BABY.
In this absurdist comedy set in the near-future, Ben, a perpetual dater who is incapable to commit to any relationship, portrayed in a wonderfully wacky performance by Kieran Culkin, works for a company tasked with finding a forever home for genetically modified babies who don't age, cry, eat or soil diapers. So-called Infinity Babies are a stylistic choice for parents who don't want the responsibilities of raising a child. But somewhere along the way, one of these care-free babies almost dies of neglect and one of our characters discovers a need and knack for parenting. Featuring such supporting comedic veterans as Nick Offerman, Megan Mullally (both from Parks and Recreation) and Martin Starr (Freaks and Geeks, Silicon Valley), whose hilarious performances are essential to the whole, and assuredly directed by Bob Byington with beautiful black and white imagery, Infinity Baby is about trying to find our place in a world that is becoming increasingly artificial and the human relationships and connections that we hone along the way. - Evan Thomas
Honorable Mention went to Bruce Thierry Cheung for DON'T COME BACK FROM THE MOON.
A Special Award for Excellence in Acting by an Ensemble went to SUBMISSION. Jury members included Katherine Dieckmann, Tim Guinee and Lori Singer.
BEST DOCUMENTARY FEATURE:
The Best Documentary Feature, sponsored by Films We Like, was presented to director Angelos Rallis for SHINGAL, WHERE ARE YOU?
In 2014, the Yezidis, a persecuted minority in Iraq, were driven from their ancestral land by ISIS during a campaign of genocide in which more than 3,000 women and children were kidnapped. Caught in raw, sweeping cinematography, SHINGAL, WHERE ARE YOU? weaves together the dramatic stories of the remaining young boys and their families, relegated to an abandoned coal mine on the Turkish border and longing for their lost home.
Honorable Mention to director Lillian Lasalle for MY NAME IS PEDRO. Jury members included Lee Hirsch, Wendy Ettinger, and Roger Ross Williams.
Best Narrative Short Sponsored by Gigantic Pictures, went to director Laura Beckner for (LE) REBOUND.
Honorable Mention went to THE FOSTER PORTFOLIO. Jury members included Janet Grillo and Jonathan Burkhart.
Best Student Short Sponsored by Gigantic Pictures, went to director Kevin Wilson, Jr. for MY NEPHEW EMMETT.
Honorable Mention went to TV IN THE FISHTAIL. Jury members included M. Blair Breard, Logan Hill, and Isil Bagdadi.
The Woodstock Film Festival Ultra Indie Award, sponsored by Gray, Krauss, Stratford, Sandler, Des Rochers, LLP and Blackmagic Design, was presented to Harris Doran for BEAUTY MARK. Jury members included Philippe Petit, Alex Smith, and Richard Abramowitz.
Best Animated Short was Presented to PatRick Smith for PITTARI. Jury members included Joy Buran, Noelle Melody, and Peter Ahern.
Best Short Documentary, sponsored by Markertek.com, went to Kyle Morrison for MOTT HAVEN. Honorable mention to Jon Bunning for THE TABLES. Jury members included Jon Greenhalgh, Emily Rothschild, and Cynthia Kane.
The Haskell Wexler Award for Best Cinematography, sponsored by Panavision, went to David Kruta for THE SOUNDING. Ellen Kuras served as the juror.
"All of these films considered for the cinematography award stand out for the visual stories that they tell and the humanity they touch. In all, there is alive the spirit of independence, the deep desire to tell a story with a singular voice that speaks of our human/animal existence. This is the spirit of our dear late friend and cinematographer Haskell Wexler. It is in his honor that we are giving this award - On behalf of Haskell and his incredible wife Rita Taggart.
As you know, it is difficult to single out any work of art. The film selected is a beautifully expressed film in many ways -in particular, the cinematography. The shadow and light in the images played as much a part in telling the story as the acting and the text. Deftly using color palette, texture and a shallow depth of field, the cinematographer imbued the images with a dramatic resonance to the imagery, while the handheld gave the film an engaged, intimate feel. We were drawn in - by the images and by the camera's point of view. Hence the cinematography played an incredibly important part of the story.
With great pleasure, I would like to present the Haskell Wexler BEST CINEMATOGRAPHY AWARD TO Emerging cinematographer award winner David Kruta." - Ellen Kuras
The James Lyons Editing Award For Narrative Feature, sponsored by Technicolor Postworks NY, was presented to editor Joe Murphyfor DON'T COME BACK FROM THE MOON. Jury members included Katharine McQuerrey, Oriana Soddu, and Sabine Hoffman.
The James Lyons Editing Award For Documentary Feature, sponsored by Technicolor Postworks NY, was presented to editor Toby Shimin for 32 PILLS: MY SISTER'S SUICIDE. Jury members included Fiona Otway, Melody London, and Sabine Hoffman.
The World Cinema Award, presented to Sandra Vannucchi for GIRL IN FLIGHT. The jury would also like to give a special mention to the young actress Lisa Ruth Andreozzi for her breakthrough performance. Jury members included Claude Dal Farra, Maria Govin and Emily Russo.
The Carpe Diem Andretta Award, sponsored by The Vincent J. Andretta Memorial Fund and presented to the film that best represents living life to the fullest, was awarded to director Lisa France and subject Gabriel Cordell for ROLL WITH ME.
Congratulations to all winners..
HONORARY AWARDS
TRAILBLAZER AWARD
SHEP GORDON
The Trailblazer Award was presented by Michael Lang to Shep Gordon
Shep Gordon received the 2017 Trailblazer Award for his work in the independent film, music and culinary entertainment industries. Gordon founded one of the first independent film companies and film distributors Alive Pictures/Island Alive, and has represented musicians and celebrity chefs like Alice Cooper, Luther Vandross, Wolfgang Puck, Emril Lagasse, among many others.
EXCELLENCE IN ACTING AWARD RECIPIENT
Excellence in Acting Award Recipient was presented by Jared Moshe to Bill Pullman
Bill Pullman received the 2017 Excellence in Acting Award. In addition to receiving the award, the Woodstock Film Festival will screen THE BALLAD OF LEFTY BROWN(courtesy of A24) in which Bill Pullman gives a tour de force performance as the title character. Bill Pullman's versatile acting spans from dramatic roles to comedic roles, including A LEAGUE OF THEIR OWN, INDEPENDENCE DAY, RUTHLESS PEOPLE, SLEEPLESS IN SEATTLE, and SPACEBALLS. Festival attendees will also have the opportunity to interact with Pullman at the annual Actor's Dialogue on Sunday, October 15.
Photo Credit: Leslie Hill