CRT presents Regional Premiere of NANA'S NAUGHTY KNICKERS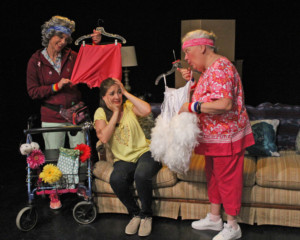 For the fifth production in their 46th annual summer season, Cortland Repertory Theatre will present the regional premiere of the hysterical comedy Nana's Naughty Knickers written by Katherine DiSavino. Performances will run from August 16 - 26 with evening show times at 7:30. Matinees are available on August 18, 20, 22 and 23 at 2:00 PM. Tickets may be purchased by calling 800-427-6160 or at the CRT Box Office at 24 Port Watson Street in Cortland. Tickets are also available for sale 24 hours a day through the CRT website at www.cortlandrep.org, using the online service ETix. CRT cautions that this is the only approved online ticket service; other online sites charge significantly higher rates for tickets and are NOT approved by CRT.
This senior citizen's sexy sideline will leave audience members in stitches! Young law student Bridget is so excited to spend the summer visiting her feisty grandmother, in Nana's large, rent-controlled NYC apartment. However, Bridget gets more than she bargains for when she discovers her sweet Nana is running an illegal boutique from her apartment, selling hand-made "naughty knickers" to every senior citizen in the five borough area. Toss in a handsome neighborhood cop, a suspicious landlord and Nana's walker-wielding friend Vera, and everyone's panties get twisted. Will Bridget be able to handle all the excitement? Will Vera find her hearing aid? Will Nana get arrested - or worse - evicted?
Nana's Naughty Knickers is directed by Ryan S. Gibbs in his CRT directorial debut. Gibbs comes to CRT having previously directed Songs for a New World at Theatre Row in New York City, and assistant directing the current 20th Anniversary national tour of RENT. In 2014-15, he was the Artistic Director of Allenberry Playhouse and regionally has directed Damn Yankees, South Pacific, and 42nd St. to name a few. Additionally, as an accomplished Stage Manager, he has worked on Broadway with School of Rock and Wicked, Off-Broadway with Avenue Q, and on eight national tours.
CRT's "Nana" in this production is played by Equity Guest Artist Peggy Lewis in her CRT debut. As her granddaughter Bridget is Jennifer Brunker who was seen in last summer's Cards on the Table, with Sebastian Ryder making her CRT debut as Nana's partner in crime, Vera. Previous appearing this summer in Appointment with Death, Charles Baran continues his CRT summer to play landlord Gil Schmidt and Tom DeMichele plays the handsome but dim cop-on-the-beat Tom O'Grady. Performing intern Caiti Marlowe plays Heather Van Pree, a woman with some competing business for Nana, and Nancy Kane completes the cast as Schmidt's wife, Claire.
Timothy James continues his season as Stage Manager. Scenic design is handled by Shelley Barish, fresh from her work on Appointment With Death. Ricky Lurie makes his CRT debut as Costume Designer, coming to Cortland from Broadway's Anastasia where he was Associate Designer. Eric Behnke handles lighting design, with Terry Baker as Props Designer and Seth Asa Sengel as Sound Designer. Fiona Malone takes up the reins as Technical Director.
CRT continues "Friday Night Talk Backs" at which a Q & A session with the actors, designers and crew takes place after select Friday evening performances. Tickets are also on sale for the final CRT show of the summer, "Life Could Be A Dream" which runs from August 30 - September 16, and all of CRT's fall shows and events held at CRT Downtown. Call 800-427-6160 for more information.