BRIDGE STREET BELLY DANCE Returns To BST On Today, Today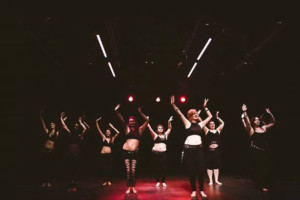 A thrilling, empowering, and spiritual experience awaits audiences on Saturday evening June 16th when Catskill's Bridge Street Theatre hosts its 2nd Annual performance of "Bridge Street Belly Dance". Organized, as was last year's sold-out event, by Francesca Avani, the evening will feature performances by a dazzling array of artists from all over New York, New Jersey, California, Massachusetts, and New Hampshire in a kaleidoscopic display of the art of Tribal Fusion Belly Dance. Based in ancient traditions, Tribal Fusion is a vital, growing, evolving art form, being presented in Catskill by some of its finest and most accomplished practitioners.
Tribal Fusion is a modern Western form of belly dance which was created by fusing American Tribal Style belly dance and American Cabaret belly dance. Artists frequently incorporate elements from Popping, Hip Hop, 'Egyptian' or 'Cabaret' belly dance, as well as movement principles from traditional forms such as Flamenco, Kathak, Odissi, and other folkloric and classical dance styles.
Participating in this literal Belly Dance summit will be Lauren Robbiani, Rose Calavera, Danielle Hutton and the White Rose Collective, Makeda, Francesca Avani, Brenna Crowley, Serena Spears, Gerudo Vagrants, Cherish, Yvonne Michelle, Jaylee, Beast Coast, and The Lunachix.
"Bridge Street Belly Dance" will be presented for a single performance only, Saturday June 16 at 7:30pm on the Bridge Street Theatre Mainstage, located at 44 West Bridge Street in the Village of Catskill, NY. Seating is extremely limited and advanced reservations are strongly suggested. Discounted advance tickets are available online for $22 at bsb2018.BrownPaperTickets.com or by calling 800-838-3006. $25 tickets will be sold at the door one half hour prior to the performance on a space available basis. Don't miss this powerful evening of female artistry!
Events and performances in Bridge Street Theatre's 2018 Season are made possible in part by the New York State Council on the Arts with the support of Governor Andrew M. Cuomo and the New York State Legislature and by Public Funds from the Greene County Legislature through the Greene County Cultural Fund, administered in Greene County by the Greene County Council on the Arts.