WE SO HAPA Rises Up For BC/EFA With SONGS OF OTHERNESS 4/26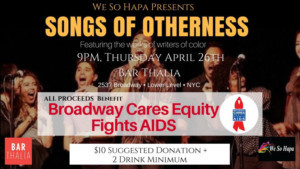 WE SO HAPA is back!
Following hot on the success of its previous five installments, the non-profit group founded to showcase multi-ethnic talent in an industry starved for diversity will come together once more to represent and raise their unique voices.
Presented at Bar Thalia on April 26, SONGS OF OTHERNESS is an evening of new works by some the most exciting and dynamic artist of color writing for musical theatre today:
Ty Defoe & Tidtaya Sinutoke, Melissa Li, Yan Li, Christine Toy Johnson & Jason Ma, Matt Park, Rebecca Lee Lerman, Sam Poon, Cheeyang Ng, Tami Swartz, Riley Thomas and Jessica Wu.
Taking to the stage will be a sensational group of performers from Broadway and beyond including Ashley Matthews, Sam Poon, Matt Park, Rebecca Lee Lerman, Alison Lea Bender, Diane Phelan, Alex Chester, Tami Swartz, Jessica Wu and Cheeyang Ng.
Diane Phelan directs, with musical direction by Dan Pardo.
All door proceeds benefit BROADWAY CARES EQUITY FIGHTS AIDS, with a suggested donation of $10 - but more is absolutely welcome! A full bar and menu will be available, with no food/drink minimum.
Bar Thalia, nestled in the lobby of Symphony Space, is located at 2537 Broadway, at 96th Street.