The RRazz Room New Hope Opens It's Spring 2018 Cabaret Season With Sharon McKnight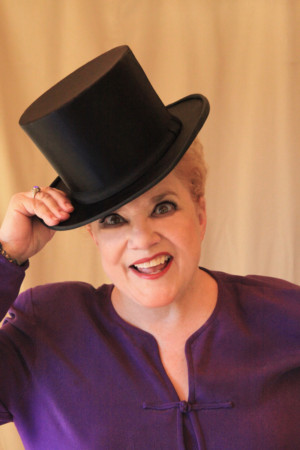 This Spring 2018, the talent performing at New Hope's RRazz Room at The Clarion is a diverse mix of world class artists. From Las Vegas Entertainer Of The Year and Grammy Nominee Clint Holmes, the always hilarious Judy Gold,
TV's Carson Kressley along with Dance Music Artist Kristine W in their new show "Stand Up With A Twist", the legendary Maureen McGovern celebrating the 45th Anniversary of The Poseidon Adventure, and cabaret/ theatre pioneer & MAC Lifetime Achievement Award Winner Sharon McNight (who will open our Spring 2018 Season) , there is something for all entertainment tastes at the intimate and comfortable Rrazz Room New Hope, located within the newly refurbished Clarion Inn & Suites. There is nothing quite like the connection between the performers and their audience in an up close and personal cabaret setting.
Since opening the Rrazz Room space in New Hope in November of 2013, the venue has presented legendary artists who have brought patrons to their feet nightly. The impressive list of performers who have graced The RRazz Room stage to date include Dick Gregory, The Kinsey Sicks, Andrea Marcovicci, Adam Pascal, Donna McKechnie, Lee Roy Reams, Andrea McArdle, Deana Martin, Lainie Kazan, Pam Ann, Tom Wopat, Lisa Lampanelli, Leslie Jordan, Well-Strung, Tony DeSare, Linda Lavin, Michele Lee, Rhonda Ross, Sarah Dash, Karen Akers, Vatla Jean Merman, The Skivvies and countless other world class artists.
The RRazz Room New Hope, PA6426 Lower York RoadNew Hope, PA 18938(located within The Clarion Inn & Suites)
FOR TICKETS and INFORMATION:www.TheRRazzRoom.com or 888-596-1027
Saturday, March 24, 2017 at 8pm
$35.00 General Admission/ $40.00 Day of Show
Sharon McNight "GONE, BUT NOT FORGOTTEN"
Saluting The Late Legendary Ladies Of Song
Martha Raye, Madeline Kahn, Pearl Bailey, Patsy Cline, Ethel Merman, Judy Canova Sharon McNight, the Tony nominated, award winning entertainer is returning to The RRazz Room in New Hope on Saturday, March 24. Her new show is entitled "GONE, BUT NOT FORGOTTEN," saluting the late legendary ladies of song.
In "GONE, BUT NOT FORGOTTEN," McNight tips her hat in a tribute to some of the great women singers and comediennes who are no longer with us, but whose names live on. She has chosen a signature song by each legendary lady and some interesting historical tidbits as well. The audience is encouraged to play along before each song. Spoiler alert: Some of the women include Betty, Sophie, Ethel, Judy, Patsy, Bette, Madeline and who knows who else will show up. Sharon will be backed up by
Ian Herman
on the mighty eighty-eights.
2018 promises to be a busy year for Ms. McNight, who will revive the Off-Broadway show she wrote and starred in, "RED HOT MAMA," at the Seven Angels Theatre, Waterbury, Connecticut from February 15 to March 11. The show features the music and life of show business legend, Sophie Tucker. New York critics called the show "a musical tour de force . . . you'll be seeing a world class performance up close and personal." Then, in March, the Manhattan Association of Cabarets and Clubs is honoring McNight with their Lifetime Achievement Award to be presented at B.B. Kings Supper Club on 42nd Street. Previous winners have included Peter Allen, Marilyn Maye, Leslie Uggams, Maureen McGovern, and Annie Ross. McNight won the first MAC award in 1987 for Outstanding Female Vocalist.
The Manhattan Association of Cabarets (MAC) will present Tony nominee Sharon McNight with its 2018 Lifetime Achievement Award at the 32nd Annual MAC Awards to be held Tuesday, March 27 at 7:00 pm at B.B. King Blues Club & Grill in New York City.