Next Week at Feinstein's 54 Below: Joanna Gleason, Bonnie Milligan, Tovah Feldshuh and More!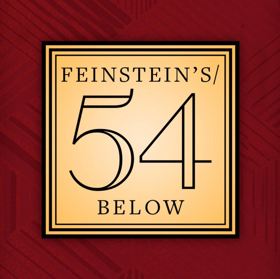 Next week, FEINSTEIN'S/54 BELOW, Broadway's Supper Club & Private Event Destination, presents some of the brightest stars from Broadway, cabaret, jazz, and beyond. To purchase tickets or for more information, visit www.54Below.com/Feinsteins or call (646) 476-3551.
SHOW OF TITLES: AN EVENING OF TITLE SONGS FROM MUSICALS REMEMBERED AND FORGOTTEN, FEBRUARY 25 AT 7:00PM
Jeffrey Richards, Will Trice, and Jacob Soroken Porter present Show of Titles: An Evening of Title Songs From Musicals Remembered and Forgotten, a benefit for The Actors Fund! This one-night-only benefit will feature performances by John Cullum (The Scottsboro Boys, On A Clear Day...), Rebecca Luker (Mary Poppins, The Music Man, Show Boat), Rebecca Naomi Jones (Oklahoma, Hedwig and the Angry Inch), Gideon Glick (To Kill A Mockingbird, Significant Other), Christian Dante White (My Fair Lady) Samantha Massell (Fiddler on the Roof), Alysha Umphress (On The Town, Smokey Joe's Café), Alexandra Silber (The Woman in White, Fiddler on The Roof), Melanie Moore (Finding Neverland, Hello Dolly!), Adam Kantor (The Band's Visit, Fiddler on the Roof, The Last Five Years), Will Trice (MAC Award Winner), Haley Swindal (Jekyll and Hyde), and Nick Rehberger (The Glass Menagerie, Fiddler on the Roof) performing unheralded title songs from musicals written by: Richard Rodgers, Alan Jay Lerner, Burton Lane, Stephen Sondheim, Kurt Weill, Harold Rome, John Kander, Fred Ebb, Charles Strouse, and many others!
The evening will be Directed by Adam Kantor (The Band's Visit, Fiddler on The Roof, and the co-founder of Story Course) with Musical Direction by Rodney Bush.
$35-100 cover charge. $200 VIP seating. $500 premium seating.
THIS SHOW IS A SPECIAL EVENT.
By purchasing tickets for this Special Event you agree to share your contact information with the hosts of this event.
Alexia Sielo & FRIENDS CELEBRATE WOMEN OF COLOR ON BROADWAY!, FEBRUARY 25 AT 9:30PM
Alexia Sielo takes us on a journey through the history of Broadway to honor African American, Latin, and Asian females who paved the way for future generations of women of color in musical theatre. We invite you to take part in this experience to hear the story, the impact, and most importantly, the music. Please join Alexia Sielo and her friends as they acknowledge these trailblazers and perform some of the greatest musical numbers in Broadway history with Music Director Kevin David Thomas.
Featuring: Alexia Sielo (We Are Tigers), Genesis Collado (We Are The Westons), Barbara Douglas (Recording Artist), Aisha Jackson (Frozen), Felipe Joglar (Beauty and the Beast), Majeste Pearson (Contestant on "The Four" on FOX), Arbender Robinson (The Book of Mormon), and Aléna Watters (The Cher Show).
Assistant Produced by Larisa Jiao
Please note that all artists and acts are subject to change at any time.
$25-$25 cover charge. $60 premium seating. $25 food & beverage minimum.
Tovah Feldshuh IS LEONA HELMSLEY IN 2019, FEBRUARY 26 AT 7:00PM
"If you're indicted, you're invited!" - Cindy Adams
Tovah Feldshuh, six time Tony and Emmy nominated star of "The Walking Dead," "Crazy Ex-Girlfriend," and now CBS' "Salvation" returns to Feinstein's/54 Below in a thrilling show featuring highlights from the new Broadway-bound musical Queen of Mean, based on the New York Times best-seller biography by Piers Ransdell. Watch the Queen of Mean become the Queen of Cabaret as Tovah takes the stage as Leona Helmsley, commenting on and singing about everything from her meteoric rise - to her Real Estate rival Donald Trump. The Queen of the Palace is proud to be below Studio 54 whose owners also served time for tax evasion for the simple crime of trying to make NY SHINE. Tovah - or, Leona - promises to bring you an evening of fun, frolic, and foreclosure you won't want to miss!
Queen of Mean features music by Ron Passaro, lyrics by David Lee, and a book by Alex Lippard and David Lee. Concept and additional lyrics by Alex Lippard.
Music Direction by James Bassi
Directed by Jeff Harnar
$60-$90 cover charge. $90 VIP seating. $115 premium seating. $25 food & beverage minimum.
NEW MUSICAL! ARROWHEAD BY Jackson Teeley, FEBRUARY 26 AT 9:30PM
Join us at Feinstein's/54 Below as we duck inside the cozy and tuneful world of Arrowhead Cafe. In a spirited celebration of Jackson Teeley's aromatic Arrowhead: A New Musical, experience "Millennial Love," "Hipster," "Superhero Man," "Blah Blah Blah," and all his lyrical earworms in a night you won't soon forget! From the heartache of love unrequited to the bliss of love that's true, uncover all the ups, downs, and inevitable complications of modern love over a simple cup of coffee. Featuring a powerhouse cast, this concert is directed by Dan Barron, music directed by Michael Pacifico, and produced by Franklin Livingston.
Featuring: Amber Ardolino (Hamilton, Head Over Heels), Dan Domenech (Heathers the Musical, "Glee"), F. Michael Haynie (NBC's "Jesus Christ Superstar: Live", Charlie & The Chocolate Factory), Becca Kotte (Gettin' The Band Back Together, Rock of Ages), Bonnie Milligan (Head Over Heels), Meadow Nguy, Doug Plaut (Unbreakable Kimmy Schmitt, Hurricane Bianca 2)
Mollie Posnik, LaQuet Sharnell Pringle (Memphis, Beautiful: The Carole King Musical), Jasmin Richardson (Gettin' The Band Back Together, The Bodyguard), Nikhil Saboo (Mean Girls), Dani Shay ("The Glee Project," "America's Got Talent"), Carrie St. Louis (Kinky Boots, Wicked), Miles Davis Tillman, and Lauren Zakrin (Natasha, Pierre, and the Great Comet of 1812)
Please note that all artists and acts are subject to change at any time.
$25-$35 cover charge. $60 premium seating. $25 food & beverage minimum.
Charles Busch: NATIVE NEW YORKER, FEBRUARY 27 AT 7:00 PM
Actor/playwright/cabaret entertainer, Tony Award nominee, and two-time MAC Award winner Charles Busch returns to Feinstein's/54 Below with a new show that gets to the essence of this legendary theatrical figure. Through an eclectic songbook from the seventies and early eighties, Busch unfolds an outrageously comic yet also poignant tale of his early years striving to find a place for himself in show business. Songs include the work of Rupert Holmes, Stephen Sondheim, Jim Croce, among the best of Broadway, film and pop. He will be joined by his longtime musical director Tom Judson.
$35-$55 cover charge. $75-$80 premium seating. $25 food & beverage minimum.
NEW MUSICAL! FALLING OUT BY JOSÉE WEIGAND, FEBRUARY 27 at 9:30pm
Join us at Feinstein's/54 Below for an unforgettable evening featuring the songs of the brand new musical Falling Out. The evening will introduce songwriter Josée Weigand and feature some of New York's brightest young stars as well as some recognizable names. Weigand has been recognized for her work all across the world and her writing style has been compared to the likes of Benj Pasek/Justin Paul and Jason Robert Brown. As a composer, she made her NYC debut at the 2018 New York Winterfest Festival in Manhattan and was nominated for "Best Musical Score." Come and listen to the premiere songs from Falling Out and take you through a journey of love, loss, heartbreak, and the questions we all have encountered when falling in, or out of love.
Check out the opening number, "City Streets," now on Spotify!
Featuring: John Arthur Greene (Tootsie, School of Rock), Tally Sessions (Anastasia, School of Rock), Tyler Hardwick (Once On This Island, Marie, Motown), Josh Walker (Rent), Kasie Gasparini (Mamma Mia!), April Lavalle (Seussical the Musical), Sarah Hinrichsen (The Imbible), Haley Bond (It's a Wonderful Life), Collin O'Connor (Mamma Mia!), Leela Rothenberg (Grease), Eric Michael Parker (Whiskey Pants: The Mayor Matthias of Williamsburg), Markus McClain (Tink!), Darren Cementina, Kate Morrisey, Camryn Rose Pillay, and Jake Tudor
Produced by Julia Dunetz
Please note that all artists and acts are subject to change at any time.
$25-$35 cover charge. $60 premium seating. $25 food & beverage minimum.
54 SALUTES Frank Sinatra, FEBRUARY 28 AT 7:00PM & MARCH 2 AT 9:30PM
Encore by popular demand! Join us for Frank Sinatra - The Second Century - A Celebration of Sinatra's Timeless Hit Songs!
An all-star cast of Broadway and nightclub stars will perform the songs that propelled Ol' Blue Eyes into the stratosphere of superstars. Hear the hits that turned Sinatra into an icon for the ages, making him one of rare show business beacons who continues to shine even in his second century. You'll hear songs like "One For My Baby," "Chicago," "My Way," "It Was a Very Good Year," and so many more.
This show comes courtesy of impresario Scott Siegel, who brought four different sold out Sinatra shows to Feinstein's/54 Below during the Chairman of the Board's centennial year. Now that we're in Sinatra's second century, his greatness is a given, and today's most talented performers are looking forward to performing in his honor. You'll want to be at Feinstein's/54 Below to witness it!
The show will be produced, written, directed and hosted by Scott Siegel, the creator of Town Hall's signature series, Broadway by the Year. He has written/directed/produced concerts for Michael Feinstein at Jazz at Lincoln Center and has, over the course of the last 16 years, created more than 200 major concerts all over the world, plus scores of nightclub shows that have played major concert halls, boites, and performing arts centers.
Featuring on 2/28: Tom Wopat (2X Tony Nominee, Annie Get Your Gun, A Catered Affair), Gabrielle Stravelli (critically acclaimed nightclub star), Maxine Linehan (international singing star), Douglas Ladnier (Jekyll & Hyde), Jenny Lee Stern (Forbidden Broadway, Rocky: The Musical), and more stars to be announced!
Featuring on 3/02: Martin Vidnovic (Tony nominee, Brigadoon, A Grand Night for Singing, Oklahoma!), Douglas Ladnier (Jekyll & Hyde), Carole J. Bufford (Nightlife Award Winning Vocalist), Danny Gardner (Drama Desk Honoree, Dames at Sea, Radio City Summer Spectacular), and more stars to be announced!
Cast is subject to change.
$35-$55 cover charge. $75-$90 premium seating. $25 food & beverage minimum.
Florrie Bagel, FEBRUARY 28 AT 9:30PM
Florrie Bagel is making her Feinstein's/54 Below solo debut with Through the Smoke, fresh from The New Group's Jerry Springer the Opera, Me and My Girl, Brigadoon with City Center Encores! and most recently, On a Clear Day... at the Irish Repertory Theater. Florrie envelops you in her earthy warmth, velvet vocals, and honest heart, bringing you an evening shining a torch on the raw, passionate brilliance of Amy Winehouse. Fiery lyrics with wit and grit, melodies that groove, stir, haunt and ache, we ignite this winter's eve with jazz, soul and heat. Come for the hits and hidden gems, rediscover the complex magnetism of her artistic spark and revel in experiencing Amy's spellbinding music, reinterpreted in a most intimate light.
$25-$35 cover charge. $60 premium seating. $25 food & beverage minimum.
Joanna Gleason, MARCH 1 & 2 AT 7:00PM
Tony Award winner Joanna Gleason returns to Feinstein's/54 Below with her new show, Out Of The Eclipse. With songs by Kurt Weill, Stephen Sondheim, Brian Wilson, Sam Phillips, Rodgers and Hart, Lambert, Hendricks and Ross, Van Morrison, Nanci Griffith, Paul Simon, and The Girls of the Golden West, she brings us through the dark time since last we saw her, and into the light. She reunites with her arranger and music director Jeffrey Klitz, and is backed by the Moontones. (Guitar, banjo, autoharp, cello, percussion, piano, and close harmony vocals.) A revival for the spirit!
Revered by Broadway audiences for her unforgettable (and award-winning) portrayal of The Baker's Wife in the original company of Into the Woods, New York has also embraced Joanna in Dirty Rotten Scoundrels, Nick and Nora, and Sons of The Prophet among others, racking up all of the major theatre awards along the way. This is to say nothing of her film and TV work, which includes Boogie Nights, Crimes & Misdemeanors, The Wedding Planner, and a whole host of other projects.
Please note that all artists and acts are subject to change at any time.
$55-$75 cover charge. $75-$85 VIP seating. $95-$105 premium seating. $25 food & beverage minimum.
Robbie Rozelle: SONGS FROM MY LOCKER, MARCH 1 AT 9:30PM
After headlining Pride at Feinstein's/54 Below last year, Robbie Rozelle returns with his hit show Songs From Inside My Locker, this time to preserve it. Be in the basement where it happens as Robbie records his debut solo album live! Wandering his high school hallways, Robbie would often find himself shoved in a locker for singing from The Rink too loudly. With his signature wit and style, Robbie grabs the tiger by the tail in a hilarious romp of the songs that got him through a blistering high school experience, a treasure trove of songs ranging from Kander & Ebb to Carrie. Featuring his band The Two Drink Minimum and very special guests, Songs From Inside My Locker is the balm to the chaos of these crazy times.
Featuring: Maya Days (Aida, Rent, Jesus Christ Superstar) and Bonnie Milligan (Head Over Heels)
Musical direction and arrangements by Josh D. Smith
Please note that all artists and acts are subject to change at any time.
$25-$35 cover charge. $65 premium seating. $25 food & beverage minimum.
FAMOUS IN NY: NEW RECRUITS, MARCH 2 AT 11:30PM
You've seen hundreds (if not thousands) of FAMOUS IN NY's videos on YouTube over the past 9 years, watching some of Broadway's best perform. Now, come be introduced to a New Group of talented being welcomed into the FAMOUS IN NY family. You may not know their names yet... but you will.
Featuring: Gianna Rose Chuppe, Emily Eagon, Adair Gilliam, Cody Knable, Katie Roberts, Christopher Sanders, and Heather Shore
Music directed by Ben Rauhala (The Broadway Princes Party, Associate Music Director on The Secret Life of Bees, Original Programming Producer at Feinstein's/54 Below)
Produced by Shoshana Feinstein (Founder of Famous in NY, Original Programming Producer at Feinstein's/54 Below)
Please note that all artists and acts are subject to change at any time.
$15 cover charge. $35 premium seating. 2 drink or $20 food & beverage minimum.
54 SINGS LEGALLY BLONDE, MARCH 3 AT 7:00PM & 9:30PM
OMIGOD YOU GUYS! The songs of Legally Blonde: The Musical are hitting the Feinstein's/54 Below stage. Carrie St. Louis leads a cast of Broadway and tour favorites in the music of the 7 time Tony nominated hit musical. With music and lyrics by Laurence O'Keefe and Nell Benjamin and a book by Heather Hach, Legally Blonde became an iconic staple on the iPod playlists of every theatre teen across the country in 2007. We are POSITIVE you won't want to miss this evening, filled with Broadway stars and guest appearances from some Original Broadway cast members from the show! Courtney, take your break, because it's time to get Serious and buy your tickets to 54 Sings Legally Blonde: The Musical!
A portion of the proceeds will go to to Times Up Now, a legal defense fund for survivors of sexual harassment and abuse.
Related Articles View More Cabaret

Stories

Shows
More Hot Stories For You