Nelson Aspen's Just in Time Opens at Don't Tell Mama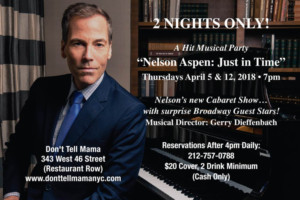 Veteran Entertainment Personality/Author Nelson Aspen opens his new cabaret show, "Just in Time," at New York City's iconic Don't Tell Mama, April 5 and 12.
On Thursday, April 5, "Grease" and Daytime TV Vet Ilene Kristen (Ryan's Hope, One Life to Live, General Hospital) will help him rock the house and Thursday, April 12, he'll welcome back his pal Anita Gillette, who has been lighting up Broadway, Film and TV for 50 years from "Gyspy" and "Cabaret" to "Moonstruck" and "30 Rock."
Known to millions of international TV fans as their "One Degree of Separation" from Hollywood's A-list, Nelson Aspen returns to the cabaret stage after sold out runs in New York City, Los Angeles, Philadelphia and around Australia including the world-famous Sydney Opera House. "Just in Time," featuring Musical Director Gerry Dieffenbach and his band as well as guest stars from the Broadway stage, traces Aspen's musical path through various genres as he carved out his unique niche in the showbiz community. At December's preview of the new production featuring guest Ilene Kristen, he packed the house to SRO and enjoyed several ovations.
With humor, heart and expert storytelling skills, Aspen shares songs and stories everyone will recognize from their own pop culture experiences. "Just in Time" follows up his popular "Full Circle" show from 2015/16, which included appearances by Anita Gillette, Shelly Burch, Deven Green, Monica Horan and other stage/screen stars. You never know what famous faces might turn up onstage or in the audience when Nelson Aspen performs. According to Don't Tell Mama manager and cabaret vet Sidney Meyer, Aspen's performances "are like giving the audience a hug!" TVNZ's Rebecca Wright proclaimed the show "polished, at times poignant and ultimately riotous."
Asked to describe his eclectic mix of music and merriment, Aspen said, "Imagine going to Studio 54 for a dinner party with Irving Berlin, Julie Andrews, Barbara Eden, Harry Connick Jr and The Captain & Tennille!" He ought to know...in addition to his long TV career, he has authored books including "Let's Dish Up A Dinner Party!" "Hollywood Insider: Exposed," "My Prime Time" and "Dinner at Nelson's."
"I used to think I was born 40 years too late, but my musical experience has shown me I was actually born...Just in Time!"
Nelson Aspen: Just in Time, April 5 and 12, 7pm at Don't Tell Mama, 343 West 46 Street (Restaurant Row), NYC. $20 Cover, 2 drink minimum (Cash only). Reservations after 4pm Daily, 212-757-0788. www.donttellmamanyc.com
---
Join Team BroadwayWorld
Are you an avid Cabaret fan in NYC? We're looking for people like you to share your thoughts and insights with our readers. Team BroadwayWorld members get access to shows to review, conduct interviews with artists, and the opportunity to meet and network with fellow theatre lovers and arts workers.
Interested? Learn more here.
---
More Hot Stories For You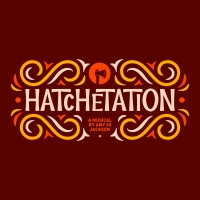 HATCHETATION THE MUSICAL: IN CONCERT to be Presented at Rockwood Music Hall, Stage 2 in January

December 1, 2022

The team behind the new musical Hatchetation will present a concert version of the showon Monday, January 23rd, 2023, at 7:00pm at ROCKWOOD MUSIC HALL STAGE 2.
---
Road Recovery and Community Hope Host Darryl's Dream Holiday Benefit Brunch at The Cutting Room This Month

December 1, 2022

Entertainment non-profit Road Recovery and Community Hope are hosting Darryl's Dream Holiday Benefit brunch with Darryl "DMC" McDaniels on December 10 from 12 pm - 3 pm at The Cutting Room (44 E. 32nd Street).
---
BILLY MAY: UNMASKED & UNPLUGGED Comes to The Green Room 42 in February

December 1, 2022

Celebrate Valentine's Day early with NYC's Rockstar heartthrob, Billy May, at The Green Room 42! Attend Billy's VIP Pre-Show Meet & Greet for photos and autographs.
---
Nate Patten Will Host Live Show at Green Room 42 With Christine Dwyer, Fernell Hogan, and More

December 1, 2022

Broadway music director, conductor and pianist, Nate Patten, will bring his live show 'Patten Disregard: Out of an Abundance of Caution' to Green Room 42 on December 11th at 7 pm.
---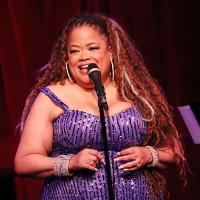 Photos: Natalie Douglas Celebrates Lena Horne At Birdland!

November 30, 2022

Birdland presents thirteen-time MAC Award winning singer Natalie Douglas in "To Lena: A Tribute to the Lady and Her Music."
---