Legendary Songwriters, Classic Popular Singers To Be Celebrated At The 29th Annual New York Cabaret Convention, October 9th-12th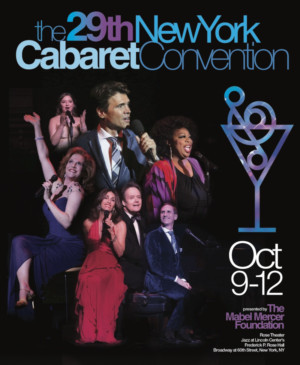 For three decades, the unofficial launch of "autumn in New York" has been marked by the annual Cabaret Convention of The Mabel Mercer Foundation. This year, their four individual concerts will once again be presented at 6 p.m. at the Rose Theater, Jazz at Lincoln Center, beginning Tuesday, October 9thand running through Friday, October 12th. More than seventy diverse vocalists -- ranging in age from seventeen to ninety -- are scheduled to entertain; thirteen of these will make their New York Cabaret Convention debuts during the 2018 performances.
Three of the four shows will honor individuals whose remarkable gifts categorize them as major components of the Great Popular Songbook legacy. On October 10th, THE NIGHT AND THE MUSIC pays tribute to Rosemary Clooney, Barbara Cook, and Julie Wilson, a trio of women whose voices and communicative powers won them legendary status during the many decades of their singing careers. The unforgettable words and music of Jerry Herman ring out on October 11th, recognizing his extraordinary achievements in the scores of such Broadway classics as HELLO, DOLLY!, MAME, LA CAGE AUX FOLLES, and MACK & MABEL. On October 12th, the closing night repertoire remembers Alan Jay Lerner, whose masterful lyrics and librettos elevated MY FAIR LADY, GIGI, CAMELOT, ON A CLEAR DAY YOU CAN SEE FOREVER, and BRIGADOON.
A complete roster for the twenty-ninth New York Cabaret Convention is provided below. Jazz at Lincoln Center's Frederick P. Rose Hall is located at Broadway and 60thStreet, and presale advance tickets are now available ONLY through The Mabel Mercer Foundation. They may be purchased by phone (212) 980-3026 or FAX: (212) 980-3049; online at www.mabelmercer.org; or by mail: The Mabel Mercer Foundation, 630 Ninth Avenue, Suite 402, New York, NY 10036. Prices are $100, $50, and $25, and Premium Patron Seating is also available @ $500 ($350 of which is tax-deductible). Those holding Patron Seating tickets are invited to a post-show cocktail reception with the evening's artists, and Patron Seating is limited to fifty seats per performance. On Tuesday, September 4th, any remaining tickets will be available for sale ONLY through Jazz at Lincoln Center: on their website(www.jazz.org); at their box office, Broadway at 60thStreet at the Time Warner Center, ground floor (Monday through Saturday from 10 a.m. to 6 p.m., and Sunday from 12 p.m. to 6 p.m.); or via CenterCharge: 212-721-6500.
KT Sullivan, artistic director of The Mabel Mercer Foundation, will host CABARET TODAY! on the October 9thopening night of the convention, and she observes, "That first show exemplifies the world of cabaret. We'll have both young and veteran singers, offering a variety of material that embraces the whole spectrum of popular song - from the classics to the contemporary. But that's what this art form is all about: entertainers and melodies and words that define 'cross-generational.'
"Beyond opening night, we wanted to salute Alan Jay Lerner, as 2018 is his centennial year. We haven't done a Jerry Herman program in more than a decade - and that occasion, in 2005, launched our association with Marilyn Maye, which has proved to be one of our happiest, ongoing alliances with an entertainer. THE NIGHT AND THE MUSIC is the title of a classic book by Deborah Grace Winer (1995), detailing the careers of Rosemary Clooney, Barbara Cook, and Julie Wilson. Julie was an absolute treasure and mainstay for the Foundation from its onset, and all three women did incomparable work, given their stage, movie, concert, and recording credits. Deborah will host that performance, and - among others -- she's going to showcase Broadway artists who are new to our events but majorly prized by audiences. These include Rebecca Luker, Emily Skinner, James Naughton, and Debby Boone.
"Across different evenings, we'll again present our annual Mabel Mercer, Donald F. Smith, and Julie Wilson Awards, as well as honor the first recipient of our new Adela & Larry Elow American Songbook High School Competition Award." Sullivan concludes, "Looking at the entire aggregation across these four nights, we're excited by the fact that this is the sort of outstanding musical mélange we hoped would herald our twenty-ninth consecutive celebration."
Here is the 2018 Cabaret Convention schedule. All artists are subject to availability; an asterisk indicates a New York CabCon newcomer:
Tuesday, October 9: CABARET TODAY!hosted by KT Sullivan. Featuring Corinna Sowers Adler, Danny Bacher, David Baida*, Joie Bianco, Carole J. Bufford, Bill Charlap, Dawn Derow*, Meg Flather*, Eric Yves Garcia, Gregory Generet, Paula Dione Ingram*, Marcus Lovett*, Nancy McGraw, Marissa Mulder, Todd Murray, Karen Oberlin, Sandy Stewart, Dorian Woodruff*, Carol Woods. Presentation of The Mabel Mercer Award to Carol Woods.
Wednesday, October 10: THE NIGHT AND THE MUSIC: CELEBRATING Rosemary Clooney, Barbara Cook, AND Julie Wilson, hosted by Deborah Grace Winer; music director John Oddo.Featuring Karrin Allyson*, Debby Boone*, Darius de Haas, Natalie Douglas, La Tanya Hall, Nicolas King, Rebecca Luker*, Marilyn Maye, Kenita Miller*, James Naughton*, Linda Purl, Emily Skinner*, Billy Stritch, Karen Ziemba.
Thursday, October 11: THE BEST OF Jerry Herman, hosted by Klea Blackhurst.Featuring Brent Barrett, Anna Bergman, Celia Berk, Tim Connell*, Debbie Gravitte, Greg Gropper, Renee Katz*, Valerie Lemon, Kristoffer Lowe, Marieann Meringolo, Christine Pedi, Lee Roy Reams, Joan Ryan, Josephine Sanges, Amra-Faye Wright. Presentation of The Adela & Larry Elow American Songbook High School Competition Award.
Friday, October 12: THE NIGHT THEY INVENTED CHAMPAGNE: THE LYRICS OF Alan Jay Lerner, hosted by Jeff Harnar & Andrea Marcovicci. Featuring Karen Akers, Leanne Borghesi*, Barbara Brussell, Eric Comstock, Joshua Lance Dixon, Shana Farr, Barbara Fasano, Penny Fuller, Anita Gillette, Richard Holbrook, Stearns Matthews, Sally Mayes, Tammy McCann, Sidney Myer, Mark Nadler, Liz Robertson, Steve Ross, Marta Sanders, Gabrielle Stravelli, Iris Williams. Presentation of The Donald F. Smith Award, underwritten by Adela & Larry Elow. Presentation of The Julie Wilson Award, underwritten by Linda & Peter Hanson.