Carole Cook, Carrie St. Louis, and More Next Week at 54 Below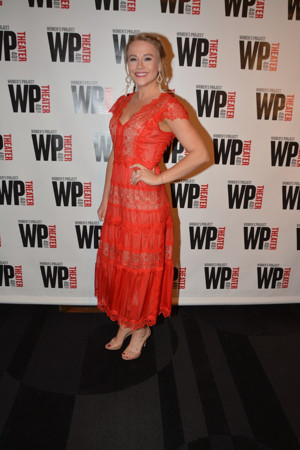 Next week, FEINSTEIN'S/54 BELOW, Broadway's Supper Club & Private Event Destination, presents some of the brightest stars from Broadway, cabaret, jazz, and beyond. To purchase tickets or for more information, visit www.54Below.com/Feinsteins or call (646) 476-3551.
Richard H. Blake, JUNE 18 & JULY 9 AT 7:00PM
Feinstein's/54 Below solo debut! In The Music Of My Life, Broadway's charismatic powerhouse, Richard H. Blake, takes a reflective look at his career from child actor to Broadway veteran. His journey winds its way through fifteen Broadway shows, with starring roles in Wicked, Jersey Boys, Hairspray, Rent, Legally Blonde, and currently A Bronx Tale The Musical. He will share some unbelievable tales, his most memorable performances, and the musical influences that shaped him along the way. The Music Of My Life is an intimate evening full of stories and songs that will leave a smile on your face and a song in your heart.
Featuring special guestsChristiani Pitts (star of the upcoming King Kong, A Bronx Tale The Musical) and Jennifer DiNoia (Wicked, Mamma Mia!, We Will Rock You)
Musical Direction by Meg Zervoulis.Direction by Joe Ricci
$40-$55 cover charge, $80-$85 premium seating. $25 food & beverage minimum.
Carrie St. Louis, JUNE 18 AT 9:30PM
Carrie St. Louis: Always in the Ballpark, Usually in the Wrong Seat
After six sold-out performances of her solo show Something Good in NY and LA, current star of Broadway's Kinky Boots, Carrie St. Louis is bringing a brand new show to Feinstein's/54 Below! Always in the Ballpark, Usually in the Wrong Seat will bring hilarious new stories as well as embarrassing mishaps during her time on Broadway as Glinda in Wicked, Sherrie in Rock of Ages, Lauren in Kinky Boots, and Annette in Cruel Intentions. She's the girl with her voice in the stratosphere and her feet on the ground, and you won't want to miss this intimate evening featuring special guest Caroline Bowman (Wicked, Kinky Boots) and unexpected arrangements.
The evening will be directed by Christopher Timson.
$40-$50 cover charge. $80 premium seating. $25 food & beverage minimum.
Carole Cook, JUNE 19 & 20 AT 7:00PM
Legendary Broadway and screen actress Carole Cook makes her New York cabaret debut at the age of 94. After receiving rave reviews in Los Angeles and San Francisco, this fabulous evening of memories and song comes to Feinstein's/54 Below. Carole sings numbers from Sondheim to Coleman - from Billy Barnes to Jerry Herman. She recalls a scrapbook of memories, from being Lucille Ball's protege to working with Ethel Merman.
Carole's stage and screen career anecdotes are hysterical and historical. She was the second Dolly Levi ever in Hello, Dolly! (leading the Australian company), after Carol Channing. As one critic rhapsodized, "Exciting! A glowing star! The biggest and best excuse for unrestrained delight since you dreamed you won the million dollar lottery." She is the only actress to have played both Auntie Mame and Mame. She was in the original casts of Threepenny Opera, 42nd Street (originating the role of Maggie Jones), A Romantic Comedy, and Radio Gals. Her movies include The Incredible Mr. Limpet, Sixteen Candles, and more. So much more.
Join us for a cabaret you will not forget! Richard Skipperand Russ Woolleyproudly present Carole Cook, directed by David Galligan, with musical Direction by Chris Marlowe.
$55-$70 cover charge. $100-105 premium seating. $25 food & beverage minimum.
CHRISTINA PECCE: WITCHES, BITCHES AND DIVAS!, JUNE 20 AT 9:30PM
Singing actress Christina Pecce, performer in Jesus Christ Superstar(Regent's Park Open Air Theatre London's Production at Chicago Lyric), makes her Feinstein's/54 Below debut in Witches, Bitches, and Divas!Songs from your favorite standards, musicals, and operas are given a fresh spin to keep you enchanted and bewildered. Featuring music from Annieto Women On The Verge, from Sweeney Toddto Carmen, this is a night of cross-over comedy you do NOT want to miss. Celebrate iconic roles, both onstage and off, but beware... this program is sure to put a spell on you!
$25-$35 cover charge. $60 premium seating. $25 food & beverage minimum.
Martin Vidnovic, JUNE 21 AT 7:00PM
"Martin Vidnovic's rich and robust baritone, reminiscent of the glory days of John Raitt and Howard Keel, makes the hairs on the back of your neck stand on end." -Michael Dale, BroadwayWorld
Martin Vidnovic, Tony nominee, Drama Desk and NY Bistro award winning Broadway and cabaret veteran makes his Feinstein's/54 Below solo cabaret debut in What Matters To Me. It will be an evening of songs from his career on and off Broadway from writers Rodgers & Hammerstein, Jacques Brel, Irving Berlin, Harvey Schmidt & Tom Jones, Frank Loesser, Harry Chapin, and Lerner and Loewe, as well as feature Frank Sinatra and Tony Bennett favorites. Expect "Some Enchanted Evening," "Luck Be A Lady," "Soon It's Gonna Rain," "Amsterdam," "I Love A Piano," "My Way," "The Best Is Yet To Come," "Lydia, The Tattooed Lady," and more! "Fly Me To The Moon," why don'tcha!
Martin Vidnovic's Broadway credits include Tommy in Brigadoon (Tony Nomination), Nick in Baby (Drama Desk award), Jud in Oklahoma! (L.A. Drama Critic's Aaward), A Grand Night For Singing (Backstage Bistro Award), Lun Tha in The King And I, and Antinous in Home Sweet Homer, both starring Yul Brynner, Sky in Guys And Dolls, Saul in King David, and Jupiter in Olympus On My Mind. He played El Gallo AND Bellomy in Off Broadway productions of The Fantasticks and the King opposite Sandy Duncan in the national tour of The King And I.
Music direction by Ross Patterson, directed by Elizabeth Browning.
$35-$45 cover charge. $75 premium seating. $25 food & beverage minimum.
Joe Iconis & Lauren Marcus: LOVE LETTER, JUNE 21 AT 9:30PM
Acclaimed writer-performers and real-life married couple Mr. Joe Iconis and Ms. Lauren Marcus take on Johnny Cash and June Carter Cash in this wild show featuring songs made famous by and inspired by the coolest couple in outlaw country. Backed by a pair of actor/singer/multi-instrumentalists, this husband and wife duo will tackle romantic collaborations, artistic relationships, volatile partnerships, live, death, and everything in between. Featuring original songs in addition to a host of re-imagined Cash/Carter classics, the evening is a fiery Love Letter from one pair of mavericks to another. Featuring Ian Kagey and Gerard Canonico. Directed by Max Friedman.
This show is part of Feinstein's/54 Below's Summer 2018 concert series: Duo Shows at 54! From partners to siblings to co-stars and beyond, these evenings will celebrate the special collaboration of two artists brought together. Join us as some of today's greatest performers team up with each other for this unique and exciting series.
$30-$40 cover charge. $65 premium seating. $25 food & beverage minimum.
Rachel Ulanet, JUNE 22 AT 7:00PM
Renowned vocalist Rachel Ulanet has thrilled Broadway audiences with her performances in Beauty and the Beast, Lovemusik, and King David, and now makes her Feinstein's/54 Below solo concert debut with Keep Me Searching. Reflecting on the recent shifts within our country, and the profound effect they have had on her as a woman, citizen, parent, and artist, Rachel will tell the tale of one Broadway mama's journey, revealing new possibilities through timeless music-from Stevie Wonder to Kurt Weill, from Bonnie Raitt to Michel Legrand.
Directed by Julie Reyburn (Sondheim Unplugged, multi-MAC, Bistro, and Nightlife Award winner), and featuring a terrific trio headed by music director Matt Baker (Christine Ebersole, Ann Hampton Callaway, and Judy Collins), with Ray Marchica on drums and Michael Blanco on bass, Keep Me Searching will be sure to enthrall and delight, as it opens the audience up to our shared experiences during these unusual times. One journey always begets another, and who knows where it all might lead?
$35-$55 cover charge. $75-85 premium seating. $25 food & beverage minimum.
DUETS WITH THE WRITE TEACHER(S)- VOLUME 6 WITH Beth Leavel Danielle Ferland, AND MORE, JUNE 22 AT 9:30PM
DUETS with The Write Teacher(s) is back at Feinstein's/54 Below for the sixth time!
Conceived and produced by Megan Minutillo (in association with thewriteteachers.com), with musical direction by Todd Hulet, the evening will feature music from across the musical theatre canon, pairing one Broadway singer with one Broadway hopeful.
For this special sixth edition, the following will be featured: Loni Ackerman (Cats. Evita), Danielle Ferland (A Year With Frog and Toad, All My Sons, Into the Woods), Adam Hyndman(Aladdin), Leslie Kritzer (The Honeymooners, Something Rotten),Gabriella Garcia, Samantha Gershman, Beth Leavel (Bandstand, The Drowsy Chaperone), Tatiana Lofton, Amanda Mullin, Avery Norris, Betsy Struxness(Hamilton, Matilda), and Stephanie Turci.
$25-$35 cover charge. $65 premium seating. $25 food & beverage minimum.
GOOD MORNING NEW YORK: A NEW MUSICAL, JUNE 22 AT 11:30PM
Join us at Feinstein's/54 Below for a revealing evening showcasing the songs of Good Morning New York, an unforgettable sneak peek of Jacki Thrapp's new musical. The show is a musical comedy about journalists working the overnight shift. It's based off the people and wacky experiences Thrapp had while working at a local news station in New York City, with songs like "One Look," "I Can Do So Much Better," and "Rise," before the show debuts Off-Broadway. Featuring an all-star cast of New York's most popular comedians, this concert is produced by Jacklyn Thrapp and directed by Bridget Greaney.
Jacki Thrapp is no stranger to broadcast television; she's worked behind-the-scenes in the business for nearly six years. In her "spare" time, she's composed, written plays and short films, and produced.
Starring: Dylan Adler(San Francisco International Music Festival), Giuliana Bartucci, Daniel Brown (Good Morning New York), Lucien Coppola, Morgan DeTogne (Mole Town, Babe in the Bathtub), Bridget Greaney, Jacqueline Keeley, and Lexi Rosenblum
$20 cover charge. $45 premium seating. 2 drinks or $20 food & beverage minimum.
54 SALUTES Frank Sinatra, JUNE 23 AT 7:00PM
Encore by popular demand! Join us for Frank Sinatra - The Second Century - A Celebration of Sinatra's Timeless Hit Songs!
An all-star cast of Broadway and nightclub stars will perform the songs that propelled Ol' Blue Eyes into the stratosphere of superstars. Hear the hits that turned Sinatra into an icon for the ages, making him one of rare show business beacons who continues to shine even in his second century. You'll hear songs like "One For My Baby," "Chicago," "My Way," "It Was a Very Good Year," and so many more.
This show comes courtesy of impresario Scott Siegel, who brought four different sold out Sinatra shows to Feinstein's/54 Below during the Chairman of the Board's centennial year. Now that we're in Sinatra's second century, his greatness is a given, and today's most talented performers are looking forward to performing in his honor. You'll want to be at Feinstein's/54 Below to witness it!
The show will be produced, written, directed and hosted by Scott Siegel, the creator of Town Hall's signature series, Broadway by the Year. He has written/directed/produced concerts for Michael Feinstein at Jazz at Lincoln Center and has, over the course of the last 16 years, created more than 200 major concerts all over the world, plus scores of nightclub shows that have played major concert halls, boites, and performing arts centers.
Featuring: Kevin Mambo(2x Emmy Award Winner; Broadway- Felda!), Cooper Grodin (Cabaret), Joshua Israel (Marry Poppins), Aaron Ramey(The Bridges of Madison County), Tom Wopat (2X Tony Nominee, Annie Get Your Gun, A Catered Affair), and Michael Winther (Drama Desk Nominee)
$35-$50 cover charge. $75-$85 premium seating. $25 food & beverage minimum.
Robbie Rozelle: BUSTIN' OUT ON PRIDE WEEKEND FEAT. Jessica Vosk AND Christina Sajous, JUNE 23 AT 9:30PM
After making his solo debut last year in the BroadwayWorld Cabaret Award-nominated sold-out show Songs From Inside My Locker, Robbie Rozelle returns to Feinstein's/54 Below just in time for Pride Weekend with an all-new show. Featuring his signature humor (The Advocatecalls him "gay comedian") and a treasure trove of songs from unlikely sources such as Pete's Dragon to "The Brady Bunch," and songwriters from Stephen Sondheim to Pasek & Paul, Robbie will explore what's it's like being legally dead in Hell's Kitchen (gay over 40), and how to do a pride show without "I Am What I Am." Featuring his band The Two Drink Minimum and very special guests, this will be a pride celebration not to miss.
Musical Direction and Arrangements by Josh D. Smith
The evening will feature special guest stars Jessica Vosk (Wicked, Fiddler on the Roof) and Christina Sajous(American Idiot, Spider-Man).
$25-$35 cover charge. $60 premium seating. $25 food & beverage minimum.
BOY BANDS VS. GIRL GROUPS, JUNE 23 AT 11:30PM
It's the battle of the bands! Broadway's hottest stars unite for one night only to bring you songs from your favorite Boy Bands and Girl Groups. Who would win in a singoff between The Backstreet Boys and The Spice Girls? Are you Team One Direction or Team Pussycat Dolls? Join us and root for your favorites!
This concert is co-produced by Humans of Broadway creator Aviva Sokolow (Team Girl Group) and Linnae Medeiros (Team Boy Band) with musical director Jacob Fjeldheim.
Featuring: Kathryn Boswell (Anastasia, Gigi), Tyler Conroy (Broadway Baes at Feinstein's/54 Below),Katy Geraghty (Groundhog Day), Aisha Jackson (Frozen), Cory Jeacoma (Jersey Boys), Billy Kiessling(NBC's "Rise," Natasha, Pierre & the Great Comet of 1812), Janet Krupin(Bring It On),Joey Labrasca(Harry Potter and the Cursed Child), Olivia Puckett(Dear Evan Hansen), Anthony Sagaria(American Psycho, "Orange is the New Black"), Alanna Saunders(Harry Potter and the Cursed Child), Riza Takahashi(Mean Girls), Bethany Tesarck, Lauren Zakrin(Natasha, Pierre & the Great Comet of 1812, Cruel Intentions)
$20 cover charge. $45 premium seating. 2 drinks or $20 food & beverage minimum.
SONDHEIM UNPLUGGED, JUNE 24 AT 7:00PM
BACK FOR SEASON EIGHT! A celebrated New York event since 2010, the BroadwayWorld and Bistro Award-winning series Sondheim Unpluggedfeatures some of Broadway and cabaret's most dynamic voices, accompanied by piano only, delving into the musical world of Broadway's master composer. Expect tunes from A Little Night Music, Company, Into the Woods, Follies, Passion, Dick Tracyand more. Past special guests have included original Sondheim cast members such as Len Cariou, Jim Walton, Donna McKechnie, Chip Zien & more - so you never know who might drop in. Sondheim Unplugged is hosted by series creator Phil Geoffrey Bond, who will fill the audience in on Sondheimien facts, history & assorted tidbits of theatrical lore! Come join the party!
Special guest: Lane Bradbury (Gypsy's original Dainty June), Eric Michael Gillett (original Broadway company of The Frogs), Sarah Rice (Sweeney Todd'soriginal Johanna), and Melanie Vaughan (Sunday in the Park with George's original Celeste #1).
Starring: Jacob Hoffman,Brian Charles Rooney, and Marta Sanders.
$35-$55 cover charge. $75-$85 premium seating. $25 food & beverage minimum.
BURNING BRIGHT: TORCH SONGS ON PRIDE WEEKEND, A DRAG CABARET BENEFITING THE NYC GAY MEN'S CHORUS, JUNE 24 AT 9:30PM
Join the ladies of the New York City Gay Men's Chorus for an evening of Pride, love, desire and song. Hosted by Mama Melaand Ellia J. Garlands, the drag queens will be reinterpreting what a Torch Song is and means in 2018 through a uniquely queer lens. Under the musical direction ofJames Horan, the talented cast also includes PhilEsha De Lox, Gigi St. Croixand the newly crowned Miss Gay United States, Aaliyah Martinez. Also joining the cast is a very special guest: NYC pop recording artist & transgender superstar, Mila Jam! There's no better way to live out loud this Pride than with the queens of the NEW YORK CITY GAY MEN'S CHORUS!
$30-$40 cover charge. $65 premium seating. $25 food & beverage minimum.
MORE ABOUT FEINSTEIN'S/54 BELOW
Feinstein's/54 Below, Broadway's Supper Club & Private Event Destination, is a performance venue in the grand tradition of New York City nightlife. A few blocks from the heart of Times Square and just below the legendary Studio 54, Feinstein's/54 Below is a classically designed state-of-the art nightclub in the theatre district that hosts audiences with warmth and style. Feinstein's/54 Below presents iconic and rising stars from the worlds of Broadway and popular music and has set a new standard for culinary excellence worthy of the world-class entertainment on the stage.
In their description of the venue, The New York Times writes, "Feinstein's/54 Below has the intimacy of a large living room with unimpeded views and impeccable sound; there is not a bad seat in the house. Its sultry after-hours ambience is enhanced by brocade-patterned wall panels planted with orange-shaded lanterns. And the atmosphere is warmer and sexier than in Manhattan's other major supper clubs."
Located at 254 West 54th Street, Feinstein's/54 Below features up to three shows nightly with cover charges ranging from $5-$105. 54Below.com/Feinsteins
Photo Credit: Genevieve Rafter-Keddy