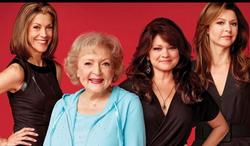 Hot in Cleveland is an American sitcom on TV Land starring Valerie Bertinelli, Jane Leeves, Wendie Malick and Betty White. The series, which is TV Land's first original scripted series, premiered on June 16, 2010, and was TV Land's highest rated telecast in the cable network's 14-year history. The series was picked up for ten episodes.
The series was created by Suzanne Martin (Frasier, Ellen) and is executive produced by Martin, Sean Hayes and Todd Milliner, through their production companies SamJen Productions and Hazy Mills Productions, and is produced in association with TV Land. The concept behind the show is based on an original idea by Lynda Obst, who serves as executive producer. The series is recorded in front of a live studio audience at CBS's Studio City in Los Angeles.
The series centers on three past-their-prime entertainment industry veterans (Valerie Bertinelli, Jane Leeves, Wendie Malick) from Los Angeles who find a more welcoming and less shallow and youth-obsessed community in Cleveland, Ohio, where their plane makes an emergency landing in the pilot. They lease a home with a sassy caretaker (Betty White).
Latest Articles About Hot In Cleveland on TV Land