Uptown Players Presents The World Premiere Of SILVER FOXES
Silver Foxes runs March 2 – 12, 2023.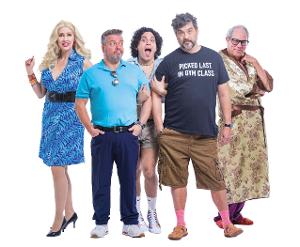 Uptown Players continues its 21st season with the world premiere of Silver Foxes, a comedy about an ensemble of queer men who rescue their best friend from a homophobic assisted living facility. The three older men plus their buddy's younger Twink lover, navigate stray cats, online hook up sites and the real estate ravenous lesbian couple next door to become a fabulous de facto family in an iconic mid-century Palm Springs house.
Silver Foxes is written by James Berg & Stan Zimmerman. This writing team received two WGA nominations for Best Comedy Writing -- one for "Rose's Mother" from Season 1 of THE GOLDEN GIRLS and the other for the infamous "Don't Ask, Don't Tell" episode of ROSEANNE. They've worked on many TV series, including THE GOLDEN GIRLS, BROTHERS, FAME, WANDA AT LARGE and GILMORE GIRLS. They also created and executive produced pilots for numerous networks, cable and streaming companies, including "Rita Rocks", which ran two seasons on Lifetime.
Actor, director, producer, and host Michael Urie returns to North Texas to direct the project. Urie, a Plano native, is well-known for bringing stories to life onscreen, onstage, and behind the scenes. Arguably best known for his groundbreaking role as Marc St. James on ABC's early 2000s dramedy TV series, UGLY BETTY, Michael has also appeared on hit shows such as MODERN FAMILY, THE GOOD WIFE, YOUNGER, WORKAHOLICS, and HOT IN CLEVELAND among many others. Last year, Michael appeared in Todd Stephens' acclaimed movie SWAN SONG, and on Broadway in Douglas Lyons' raucous family comedy Chicken & Biscuits. In December 2021, Michael led Netflix's first gay holiday rom com, SINGLE ALL THE WAY
The world premiere cast includes B. J. Cleveland, Leslie Collins, Edson Montenegro, Jon Morehouse, and Robert San Juan. The production will be directed by Michael Urie, with scenic design by Kevin Brown and lighting design by Amanda West. Rounding out the design team is properties designer Jane Quetin, hair/makeup designer Michael B. Moore, sound designer Elena Martin, and costume designers Suzi Cranford and Breianna Barrington,. The production is stage managed by Lexi Salmon.
Silver Foxes runs March 2 - 12, 2023, with shows at 8 p.m. on Thursday, Friday, and Saturday, and 2 p.m. on Sunday, with an added 2 p.m. Saturday matinee on March 4, featuring a talk-back with the cast, director, and writers. Performances take place at the Norma Young Arena Stage inside Theatre Three, 2688 Laclede St, Dallas, TX 75201. There will be an ASL interpreted performance on Sunday, March 5th at 2pm. Ticket price run from $30 - $50 and can be purchased at uptownplayers.org.