Click Here for More Articles on OPERA - SAN DIEGO
BWW Review: SAN DIEGO OPERA'S ONE AMAZING NIGHT at The Balboa Theater
The San Diego Opera's last concert this season was billed as "One Amazing Night." The program was originally scheduled to feature soprano Lise Lindstrom and tenor René Barbera, but Barbera was released from his commitment when he was offered a Teatro alla Scala debut as Ernesto in a new production of Don Pasquale. He's sung multiple time in San Diego, and will likely return, but the company understood a La Scala debut means too much to an opera singer's career to stand in his way. Bass-baritone Greer Grimsley, who had previously performed with Lindstrom in the San Diego production of Salome, was an effective stand-in. Earlier this season Grimsley played the pirate king here in Pirates of Penzance with surprising comic flair, though best known for dark or heroic roles.
While perhaps "amazing," is a bit of marketing hyperbole for all but a few concerts each decade, Lindstrom and Grimsley did certainly impress and entertain with solos and duets in a well-chosen mix of operatic show pieces and Broadway standards. More than 50 members of the San Diego Symphony filled the Balboa Theater stage behind them. The orchestra provided accompaniment and several purely orchestral selections as well. The first of these opened the program when guest conductor Jerome Shannon led an exciting performance of Glinka's Overture to Ruslan and Ludmilla. Lindstrom and Grimsley
followed the overture with dramatic solo arias, Lindstrom choosing "Es gibt ein Reich" from Richard Strauss's Ariadne auf Naxos and Grimsley "Die Frist ist um" from Richard Wagner's Der fliegende Holländer. The arias were an introduction to the wide range and superb vocal quality of the two singers and supported San Diego Opera's General Director David Bennett's earlier introductory statement that "expressive singing" is the company's top priority.
The intermezzo from Puccini's Manon Lescaut provided an orchestral interlude before Lindstrom and Grimsley were together for a duet from Puccini's Tosca in which Tosca first meets Scarpia, her villainous would-be seducer. Lindstrom was believably defiant but vulnerable, and Grimsley masterful in his portrayal of the powerful and unscrupulous Scarpia.
After intermission the orchestra led the way again with the overture to La forza del Destino by Verdi. The San Diego musicians played well here and throughout the evening, sounding even better than usual in the friendly acoustics of the Balboa Theater. Maestro Shannon accelerated beautifully into the overture's fateful final chord, an appropriate lead-in to a long dark excerpt from Verdi's Macbeth when the singers returned for a duet in which Lady Macbeth encourages her hesitating fearful husband to follow through on a plot to murder the king. Lindstrom and Grimsley acted and sang with dramatic flair while again displaying the vocal skills that have kept them in demand for leading roles in companies around the world.
The overture to Franz Lehar's The Merry Widow operetta signaled a transition from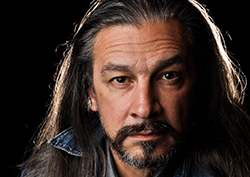 heavily dramatic to shorter vocal selections from both Lehar operettas and Broadway. Grimsley's version of "Some Enchanted Evening" was a concert highlight, even if it couldn't entirely erase the memory of Ezio Pinza, the operatic bass who first sang it in South Pacific. A performance of his on YouTube will bring nostalgic memories and possibly chills to those old enough to remember when he made it a pop hit.
Lindstrom too enchanted with "Meine Lippen Sie küssen so heiss," (My lips give so fiery a kiss). from Giuditta by Lehar. In response, Grimsley impishly stole a quick kiss as he returned to the stage to join her in "I love you so," a duet from The Merry Widow.
Three more from Broadway musicals followed, the last, "People Will Say We're in Love" from Rodgers and Hammerstein's Oklahoma, brought enthusiastic curtain call demands from an audience clearly wanting an encore or two that never came. The sell-out crowd had to leave still wishing for even more, but delighted nonetheless.
For information about the San Diego Opera's coming season visit here.
Photos courtesy San Diego Opera.